How to stop on skis: learn the three primary techniques
Sure, straightlining down the mountain looks fun, but knowing how to stop on skis is actually the most important skill you need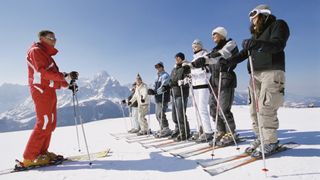 (Image credit: Michelangelo Gratton)
The allure of skiing is more often tied up in the idea of zooming down the slopes than it is to what you do when you reach the bottom. Sure, skiing straight through the lodge looks fun in the movie Hot Dog, but in reality knowing how to stop on skis is actually the most important skill you need.
Knowing how to stop on skis not only prevents you from getting into a nasty collision, it also helps you to control your speed so you're more Harkin Banks and less Bridget Jones on the slopes. And let's be honest, how else are you going to take your all-important ski selfie?
In all seriousness, there's no replacement for taking lessons with a professional but here we introduce you to the three primary tricks to stop on skis as a beginner and are intended as a reference guide while you're still learning to ski.
1. The snow plow
The snow plow, sometimes called "the wedge" or even "the pizza" is pretty much the first thing you'll learn in ski school. In this technique, you push the outer edges of your skis out while turning the front tips in to create a wedge shape, or triangle, with your skis. This will definitely plow some snow but is an effective technique for stopping quickly when the grade isn't too steep.
Make a big wide wedge with your skis to come to a quick stop, or a smaller wedge to slow yourself down. When you're learning to ski, expect some serious outer thigh burn after a full day of plowing down the hill.
2. Turning
Once you've mastered the art of the snow plow, you can add on this technique to start turning. Contrary to what classic ski movies teach us, you don't really want to just straightline down the mountain. Doing so will pick up a lot of speed and can be dangerous.
Start by sliding down a mellow slope and make your snow plow. Now imagine that the front tips of your skis are an arrow and start to point them to the right. With both skis facing the right, lean your weight into the left hand ski a little and keep turning your skis parallel to the hill until you are facing slightly uphill, where you will come to a complete stop. Naturally, when you're turning to the left, you'll lean your weight into the right, or downhill, ski.
You can use this technique to stop on skis on steeper terrain, however it is important to note that you'll be skiing across the hill now and need to be aware of uphill skiers coming down behind you. You also don't want to be too close to the edge of the ski slope if you're turning towards it lest you overshoot and end up hugging a tree.
3. The hockey stop
Also known as the parallel stop, the hockey stop is a very effective means of stopping suddenly on any grade of slope and a bit more advanced than either of the other techniques described here. Once you've mastered the snow plow and turning to stop on skis, you can try the hockey stop where you essentially quickly turn both skis parallel to the hill to come to a complete halt.
Start skiing downhill. To turn to the right, weight your left ski first and quickly rotate both skis completely to the right, keeping them parallel to each other rather than making a wedge shape. Bend your knees and keep your weight over your left (downhill ski) and keep your skis flat until you stop to maintain your balance. Make sure you turn from your feet and not your upper body.
The hockey stop works on any terrain and speed, though it is harder to do at slow speed where you might prefer the turn. You will almost definitely have a side that feels easier, so get good at that side first, but make sure to practise the other side too.
How to stop on skis
As you can see, the ideal progression is to start with the snow plow, then try turning and finally attempt the Hockey Stop. Skiing is a fun but inherently dangerous sport, and seeking out guidance from a professional as well as taking your time to learn each step can ensure you enjoy your time on the slopes for many years to come.
Now that we've got the technical stuff out of the way, make sure to check out our guide to the best base layers to keep you toasty during all your winter sports on frigid days.
All the latest inspiration, tips and guides to help you plan your next Advnture!
Julia Clarke is a staff writer for Advnture.com and the author of the book Restorative Yoga for Beginners. She loves to explore mountains on foot, bike, skis and belay and then recover on the the yoga mat. Julia graduated with a degree in journalism in 2004 and spent eight years working as a radio presenter in Kansas City, Vermont, Boston and New York City before discovering the joys of the Rocky Mountains. She then detoured west to Colorado and enjoyed 11 years teaching yoga in Vail before returning to her hometown of Glasgow, Scotland in 2020 to focus on family and writing.