What is skate skiing? We explain the basics of a high-energy form of cross-country skiing
By Julia Clarke published
What is skate skiing? We dive into a surprisingly challenging cross country ski technique that's bound to have you emerging from winter stronger than ever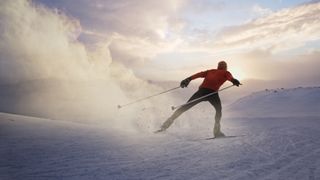 (Image credit: Per Breiehagen)
Once you've been bitten by the outdoors bug, it's tough to hang up your hiking boots for the winter knowing it might be a long time before you see them again. You might instead be considering winter hiking this year, or even taking up a winter sport such as snowshoeing or skate skiing.
So what is skate skiing? We dive into this surprisingly challenging and high-powered cross country ski technique that's bound to have you emerging from winter stronger than ever.
What is skate skiing?
Skate skiing is a brisk, graceful style of cross country skiing that emerged in the 1970s where you point your ski tips outwards and alternately push off the edge of one ski and then the other to glide across the snow in a manner that looks and feels a lot like ice skating. Skate skiing generally requires poles to help propel your forward, and it is done on flat or gently rolling terrain and on hard packed or groomed snow. Skate skiing is known for being exceptionally good aerobic activity.
What's the difference between cross country skiing and skate skiing?
Skate skiing is a type of cross country skiing, distinguishing both from other types of skiing such as alpine or telemarking. However, there are some key differences when it comes to technique, speed and terrain.
In terms of technique, the term cross country skiing is usually used to describe the classic technique, which involves using wax or a texture on the bottom of the ski to allow you to slide one ski forward, then the other, in more of a shuffling fashion. This technique is generally going to be a bit slower and easier than skate skiing.
In skate skiing, when you push off with one ski, you'll actually pick that ski up off the ground and send it out to the side, balancing on the other ski momentarily, whereas in the classic technique, both skis stay on the ground and one simply slides forward. This means the two also use slightly different muscle groups, with cross country skiing focusing on front and back muscles like hips flexors, quads and glutes while skate skiing really strengthens your outer hip muscles too.
Speed is another major difference between the two. In skate skiing you pick up quite a bit of speed – the pros travel at speeds of more than 20mph, more than twice that of cross country skiing where you might cover only 7-10 miles over the course of an hour.
Then there's the question of terrain. Due to the nature of the skate skiing technique, you need a bit of room so it's best reserved for designated wide skate ski tracks and parks, unlike classic cross country skiing which could also be done in the backcountry on narrow trails and untouched snow.
Is skate skiing like skating?
Skate skiing is definitely similar to ice skating in terms of the movement, so if you are already an ice skater, you're likely to find it easier to pick up and will probably enjoy it. That said, having long skis instead of skates strapped to your feet will definitely pose a new challenge, and you won't have quite as much freedom of movement as you do on the rink.
How hard is skate skiing?
Novices might dismiss cross country skiing as being boring, particularly if they're seeking the adrenaline rush of downhill skiing, but famously, the main problem with skate skiing is that it's incredibly hard. It's fast and it requires good balance, strength and endurance. The movement is quite unlike almost any other activity and will be difficult until you strengthen those outer hips muscles and even then it will pose quite a cardiovascular challenge.
For those reasons, skate skiing tends to appeal to people who are already quite athletic and seeking a bit more excitement and physical demand than classic cross country skiing provides. It's also going to be more difficult, or even impossible, if there's any new snow on the ground. Classic cross country skiing on the other hand is generally more accessible for beginners.
What gear do you need for skate skiing?
Even if you already own cross country ski gear, you won't be able to use it for skate skiing as the technique requires a specific set up. Here's what you'll need to get started:
Skate skis - skate skis are skinny and a bit shorter and more rigid than classic Nordic skis, and you'll choose these based on your weight.
Bindings - these attach your boot to your ski and are slightly different from classic bindings. Basically, there are two main types of skating bindings – Salomon Nordic System and New Nordic Form – and they are not compatible, so you'll want to make sure the pair you choose works with your boots.
Boots - Skate ski boots are generally more rigid than classic boots to allow you to lift your ski without excessive torsion, and have a high cuff to support your ankle.
Poles - skate ski poles should come to roughly nose height. If you're ordering online, you can take your height in centimeters and multiply by 0.89 for the right size.
Julia Clarke is a staff writer for Adventure.com. She is an author, mountain enthusiast and yoga teacher who loves heading uphill on foot, ski, bike and belay. She recently returned to her hometown of Glasgow, Scotland after 20 years living in the USA, 11 of which were spent in the rocky mountains of Vail, Colorado where she owned a boutique yoga studio and explored the west's famous peaks and rivers. She is a champion for enjoying the outdoors sustainably as well as maintaining balance through rest and meditation, which she explores in her book Restorative Yoga for Beginners, a beginner's path to healing with deep relaxation. She enjoys writing about the outdoors, yoga, wellness and travel. In her previous lives, she has also been a radio presenter, music promoter, university teacher and winemaker.
All the latest inspiration, tips and guides to help you plan your next Advnture!
Thank you for signing up to Advnture. You will receive a verification email shortly.
There was a problem. Please refresh the page and try again.