Leather vs synthetic hiking boots: which is better?
We go the extra mile on the debate over leather vs synthetic hiking boots to help you figure out the best option for your trail travels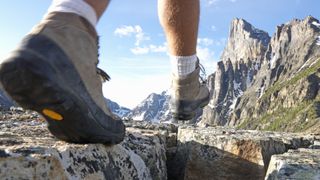 (Image credit: Ascent/PKS Media Inc.)
When you're eyeing up a new pair of hiking boots for trotting down the trail, it can be tough to resist the charm of the iconic and stylish leather hiking boot, what with those sexy brown uppers and cute, colorful laces. But while modern hiking boots don't necessarily hold the same aesthetic allure, they definitely have some advantages when it comes to factors like weight and cost. So which is better? Or is it purely personal preference? We go the extra mile on the debate over leather vs synthetic hiking boots to help you suss out the best option for your trail travels.
Leather vs synthetic hiking boots: weight
Before we dive in, it's good to establish that there are more high tech, modern leather hiking boots on the market today made from suede and Nubuck leather that are comparable to their synthetic counterparts weight-wise, however if we're talking about a more traditional full-grain leather hiking boot, the chances are high that it's going to be heavier than a synthetic boot. You can certainly find exceptions to this rule on both sides, but a leather boot might add a couple of pounds to the end of each leg, which could become a concern if you're backpacking or traveling long distances as it might tire out your feet and legs more easily.
For long treks, you might be looking for the lightest possible boot and in that case, synthetic would win out, but you may also prefer the other rewards a heavier leather boot can offer, so don't make your mind up just yet.
Leather vs synthetic hiking boots: water resistance
Water resistance is generally considered to be vital when it comes to hiking boots, and in all but the driest climates of places like Colorado and Utah in the summer, it's definitely important. However, waterproofing in a new pair of hiking boots is going to come down in large part to a breathable waterproof fabric made from Gore-Tex or an alternative, and DWR treatment on the outer and both types of boot are likely to come with these features.
However, leather itself is water resistant even when the DWR wear off, whereas the fabric of a pair of synthetic boots probably won't offer much water resistance at all after a while, which can leave you in a bind if you're not organized about your gear maintenance. You can always re-waterproof your boots, but overall you can assume that leather boots are a little more watertight.
Leather vs synthetic hiking boots: breathability
Even though you want to keep rainwater out of your boots so your best hiking socks don't get waterlogged, you also want to make sure that moisture from sweaty feet can escape. For this reason, breathability is an important factor in hiking boots and something that most good boots will offer in heaps. Leather is skin, so it does offer breathability, and while some synthetic fabrics are not very breathable, generally speaking the fabrics that make up the upper of a pair of hiking boots will allow water vapor to escape so you can prevent blisters and rubbing. We'll call this one a tie.
Leather vs synthetic hiking boots: comfort and flexibility
Speaking of rubbing and blisters, there's no point in picking out a nice, sturdy pair of hiking boots only to find that you can't walk in them for more than 20 minutes without writhing in agony. Obviously, comfort is in great part in the eye of the beholder and will come down in large part to your foot shape, but it's good to know that a classic pair of leather boots will be stiffer, especially when new, which means they'll take a lot more breaking in up front. Once you've done that, though, your leather boots will be nicely molded to your feet and you'll be able to walk in them for hours, though full-grain leather boots should always retain a nice degree of stiffness, which may feel as though it offers more ankle support, and they'll offer more protection against sharp rocks.
On the flip side, a pair of synthetic hiking boots will probably feel more comfortable right out of the box, take less breaking in and provide much more flexibility in walking, which will also feel more comfortable. However, as the years go by, your synthetic boots will likely become less comfortable as they wear down, especially when you bump up against sharp rocks and obstacles on the trail.
Leather vs synthetic hiking boots: durability
Here's a category where there's definitely a clear winner. That stiffness of leather hiking boots that we just mentioned means they're ultra durable and tough, and if you clean them regularly and apply conditioner and get them resoled when needed, they'll last a lifetime.
Synthetic hiking boots on the other hand definitely have an expiration date if you're using them regularly and while you can keep them clean and may even be able to resole them, they're simply not as hard-wearing as leather boots.
Leather vs synthetic hiking boots: price
While you're bound to find exceptions to this rule, you can generally expect a good pair of leather hiking boots to cost quite a bit more (sometimes more than double) that of a synthetic pair. Synthetic materials are cheaper to produce than natural ones of course, and if you're on a budget, this may be a deciding factor for you in the short term. Remember, however, that good leather boots can also last you a lifetime, so if you end up buying new synthetic boots every few years, pretty soon you'll have spent more in the long run.
Swipe to scroll horizontally
Leather vs synthetic hiking boots

| Header Cell - Column 0 | Leather hiking boots | Synthetic hiking boots |
| --- | --- | --- |
| Weight | Can be heavy | Usually lightweight |
| Water resistance | Leather is water resistant | Uppers probably not water resistant after DWR wears off |
| Breathability | Leather is breathable | Synthetic fabrics used in uppers should be very breathable |
| Comfort and flexibility | Stiffer, take more time to ot break in | Comfier out of the box, more flexible for walking |
| Durability | Treat them well and they'll last a lifetime | Come with an expiration date |
| Price | Usually more expensive | Can be budget-friendly |
Leather vs synthetic hiking boots: the verdict
It probably goes without saying that we haven't come up with a clear winner here and can find arguments for both. If you're looking for boots that will stand up to the test of time and offer good support and protection from wet weather and rocky trails, you may well be willing to put up with the (potential) extra weight and cost of leather hiking boots. Of course, if you're traveling far, you can always look for a lighter model. But if it's instant comfort, lightweight, budget-friendly boots you want, there are lots of great synthetic hiking boots out there and these will definitely provide ample support in dry climates and well-maintained hiking trails.
As is often the case, the best option might be to find some middle ground in a pair of synthetic hiking boots that have reinforced leather panels, such as the Hanwag Banks hiking boots, so you have more protection than purely synthetic boots, but all the breathability you need and less of the breaking in time that leather boots will require.
All the latest inspiration, tips and guides to help you plan your next Advnture!
Julia Clarke is a staff writer for Advnture.com and the author of the book Restorative Yoga for Beginners. She loves to explore mountains on foot, bike, skis and belay and then recover on the the yoga mat. Julia graduated with a degree in journalism in 2004 and spent eight years working as a radio presenter in Kansas City, Vermont, Boston and New York City before discovering the joys of the Rocky Mountains. She then detoured west to Colorado and enjoyed 11 years teaching yoga in Vail before returning to her hometown of Glasgow, Scotland in 2020 to focus on family and writing.