Parts of a backpack: backpack anatomy 101
Knowing the parts of a backpack will make finding the perfect pack for your hiking trips – and fitting it – a whole lot easier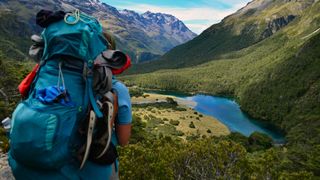 (Image credit: Alex Ruelas (Getty))
Like most forms of outdoor kit, backpacks are composed of various components and parts that all influence performance, comfort levels, and practicality on the trail. This being so, setting aside a few minutes to get to grips with their ins and outs and learn what functions the various parts of a backpack serve is something well worth doing.
Not only will learning your backpack anatomy allow you to impress your hiking homies with your niche knowledge, you'll also be better placed to pick the perfect pack for your needs, whether you're looking for the best hiking backpack or best women's hiking backpack for multi-day adventures or best daypacks for day hikes.
Parts of a backpack: front features
Compression straps – These can be used to secure gear to the outside of your pack or to compress and consolidate your load, which helps to improve stability and is particularly useful if your backpack isn't full. (For more on this, see our guide on how to pack a backpack).
Daisy chains – These loops of webbing can be used to attach items to the pack's exterior with carabiners or cord.
Lid – The lid is used to cover the opening to the interior of your pack and buckles down over the front. In most packs, the lid will contain one or two pockets for storing small essentials. Some packs have a hood that can be removed and used as a small summit pack, which is a handy feature if you're basecamping and plan on making shorter day trips during your stay.
Roll mat/accessory straps – These parts of a backpack can be used to secure sleeping pads to the base of the pack or to attach other gear that is too wet, dirty, or bulky to put inside.
Side pockets – These are ideal for storing water bottles or other items you'd like to access without having to take off your pack. Most are made with mesh or stretch fabric that keeps their contents secure.
Sleeping bag compartment – This compartment at the base of the pack is a handy feature that lets you keep your best sleeping bags separate from the rest of your kit. When not camping, it can also be used to separate dry kit from wet kit, sharps from softs, or clean gear from dirty gear. Some packs have sleeping bag compartments that are separated from the main compartment by a solid sheet of fabric, whereas others use a zippered or toggle-tie divider that provides quick access to the kit at the bottom of the main compartment.
Stash/kangaroo pocket – These large, unzippered pouches are great for temporary storage of larger items you're likely to need on and off throughout a day on the trails, such as your map, gloves, or your rain jacket when hiking in changeable weather.
Walking pole/ice ax loops – Used to attach ice axes or trekking poles to the outside of your pack and, thus, one of the most important parts of a backpack if you plan on doing any winter hiking or mountaineering.
Zippered front-panel access – This increasingly popular feature lets you access your backpack's main compartment without opening the lid or having to unload all of your kit to get to items at the bottom.
Parts of a backpack: back features
Back panel – This refers to the entirety of the back portion of the pack, from the base to the rear of the lid. Most back panels used molded, contoured foam to provide cushioning and create air channels that boost airflow. Come back panels can also be adjusted to find the perfect fit.
Frame – Most modern backpacks use an internal frame that provides the pack with its shape and structure, though some daypacks and ultralight backpacks forego the frame entirely in an effort to cut down on weight. Packs with external frames used to be the go-to for backpackers everywhere, but these days are sliding steadily towards extinction. These packs concentrate the weight of the pack squarely on the hips and allow for a more upright posture while walking but are much bulkier and less stable on rugged trails than their internal-framed cousins.
Haul strap – This loop or handle is used to pick up and move your pack when it's not on your back.
Hip belt – Because the majority of the weight of your load should sit on the hips, choosing a pack with a nicely cushioned and wide hip belt is essential for comfort, especially if you're carrying a heavier pack.
Hip belt pockets – This non-standard feature is very handy for storing small items you like to keep to hand while on the move, such as your GPS device, phone, keys, snacks or gloves
Hydration port – This is the small opening at the top of the pack, just below the haul strap, that is used to feed the tube from your hydration sack from inside to out.
Load lifters – These are the adjustable straps located between the top of the shoulder straps and the back panel. They are designed to keep the weight of the pack towards your torso, which helps to stabilize the load and keep it centered over your hips, and can make a huge difference to the comfort of your pack when properly adjusted.
Mesh suspension system – Ideal for hiking in warm weather, this feature boosts ventilation by creating a larger gap between the pack's rear panel and your back.
Shoulder harness – This is the point where the shoulder straps attach to the back of your backpack. An adjustable shoulder harness is essential to fitting your pack to your torso size.
Shoulder straps – Because thin straps can dig into your shoulders, thicker and wider straps are generally the most comfortable option. Other features that make one type of shoulder strap better than another include plush padding, mesh fabric that boosts breathability, and an ergonomic design that conforms to the shape of your shoulders.
Sternum/chest strap – This strap helps to keep the shoulder straps in place and stabilizes your load by reducing the amount of leeway your pack has to move around. Ideally, the sternum strap should be fully adjustable, meaning that it can be tightened laterally and moved up or down the shoulder straps (as is the case with most women's hiking backpacks).
All the latest inspiration, tips and guides to help you plan your next Advnture!
Former Advnture editor Kieran is a climber, mountaineer, and author who divides his time between the Italian Alps, the US, and his native Scotland.
He has climbed a handful of 6000ers in the Himalayas, 4000ers in the Alps, 14ers in the US, and loves nothing more than a good long-distance wander in the wilderness. He climbs when he should be writing, writes when he should be sleeping, has fun always.
Kieran is the author of 'Climbing the Walls', an exploration of the mental health benefits of climbing, mountaineering, and the great outdoors.