Porcupine quills in dogs: what to do if your canine gets quilled
By Julia Clarke published
Porcupine quills in dogs are painful and can be dangerous, so we explain what to do if your dog gets quilled to avert disaster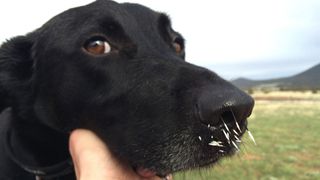 (Image credit: crotography)
If you have a dog, chances are you love to bring them out on your hikes and trail runs. Canine companions make great company and enjoy the exercise on the trail, but their natural curiosity can land them – and you – in deep trouble, especially when it comes to wildlife. Whether it's keeping your dog safe from coyotes or making sure it doesn't harass a moose, bringing your dog out on your adventures requires you to be extra cautious to protect yourself, your dog and local wildlife.
One wildlife hazard that can really put a damper on your day is porcupine quill. Porcupine quills in dogs are painful and can be dangerous, so in this article we explain what to do if your dog gets quilled to avert disaster and make sure you don't have to choose between your hiking boots and your dog.
What is a porcupine?
Porcupines are large, prickly rodents covered in needle-like spines called quills that live in forests and woodlands. North American porcupines can be up to three feet long and weigh up to 40lbs. They are not as strictly nocturnal as porcupines in southern Europe, Asia and Africa and you might encounter them during daylight hours in the wild. Porcupines have a long prehensile tail that they use to maintain balance in trees, but also as a weapon when needed. Porcupines largely eat leaves, bark, roots and flowers but occasionally eat insects and small reptiles too.
Do porcupines attack humans?
Porcupines don't pose much of a threat to humans at all, generally steering well clear of hikers unless under attack, and they won't bite you. However they are known to plant their quills into the unsuspecting snout of a curiously sniffing dog.
Do porcupines shoot their quills?
Thanks to movies and children's stories, many of us grew up with the idea that porcupines shoot their quills at innocent hikers and dogs. In truth, porcupines do not shoot their quills. Rather, the quills, which are part of their defense mechanism, detach easily when touched. This means that when your dog goes sniffing around in the undergrowth, it might return to you looking rather sorry for itself with a face full of quills.
Porcupine quills in dogs
A porcupine can have more than 30,000 quills. When they feel threatened, they raise these quills up on their back or use their quill-covered tail like a weapon to ward off their attacker. Upon making contact, the quills embed themselves in the skin. These quills are actually long, keratin-covered hairs but don't let that mislead you – they are hard, sharp and painful for your dog. Quills have backwards-facing barbs meaning they can't just be plucked back out, and embed deeply in the skin and are difficult and painful to remove.
How long can a dog go with porcupine quills?
The longer that quills stay in your dog's skin, the more difficult it is to remove them. Your dog's body heat causes the quills to expand inside the skin and the quills themselves carry bacteria which can be harmful, so you want to remove them as soon as possible.
Further, if the quills go into your dog's torso, they can impact the organs and joints especially as they are driven deeper. If left untreated for more than 24 hours, your dog is more likely to experience an abscess or infection and need antibiotics as a result.
Do porcupine quills fall out?
No, porcupine quills will not fall out on their own. In fact, they will tend to work their way in deeper due to your dog's behavior. Your dog may rub the affected area to relieve discomfort, driving the quills deeper into their skin.
How do you get porcupine quills out of a dog?
If your dog gets quilled on a hike, you're going to know about it straight away. It's pretty upsetting for both you and your dog but knowing how to act can make sure it's an unfortunate misstep and not a fatal encounter. Here's what to do:
1. Get your dog to safety
You'd think your dog would have learned its lesson but in truth, they often get quilled more than once. Get your dog on a leash, away from the porcupine and start heading back to the trailhead. The more time you spend out on the trail, the more opportunity for your dog to get in more trouble.
2. Don't touch the quills
It may be tempting to try to relieve your dog's obvious discomfort by trying to extract the quills yourself, but as we've said, it's not that easy and you could pierce your own skin doing so. Leave the quills alone and definitely don't try to cut them which can cause them to splinter, making matters worse.
3. Get your pet to the vet
As quickly as possible, get your dog to the vet. Though there seems to be plenty of information online regarding removing quills yourself with pliers, this is not recommended. A vet is likely to sedate your dog or even place it under anaesthesia because removal is difficult and painful. Though it might make for a pricier hike than you'd planned, the best thing you can do for your dog is to have a professional take care of quill removal. Taking matters into your own hands could result in harming your dog, or cause your dog to lash out and bite you.
Finally, remember that your dog is unlikely to learn from its mistake. If you're hiking in known porcupine areas, keep your dog on a leash to prevent recurrences.
Julia Clarke is a staff writer for Adventure.com. She is an author, mountain enthusiast and yoga teacher who loves heading uphill on foot, ski, bike and belay. She recently returned to her hometown of Glasgow, Scotland after 20 years living in the USA, 11 of which were spent in the rocky mountains of Vail, Colorado where she owned a boutique yoga studio and explored the west's famous peaks and rivers. She is a champion for enjoying the outdoors sustainably as well as maintaining balance through rest and meditation, which she explores in her book Restorative Yoga for Beginners, a beginner's path to healing with deep relaxation. She enjoys writing about the outdoors, yoga, wellness and travel. In her previous lives, she has also been a radio presenter, music promoter, university teacher and winemaker.
All the latest inspiration, tips and guides to help you plan your next Advnture!
Thank you for signing up to Advnture. You will receive a verification email shortly.
There was a problem. Please refresh the page and try again.