What is responsiveness in running shoes?
Responsiveness is a common feature of high performing running shoes these days, but what does it mean for you?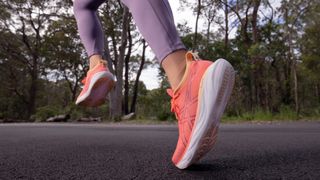 (Image credit: Asics)
Back when you bought your first pair of running shoes, you probably based your decision on how good they looked and possibly, if you were running in the pre-internet era, how they felt when you walked around the shop floor in them. Today, there are all manners of aspects to a running shoe that you need to take into consideration. Are you shopping for trail running shoes or road running shoes? How much drop do you need and have you considered the BOA lacing system? Then there's the term 'responsiveness' which you'll see in the description of a lot of shoes these days, from the Columbia Escape Pursuit to the The North Face Summit Vectiv Sky. But what is responsiveness in running shoes? And do you need it?
What is responsiveness in running shoes?
Basically, responsiveness in running shoes is an experience or a feeling that you get in running shoes when it feels as though the shoes are returning your energy back to you with each step, rather than you feeling like you're sinking in. From a shoemaker's standpoint, it's a sign that the shoes they're selling won't absorb as much energy and therefore will improve your running economy. It's the feeling of moving fast and light, almost as if the shoe is propelling you forward. So it's not a physical element, like a foam midsole or a carbon plate, although these characteristics can contribute to that fast and light feeling, and it's a very subjective experience.
That said, if you have run in a lot of different shoes, you'll almost certainly have felt this sensation in some pairs and not in others. I recently tested out a pair of the Nike Wildhorse 8 trail running shoes where I had this experience while bounding down a gravel and dirt trail feeling light and fast.
Conversely, a few months back when I was traveling for Christmas, I had foolishly brought my Merrell MTL Long Sky 2 trail running shoes only to find that all the available running spots were on tarmac, and because I was on the wrong surface for the shoes, I found myself feeling like I was bogged down and moving really slowly. In this instance, I'd say the shoes weren't as responsive.
What makes running shoes responsive?
Even though responsiveness is more of an experience than a scientific element of running shoes, it's generally agreed that there are a few factors that might make your shoes more responsive:
Foam resiliency: This refers to how much the midsoles of your shoes bounce back after they get compressed between your foot and the road. The more they return to their original thickness, the more responsive your shoes are thought to be and for this reason, responsive shoes usually have well-cushioned foam midsoles.
Stiffness: Because responsiveness is associated with that springy sensation and not the boggy, sinking feeling, the soles of responsive shoes will often be stiffer.
Geometry: The shape of your midsoles can also lend to their responsiveness; for example, many running shoes now have rocker soles or are stiffer under your toes and designed to help you push off your toes more easily.
Outsole: Depending on the running surface, how grippy your outsoles are can impact their responsiveness. If you're able to grip on wet tarmac or muddy trails rather than sliding or sinking, you may describe your shoes as more responsive.
Other factors contributing to responsiveness
Although the above factors may well contribute to your subjective experience of responsiveness, in truth they don't tell the whole story. As I described earlier, I own a pair of trail running shoes that I really like for running on soft trails, grass and gravel, but once I got them on the road, I felt like I was trying to run in a bog. So how responsive or not a pair of shoes feels will depend on what type of surface you're running on: trail, road, grass, sand, track, mud and slickrock are all going to impact how your shoes feel differently.
Another factor that will determine how you experience your shoes is how you run. Do you have a short stride and fast cadence where your feet feel like they're barely touching the ground, or a longer, more loping gait where you move more slowly and rely more on your hamstrings and knees to pull you forward? Just watch the New York marathon and you'll see there are many ways to complete a mile, and some runners' feet seem to spend a lot more time on the ground than others.
Then you've got the simple fact of personal preference when it comes to shoes. Even though many shoes come equipped with a stiffer midsole and carbon plate to increase responsiveness, there are plenty of runners who simply feel that they can run better in a sole that has more flex and allows them to harness the power of their feet muscles more easily.
Ultimately, while a shoe really may be able to improve your running economy (lab tests confirmed that the Nike Vaporfly 4% really did improve running economy by four percent), what causes it to do so relies on a combination of factors beyond just the construction of the shoe. If what you really want to do is improve your running economy in the long run, the best approach would be to work on your training and running form. A 2015 article in Sports Medicine reports that this includes everything from running intervals to resistance training, plyometrics and even injury prevention. Add to this a pair of running shoes that really works for you and it seems highly likely you'll be able to run further and faster while using less energy. In short, most responsiveness comes from you, not your shoe.
Is a responsive running shoe always better?
If by responsive running shoe, you mean one with a stiffer, cushioned foam sole, and perhaps a rocker geometry and carbon foot plate, then the answer is not always. There are lots of reasons why you might not like a carbon plate or prefer a thinner or softer sole, from running surface to foot biomechanics. The best thing you can really do is try different running shoes on before you buy. An expensive approach would be to keep buying new shoes and wearing them out, while a more economical tactic is to visit a running shop and try a few pairs on while running on a treadmill. If a pair feels great, they're right for you and you can continue to invest in that model when it's time to replace your running shoes, or look for other shoes with similar characteristics.
All the latest inspiration, tips and guides to help you plan your next Advnture!
Julia Clarke is a staff writer for Advnture.com and the author of the book Restorative Yoga for Beginners. She loves to explore mountains on foot, bike, skis and belay and then recover on the the yoga mat. Julia graduated with a degree in journalism in 2004 and spent eight years working as a radio presenter in Kansas City, Vermont, Boston and New York City before discovering the joys of the Rocky Mountains. She then detoured west to Colorado and enjoyed 11 years teaching yoga in Vail before returning to her hometown of Glasgow, Scotland in 2020 to focus on family and writing.