What are carbon plate running shoes?
What are carbon plate running shoes, and do you need a pair? We investigate the claims to determine if they'll really give you a competitive edge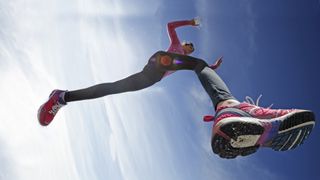 (Image credit: Peter Cade)
Lovers of the outdoors are familiar with carbon fiber in technical gear, from our best trekking poles to our hiking backpacks. Stronger than steel but lighter than aluminum, carbon fiber adds a whole host of benefits to those of us who like to travel far and fast. But while we now expect to see it in gear like ice axes and tent pegs, many of us were surprised to find it making its way into running shoes in recent years.
If you've been on the hunt for some high tech running footwear, you may well be wondering, what are carbon plate running shoes, and are they worth the extra expense? We're here to explain what the technology is, the benefits it claims to provide and when you might want to consider a pair of carbon plate running shoes.
What are carbon plate running shoes?
Carbon plate running shoes were first developed by Nike with the advent of its Vaporfly 4% shoe. With this shoe, Nike inserted a carbon plate into the sole that it claimed made wearers use 4% less energy while running (this was confirmed in lab tests by Springer), allowing them to go faster, or maintain the same speed for longer.
For a while, carbon plates remained in the domain of Nike as many dismissed the idea as just another marketing ploy. Then in 2019, Kenyan marathon runner Eliud Kipchoge broke the two-hour marathon barrier in Vienna while wearing the carbon-plated Air Zoom Alphafly NEXT shoes, and now all the best running shoe brands are churning out carbon plated models. Though there has been an ongoing debate over whether carbon plates offer athletes an unfair advantage and whether they need to be banned or regulated for competition, for now, many runners are sprinting towards them.
While the original carbon plate was flat, in many cases, it has evolved to one that is curved, like a rocker ski, which companies like Nike claim add to the benefits.
How do carbon plate running shoes make you faster?
Studies on if and how carbon plates improve running economy are currently scarce, and a bit mixed. Despite Springer's 2017 findings, a 2022 review in Scientific Reports concluded that adding a carbon fiber plate does not improve running economy, while a recent 2022 study in the Journal of Sport Health Science found that energy savings in certain shoes do exist, but they may be down to an interaction of the foam, geometry, and plate, rather than just the plate itself.
While the studies continue, many elite athletes are switching to carbon plate running shoes, and the decision is largely down to these claims:
The stiff carbon plate helps the foam midsole compress and expand faster, which allows more reactivity and returns more energy to you as the runner.
Reduced flexion at the ankle joint allows you to propel yourself forward with less effort.
Curved plates lift your heel faster to promote forward momentum.
Stiffer soles provide more ankle stability and keep your toes straight to improve running economy.
Improved running economy reduces post-workout soreness, which improves training.
If you've watched David Epstein's TED Talk, Higher Faster Stronger, you'll know that advances in athleticism over the past 100 years are in large part down to advances in technology, so regardless of the studies, it's certainly more than feasible that carbon plates will give you a competitive edge in a race.
Do you need carbon plate running shoes?
So, just because some elite runners are breaking records in carbon plate running shoes, does that mean you need a pair? After all, they do come with an eye-watering price tag. It really all comes down to what you're planning to do in them. Obviously, that 4% energy savings matters more the longer you go. If your running routine involves a 30 minute run every day, 4% of your energy isn't a huge saving in time or effort. If you're not trying to compete, it doesn't matter at all. There's also some question as to whether there's a minimum speed at which carbon plated shoes no longer make a difference, according to a 2021 review by Austin State University researchers.
But if you're a long-distance runner, shaving 10 minutes off your average marathon time of four hours and 21 minutes clearly starts to make a lot of sense. At that level of running, chances are you're already planning to make a significant investment on your running shoes anyway, so they're definitely worth a second look.
Now, if you're in the market for a new pair of trail running shoes, carbon plates are only just starting to make their way onto the trails with shoes like the inov-8 Trail Fly Ultra G 300 Max and The North Face Flight Vectiv, so it's hard to say yet if they offer the same competitive advantages on the soft stuff as they do on tarmac, but the early signs are that trail running shoes are going to embrace this technology, too.
One final word of warning is that, since carbon plate running shoes may change your running gait, any switch over to using them should be done with caution. Start out by wearing them for shorter distances to allow your muscles and joints to adapt to new biomechanical patterns you might experience while wearing them.
All the latest inspiration, tips and guides to help you plan your next Advnture!
Julia Clarke is a staff writer for Advnture.com and the author of the book Restorative Yoga for Beginners. She loves to explore mountains on foot, bike, skis and belay and then recover on the the yoga mat. Julia graduated with a degree in journalism in 2004 and spent eight years working as a radio presenter in Kansas City, Vermont, Boston and New York City before discovering the joys of the Rocky Mountains. She then detoured west to Colorado and enjoyed 11 years teaching yoga in Vail before returning to her hometown of Glasgow, Scotland in 2020 to focus on family and writing.