8 tips for running with allergies
Our top tips for running with allergies help you keep moving during sneezing season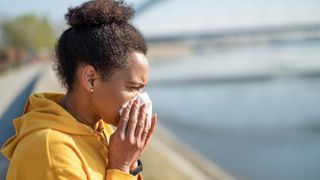 (Image credit: DjelicS)
You don't need us to tell you that running with allergies can be a nightmare. Sneezing, wheezing, streaming eyes and a runny nose make sitting on the couch feel like torture, and things only get worse when you head on the trail, get your heart rate up and start taking big, deep breaths.
Allergy season can begin as early as February and last as late as September, depending on where you are and what types of pollen you're allergic to, which can really cut into your running routine. So are you supposed to just hang up your best trail running shoes until winter rolls around and it's safe to step outside? Unless you're willing to shelve your running practice or take your routine onto a hamster wheel, you need to find some solutions and keep you moving. The following are our best tips for running with allergies, based on allergy advice from the Mayo Clinic in the US and the NHS in the UK. Try one, two or all them to find relief on the trail during sneezing season.
1. Skip your run on dry, windy days
The general allergy advice for all allergy sufferers is to stay indoors on dry, windy days when there can be lots of pollen flying around. If dry, windy days aren't the norm where you live, you can probably heed this advice and schedule your running workouts for days when it's calm or raining – the best time to run outdoors of course is probably right after it has rained, since rain helps clear pollen from the air. If you absolutely must run on a windy day, then you can shorten your running workouts to limit your time outdoors and focus on running intervals and short base runs.
If you live somewhere where it's always dry and windy, like the southwestern US, you might need to keep reading to find a realistic solution…
2. Avoid times of day when pollen counts are highest
Pollen counts rise and fall throughout the day, making certain times of day more insufferable than others. However, even though you'll often see blanket warnings to avoid mornings – or evenings, confusingly – the truth is that pollen levels can vary according to type of pollen, time of day, season and even the previous day's weather.
For example, a study by Aarhus University found that grass pollen is often higher in the morning and evening in spring and early summer, but peaks during the middle of the day later in the summer. Ragweed, on the other hand, peaks between 10am and 3pm according to the Asthma and Allergy Foundation of America, so early morning and evening runs may be better.
Honestly, you could go mad trying to figure it out, so the best thing you can do is refer to a resource where you can check real time pollen counts in your area. Here are a few to get your started:
3. Put petroleum jelly in your nostrils
This recommendation comes from the NHS, and while we couldn't find any studies on its efficacy, the theory is that smearing petroleum jelly around in the inside of your nostrils will trap some of the particles of pollen before they're able to enter your airways. Make sure you use an odor-free version, which you might already use to help prevent chafing on a run.
4. Run with a face mask
We know, nobody loves wearing a face mask, let alone on a run, but at least the last couple of years has gotten us all pretty accustomed to wearing one. In fact, as an allergy sufferer, you might have been sporting one long before Covid made them cool. If you're really suffering from allergies and not willing to give up your outdoor runs, you might be a good candidate for running with a mask to prevent pollen from entering through your mouth as you breath (on the plus side, no one will blink an eye at the sight of it anymore). It might sound impossible, but back in the early days of the pandemic, running brand Asics launched a special face mask meant for runners, with innovative air vents and adjustable straps that is still available.
5. Wear wraparound sunglasses
In addition to protecting your mouth and nose with the previous two tips, you should definitely invest in a pair of trail running sunglasses to help keep pollen out of your eyes, and not just any shades will do. Make sure you get a wraparound pair – these will provide the best coverage and stay put when you're on the go.
6. Wash up thoroughly after your run
Now, you hopefully always hop in the shower after a run, but this is definitely an area where you don't want to dilly dally or cut corners. Don't stop to check Instagram, don't have breakfast first, don't sit down and put your feet up. As soon as you get back from your run, remove all of your clothes and put them in the laundry basket or washing machine – don't be tempted to reuse any of them on your next run as they may be full of pollen – then jump right in the shower. When you shower, make sure to use soap and wash your hair thoroughly to remove pollen.
7. Rinse your sinuses
The Mayo Clinic suggests rinsing your sinuses with a simple over-the-counter saline solution to flush mucus and allergens from your nasal cavity. You'll want to read the instructions and contraindications before trying this – if you decide it's for you, we recommend you do it while you're in the shower to save time and avoid making a mess.
8. Don't hang your laundry outside
Once you've washed your running top and running shorts, don't be tempted to hang them out to dry in the sunshine during allergy season, as pollen can stick to your clothes and have you sneezing as soon as you pull them on, before you've even left the house. Even though they'll still probably get pollen-covered on your run, do yourself a favor and hang them up to dry indoors, along with all of your clothes during allergy season.
All the latest inspiration, tips and guides to help you plan your next Advnture!
Julia Clarke is a staff writer for Advnture.com and the author of the book Restorative Yoga for Beginners. She loves to explore mountains on foot, bike, skis and belay and then recover on the the yoga mat. Julia graduated with a degree in journalism in 2004 and spent eight years working as a radio presenter in Kansas City, Vermont, Boston and New York City before discovering the joys of the Rocky Mountains. She then detoured west to Colorado and enjoyed 11 years teaching yoga in Vail before returning to her hometown of Glasgow, Scotland in 2020 to focus on family and writing.