The best trail running sunglasses: for runs in variable light conditions and terrains
By Brian Metzler published
The best trail running sunglasses provide an optimal field of vision, uninhibited optics in variable light conditions, a good fit and moisture management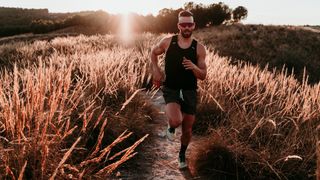 (Image credit: Getty)
Our selection of the best trail running sunglasses takes acknowledges that you have different needs from your shades if you're running over hill and dale rather than slowly walking through the woods. It also recognizes that, although style is a big selling factor, the technical performance of sunglasses is especially important when it comes to optimizing your vision and preserving the long-term health of your eyes.
First of all, light conditions are constantly changing, especially when you're in through woods or in high-altitude locales. In fact, with every 1,000 feet of altitude, you're exposed to 3% more ultraviolet rays. And with the added exposure can come the damaging problem of photokeratitus, or sunburn of the cornea, which can cause temporary blindness or blurred vision and make your eyes burn and feel gritty for two to three days.
A pair of the best trail running sunglasses needs to allow you to see everything in front of you and around you – the specific trail features, the path up ahead and the obstacles in your periphery. They'll need to fit the profile of your face well, based on both the size and contour of your noggin.
They also need to shield harsh sun glare, adjust to variable light conditions and be able to manage moisture in the way of slippery sweat and heat vapor that can result in fogging. You'll know you've selected the best trail running sunglasses for you when they essentially disappear on the run, allowing you to move over the undulating surface of the trail with plenty of subtle but significant protection and no outlying annoyances.
District Vision Nagata Speed Blade
Blending mod style with a superior lens and styling, the Nagata Speed Blade serves up exceptional functionality, performance and look
Specifications
RRP:
$249 (US) /£219 (UK)
Lens color:
D+ Sports Yellow
Reasons to buy
+
Stunning aesthetic appeal
+
Superior lens and field of vision
Reasons to avoid
-
Twice as expensive as other models
-
Unique shape might not appeal to everyone
Although the Nagata Speed Blade was wear-tested on the streets of New York City, it was designed with distinctive Japanese style and engineering. District Vision says it was developed using the methodology of Kaizen, the Japanese philosophy of continuous improvement. It's clear from the sophisticated design, with a bottomless, retro-styled frame and advanced lens technology that a lot of meticulous effort went into the design of the Speed Blade. But perhaps equally as notable was the wear-testing done by hundreds of New York City runners who wear-tested prototypes in all types of weather, light and running conditions. For as cool and stylish as they look, these shades are also one of the best performing models we tested out on the trails. The temple tips are made with titanium cores and titanium screws with uniquely styled turned up tips, making it as light and comfortable as possible without sacrificing strength of structure. While wind and sweat are no issue, it's the high-transmission, low-glare D+ Sports YellowLens that's most appealing. District Vision says it's constructed from a proprietary form of shatterproof polycarbonate with anti-reflective coating on the interior and an exterior treatment for to make it water- and oil-repellant. Is the price tag hefty for a pair of shades? For most of us, yes, it certainly is. But we think this is the cream of the crop.
Goodr The Runways
These performance-oriented running shades offer cool, street-wise style
Specifications
Frame/head size:
Normal / Huge
Frame Color:
Black / Blue / Brown / Gold / Green / Grey / Orange / Pink / Purple / Red / Silver / White / Yellow
Lens color:
Black / Blue / Brown / Clear / Chrome / Gold / Green / Orange / Pink / Purple / Red / Rose / Yellow
Reasons to buy
+
One-of-a-kind styling
+
Affordable pricing
+
Basic but functional performance
Goodr was one of the first brands that focused on making fun, stylish sunglasses at super affordable prices. Most of its models are in the $25–$35 range, including the feminine and fashionable, cat-eye Runways. Despite the lower price, they offer enough durability and plenty of performance features for a season of trail running, with polarized lenses that offer 100% UV protection and lightly-textured silicone earpieces to keep them in place. Best of all, Goodr names and designs its shades with a touch of amusement with models that include Fast as Shell (with a tortoise brown motif frame), Breakfast Run to Tiffany's (with a Givenchy-esque design) and Haute Day in Hell (with a two-tone matte red flair).
Are The Runways on par with some of the pricier models available? No, of course not. But it depends what you're most keen about when you buy trail running shades. The lens technology is moderate, but the fit is sufficient and the price is right. If you're someone like me, who loses, scratches or breaks sunnies, on a regular basis, then you should check out what Goodr has to offer.
Julbo Aero
Featherweight sunglasses for fast-action sports with optimal ventilation and field of vision
Specifications
RRP:
$130 (US) £66 *UK) /€100 EU)
Lens and frame combination colors:
Black and red / Blue and grey / Black and green
Reasons to buy
+
Photochromatic lenses adjust to light conditions
+
Fully adjustable nose pads allow near-custom fit
+
Wide field of vision with mono-lens design
Reasons to avoid
-
Can feel fragile, especially in windy conditions
The Aero is a super-light pair of high-performance shades with a dynamic photochromatic lens technology that can adapt to low-light or bright conditions, which makes them especially good for trail running when it is continually changing from sunny to cloudy to shady. The unique frame design with a singular suspended polycarbonate Spectron 3CF lens allows for a comfortable fit, exceptional visual clarity and optimal ventilation. The flexible, vented ends of the temples feature a soft, elastomer material that keeps the glasses in place with comfort and a bit of stylish flair. Considering a pair of Aero glasses is a classic case of cost versus benefit. Will your trail running benefit from investing a little bit more in a pair of shades? Absolutely. The photochromatic lens technology is exceptional and ideal for running in variable weather conditions, running in the mountains, running near the coast and, really, running anywhere.
Nike Windshield Elite
Sleek wraparound-style sunglasses with a wide, one-piece lens, Nike Windshield Elite allow full-throttle performance
Specifications
RRP:
$169 (US) / £145 (UK)
Frame colors:
Matte clear / Matte dark / Thunderblue / Matte Wolf grey
Lens colors:
Turquoise mirror / Low Light tint / Silver mirror
Reasons to buy
+
High-end, race-day model
+
Exceptional optics
Reasons to avoid
-
A bit too much for casual trail runs
-
Pricey
When you're moving fast and running all-out, you need your gear to become a part of you. That's especially true when you're trail running, because even the slightest distraction can lead to a head-over-heels tumble. The Nike Windshield Elite feature a sleek, close-to-the-face design and a wide, one-piece, wraparound lens that ultimately disappears once you put them on. They offer top-quality optics, a full range of vision and all of the comfort and functionality you need in high-performance situations. The unique design adds ventilation both above the nose bridge and on the top of the frame to help reduce fogging. The floating nose pad helps optimize airflow and absorb impact, while cushioned rubber temple tips add grip and provide long-wearing comfort. For all of those reasons, the Windshield Elite are ideal for race-day efforts and fast workouts.
Oakley Flight Jacket
A style-forward design and exceptional lens make these shades worthy of a higher price tag
Specifications
RRP:
$226 (US) / £187 (UK)
Polarized:
No (But available with Prizm Polarized lens option)
Frame colors:
Matte White, Matte Black, Matte Navy, Matte Steel
Lens options and colors:
clear to black iridium photochromic / Prizm road / Prizm sapphire / Prizm clear / Prizm jade / Prizm black / Prizm trail torch / Prizm low light
Reasons to buy
+
Unique performance-oriented shape
+
Exceptional lens options
+
Great air and moisture management
Reasons to avoid
-
Pricey on the pocketbook
One of the keys to a pair of the best trail running sunglasses is simply being able to see the terrain below you and the features around you. The lenses of the aerodynamic Flight Jacket model have a large surface area and an open-edge brow to optimize a wide scope of vision. The nose bridge and ear pieces were specially designed to allow maximize air flow and reduce fogging during high-intensity, high-sweat activities on warm days. The Flight Jacket comes with numerous different frame colors and three styles of high-impact protective lens options — Prizm, Prizm Polarized and Photochromatic — that can adapt to ever-changing light conditions. It's hard to beat the performance and style of the Flight Jacket. It's built for high-performance running and cycling and our wear-tests confirmed it's one of the best of the bunch. Whether you want to invest a big chunk of money is perhaps something you'll have to put up for debate. You definitely get what you pay for, and that's a top-tier pair of shades that won't let you down.
Shady Rays Velocity
These wrap-style, half-frame glasses are ideal for trail running and fast-packing
Specifications
Frame colors:
Matte Black, Gloss Clear
Lens colors:
Ice blue mirrored lenses with amber tint
Reasons to buy
+
Close-to-face, wrap frame design
+
Premium polarized lenses
+
Great value and replacement guarantee
Reasons to avoid
-
Not as durable as some glasses
Built for fast-action sports, the Velocity sunglasses move with you as you're bobbing up and down during a trail run, shield the sun and don't inhibit your field of vision. The premium ice blue mirror lenses are polarized, shatter-resistant, anti-reflective and offer 100 percent UV protection. The flexing temples and rubberized nose pads keep these shades in place, while the rimless bottom provides an unobstructed view of obstacles and debris on the trail. Intended for a small-medium fit, the Velocity sunglasses look as good as they perform. Shady Rays burst on the scene as an Internet startup brand offering affordable sunglasses. Those kinds of brands are plentiful but most are hawking cheap, disposable glasses. The difference is that the quality, performance and style of Shady Rays sunglasses, which are on par with much more expensive models. Shady Rays will even replace your shades if you break them.
Tifosi Sledge
A pair of shades with oversized styling and an ergonomic fit, the Sledge are packed with value and performance
Specifications
Frame Size:
Large/Extra Large
Frame colors:
Crystal red / Crystal orange / Matte White / Matte Black
Lens colors:
Clarion blue / AC red / Clear / Smoke
Reasons to buy
+
Performance-oriented shape and fit
+
Smart details and features
Tifosi has always been known for no-frills, functional, sport-specific sunglasses, but the Sledge is so much more than that. They're elite-level performance shades with smart design features and an affordable price tag. The curvy frame design hugs around the shape of many medium to large face profiles – however it's not quite as optimal for trail runners with smaller faces – and the oversized lens give a maximal field of vision. The distortion-free vented lenses are made from a scratch-resistant, shatterproof polycarbonate with an anti-glare coating. The durable nylon frames are extremely bendable under pressure and have limited edges to maximize the optics and hydrophilic rubber on the tips to grip during high-sweat activities. Sledge shades have a cool look and high-performance features, combining fit, functionality and optics.
Zeal Optics Manitou
The Manitou are high-performance adventure shades with urban style, highly advanced lenses and exceptional optics
Specifications
RRP:
$229 (US) /£180 (UK)
Frame colors:
Maple / Matte Black / Ash
Reasons to buy
+
Optimal lens for changing light conditions
+
Casual styling
+
Best-in-class optics
The small town of Manitou Springs, Colorado, is tucked between the sprawling city of Colorado Springs and the purple mountain majesty of Pikes Peak. It's a trail running mecca and the place where we tested the Colorado-made Manitou shades. There's no place better than experience Zeal's AutoSun lens technology – which combines with photochromatic variable light capabilities and polarized protection – that's ideal for long mountain runs full of partly sunny and partly cloudy moments. The superlight frames are made from an eco-friendly bio-resin that's as durable as plastic but much better for the environment. And the best feature might be one of the smallest: the grip pads at the tips of the frame actually get tackier when they get wet from sweat or rain. There's high value and performance packed into the Manitou, and yes, the price tag is higher than some other polarized shades. But they feature best-in-class optics and are versatile enough to wear trail running, mountain biking or an afternoon relaxing at the pub after a day of high-velocity adventures.
What to look for in the best trail running sunglasses
There are several important things to consider when choosing the best trail running sunglasses. We recommend thinking hard about the following factors.
Fit
As with trail running shoes and the clothes you wear, the size of a pair of shades and how a particular model fit on your face and head are crucial to a good experience and optimal performance. Like snowflakes, no two pairs are identical. It's important to try glasses on, if possible, to understand how the frame size, shape and curvature covers your face but also how the nose pads, temples (or arms) and temple tips interact with the specific size and shape of your head, both in a static position but also while you're running. One key factor to consider is how far the lenses are from your eyes, while it's also smart to understand how the temple pieces interact with running hats you typically wear.
Optics
Not all lenses are equal. In fact, the performance of some shades might be greatly superior to others relative to the type of conditions you'll be running in. While most lenses provide UVA A and UVA B protection, not all lenses offer the glare-reduction of polarization. If you're trail running in the mountains or seashore where you're adjacent to snow or water, you'll want to consider buying a pair of sunglasses with polarized lenses. When it comes to the admission of light, you can consider tints and coatings that make your view appear darker or lighter, but the best-case scenario for trail runners might be a photochromatic lens that adapts to sunny and cloudy conditions. The base curve or arc of the frames can be a factor to consider, but it can often be hard to find. The base curve number tells you how far the frame will curve out. A 6-base curve is considered standard and will fit flatter on your face, while a base curve of 8 will have more curve and wrap around your face.
Prescription sunglasses
If you need or want to replace the lenses in your sunglasses with prescription lenses, you should consider this from the start. It's easier with some brands than it is with others based on the shape and interchangeability of the lenses. Most brands will have information about which models are best for prescription lenses on their websites. You can work with your local optometrist or find an online service or sales site to meet your needs.
Color
In theory, frame color and lens color shouldn't matter when you're looking for the best trail running sunglasses, at least in terms of a performance-oriented point of view. But we know that shades are an accessory that carry a bit of vanity in how we wear them. Keep in mind, those sunglasses provide you the protection and performance you'll need while trail running, but they'll also appear in race photos and the images you (or others) post on social media. Does that mean they have to match your trail running ensemble? No, but if you're not particularly keen on how they look when you buy them, you might not like them later on when you're tagged in a post. Performance is crucial, but to some trail runners with discriminating tastes the look and appearance might be a close second.
Cost
The cost of a pair of sunglasses could be the big or small priority when you're buying a new pair of shades. In one sense, you definitely get what you pair for, but the price is also relative to how you care for your sunglasses. Generally speaking, higher-priced sunglasses from bigger, more well-known brands have good quality lenses, smart features and appealing aesthetics. But they also have a lot of marketing budget built into the price. On the contrary, there are a lot of good (even if more basic) sunglasses available from smaller, start-up brands offered at seemingly incomprehensibly low prices. Some of those are actually quite good, some are complete rubbish, so if you're shopping on a limited budget for the best trail running sunglasses, you really have to be discerning about the features and quality.
Weight
The weight of the sunglasses typically doesn't matter too much, except sometimes when they're too light. It's typically difficult even to find the weight of a pair of shades as most brands don't include it in the specs they publish online or on point-of-sale hang tags. Generally speaking, most sunglasses fall in the range of 0.75 ounces (21.5g) and 1.5 ounces (43g) and the difference is barely noticeable unless you're trying them on in a side-by-side comparison. Typically the shades on the heavier end wind up providing a more secure fit while you're running, but the super-light frames can sometimes be awkwardly willowy, especially when you're running fast in hot, sweaty conditions.
Brian is an award-winning journalist, photographer and podcaster who has written for Runner's World, The Times, Outside, Men's Journal, Trail Runner, Triathlete and Red Bulletin. He's also the author of several books, including Kicksology: The Hype, Science, Culture and Cool of Running Shoes. He lives in Boulder, Colorado, and loves to run, bike, hike, camp, ski and climb mountains. He has wear-tested more than 1,500 pairs of running shoes, completed four Ironman triathlons, as well as numerous marathons and ultra-distance running races.
All the latest inspiration, tips and guides to help you plan your next Advnture!
Thank you for signing up to Advnture. You will receive a verification email shortly.
There was a problem. Please refresh the page and try again.