The different types of running workouts you need to know
Incorporating the different types of running workouts help you to improve your fitness, stay engaged in your workouts and optimize your performance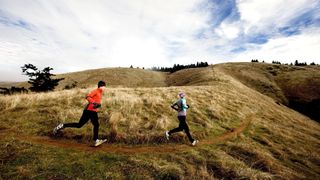 (Image credit: Jordan Siemens)
For a lot of people, running doesn't involve a whole lot of consideration given to technique. You just pull your best trail running shoes on, head out the door and put one foot in front of the other for as long as you can – or as much time as you have available. Although this is certainly a better approach than sitting on the couch thinking about running, over time you might find yourself plateauing in terms of fitness, weight loss or even your enthusiasm for running. Knowing the different types of running workouts – and incorporating them into your training plan – can be a great way to improve your fitness, stay engaged in your workouts and optimize your performance if you're thinking about signing up for a race.
Base run
As the name suggests, this type of run is your home base – it's the run you do most frequently throughout the course of the week and probably the one you've been doing for years. It's not particularly long or short, but its length depends on you, your specific training plan and goals. For example, if you are training for a 10k run, your base run might be 5k and you might do that three times a week.
During your base runs, you just run at your natural pace, so you'll experience a moderate level of challenge. These runs help to maintain your stamina and endurance levels and support cardiovascular conditioning. It's helpful to use a fitness tracker to get a good idea of your average base pace, so you can work out what a fast or slow pace might look like for you.
Long run
Your long run will either be a similar pace to your base run, or a bit slower, but obviously you'll go further. The length, again, depends on your plan – if you were training for a 10k, during the early days it might only be 6k or 7k, but you'd be working your way up to 10k over the weeks, and ideally getting pretty close by the week before race day.
Naturally, your long runs help you to build stamina and endurance, and also encourage your body to rely on fat rather than glycogen for energy stores, according to a paper published in Exercise and Sport Sciences Reviews. Due to their length and pace, it can be nice to go out with a running partner on these days. These runs should place some challenge on your body and fatigue you, so you need to know how to recover after a long run and follow up with a rest day, or at most, a recovery run.
Recovery run
Following a more challenging run, such as your long run or intervals, you can do a recovery run which adds a small amount of mileage to your weekly totals, but doesn't further fatigue your muscles or cardiovascular system. A recovery run will be short – perhaps as little as 3k or 4k when training for a 10k – and slow enough that it feels easy to you, even if you are still tired from the previous run.
Progression run
If you're training for a race, you might incorporate some progression runs into your plan. These runs usually begin at your base pace and gradually increase in pace, ending with your desired race pace. As an example, if your base pace is 10k/hr but you'd like to run your race at 12k/hr, you could do a 6k progression running the first two kilometers at 10k/hr, the next two at 11k/hr and the final two at 12k/hr, so that for the last stretch you are running as fast as you want to be on race day.
These runs don't only increase your stamina – they help you to get in the right headspace for picking up your pace as you approach the finish line and be more competitive.
Tempo run (lactate threshold run)
Tempo runs are used by elite runners to increase their lactic acid threshold – the level at which exercise causes lactate to accumulate at a faster rate than the body can metabolize it. These runs involve running at a faster pace than your base – though not your maximum pace – to find the point where your body switches from aerobic to anaerobic activity, and sustaining it for a moderate amount of time.
A 2020 study in the European Journal of Sport Science compared Kenyan runners to Spanish and concluded that the Kenyan runner's higher performance could be attributed, in part, to their increased volume of tempo runs. While professional runners might sustain their tempo pace for up to an hour, if you're new to these you simply want to find the fastest pace that you can sustain for a 20-minute period. Make sure to warm up and cool down, too.
Intervals, sprints and hills
Interval training alternates high and medium intensity activity with low intensity activity, giving you a chance to pack more high intensity training into a single workout than you could manage if you tried to do it in one sustained push. In running, this can look like alternating 30 - 90 second sprints to get your heart rate to 80 - 95% of your max, with short periods spent standing, walking or jogging to recover.
A 2019 article in the World Journal of Cardiology found interval training to be effective for prevention of cardiovascular disease while a 2018 study in the Journal of Strength and Conditioning Research found it significantly increased endurance and power in runners in just six sessions. Typically these runs won't entail more than one or two of your weekly workouts and it's helpful to use a heart rate monitor.
Sprints are very similar, although the technique is to sustain maximum effort for those short periods, whereas in Interval training you may be at below maximum effort for some stretches, and the goal is to improve your speed.
Similarly, hill repeats repeatedly running fast up the same hill multiple times to improve leg strength and energy economy. For overall performance, it can be good to vary up your approaches.
All the latest inspiration, tips and guides to help you plan your next Advnture!
Julia Clarke is a staff writer for Advnture.com and the author of the book Restorative Yoga for Beginners. She loves to explore mountains on foot, bike, skis and belay and then recover on the the yoga mat. Julia graduated with a degree in journalism in 2004 and spent eight years working as a radio presenter in Kansas City, Vermont, Boston and New York City before discovering the joys of the Rocky Mountains. She then detoured west to Colorado and enjoyed 11 years teaching yoga in Vail before returning to her hometown of Glasgow, Scotland in 2020 to focus on family and writing.