How to go running in hot weather: top tips for hitting the trails in the summer
A guide to staying cool and safe when running in hot weather, as temperatures rise and the sun blazes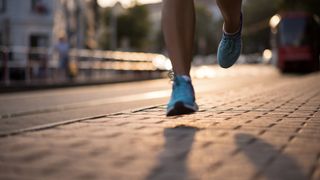 (Image credit: Getty Images)
When temperatures rise and the sun is shining, it can be tempting to make plans for even more running than normal. The warmth and blue skies are very motivating and spending time outdoors is a priority.
But running in hot weather should be done with care, especially if you want to enjoy the trails and get home safely. You will very quickly realize just how draining it can be to run in hot weather.
There are also risks to running in hot weather including sun-burn, dehydration, cramps and fatigue. By choosing your running time and location, as well as following a series of other tips, you will learn how to run in hot weather.
7 tips: how to run in hot weather
Follow these tips for how to run in high temperatures or a heatwave.
The right time
Going for a run earlier in the day, or in the evening will mean you avoid the hottest temperatures and brightest sun of the day. Remember that the sun is at its height at around midday so it's not a good idea to run a couple of hours either side of this, and especially not in the early afternoon.
The right location
Choose your route wisely and avoid trails and track that will have little or no shade. A run under the cover of cooling trees, especially in woodland or forestry, will be far more enjoyable on a hot day.
Likewise, running in bright sunshine on an open hillside or mountain will be hard work and potentially unsafe. You might not notice how hot the sun is – and the effects of sunburn and dehydration – if you are at altitude because it can seem cooler, even when the sun is still blazing.
If you are in a city or town, try to head to a park, woods or, better still, run in the countryside where grass and trees provide a cooler environment. The coast is another great place for a run but remember that a sea breeze can hide the intensity of sunshine.
Keep it short
Reduce your ambitions to head out for a long run when temperatures are high. It might be tempting but sensible runners will shorten the run so that they can ensure they have adequate water with them.
If you are desperate to complete a long training run because it's the weekend or your programme says so, why not split the session in two and do half in the earlier morning and half later in the day?
Drink more water
It's a good idea to ensure you are properly hydrated before you head out for a run in warm weather. Then take adequate supplies of water in a hydration pack. You will be surprised just how much water the body needs when the heat is on and you are sweating.
Sports drinks
A sports drink will normally include electrolytes, which increase your water-absorption rate. They also helped to replace the electrolytes you lose in sweat. Choose a drink that you like the taste of so that you are most likely to keep sipping the fluid as you run.
Run with a friend
It's better to run with someone else when heading out in unusual circumstance or conditions. Heat stroke or severe dehydration can happen suddenly and you will want a friend with you to make sure you can get to safety if something does go wrong.
If you can only run solo, tell someone else where you are going and when you will be expected back.
Make adjustments
If you set out and then you don't feel like a long run, it's totally fine to let yourself be dictated by the conditions. Sunny weather can make you feel fatigued, so you could try slowing down or simply head home early.
6 more tips: running in hot weather
Dress for the weather
Cool, lightweight clothing is the best idea but make sure you are wearing adequate sun-cream. Clothes that are light in colour, with vets or mesh panels and made of lightweight fabrics are the best idea.
You could choose to wear white arm sleeves to reflect the heat and protect your skin. Also be sure to take the best running headwear and always have sunglasses.
Use sun cream
Protect your skin with a sports sun cream. It is a good idea to wear a high factor sun screen in the summer but especially on a hot and sunny day. When you are running – and especially if there is a breeze – you may not notice you are being burned.
Alcohol and medications
Alcohol and some medications, such as antihistamines and antidepressants, can have a dehydrating effect. Try to avoid them until you return from your run.
Time to acclimatise
If you are visiting a hot country or the temperature locally has suddenly increased, it is a good idea to give yourself a few days to acclimatise. You should gradually increase the length and intensity of your training. In this way, you will allow your body to adjust by decreasing the heart rate and core body temperature, while also increasing your sweat rate.
Run in water
Head to a pool or a safe lake and try running in the water. You'll need a flotation device to keep you upright but then you simply move your legs as if you were running on land. It can be a very effective, low impact workout, and with the added benefit of being out of the blazing hot sun.
Dog friendly
It might be a better idea to leave your faithful friend at home on hot days. Try to give your dog a run when temperatures are lower in the early morning or later evening and always have plenty of water on hand or nearby for dehydration. Never leave a dog in a vehicle while you go for a run.
If you take care when running in hot weather, you will still be able to enjoy your favorite sport.
All the latest inspiration, tips and guides to help you plan your next Advnture!
Fiona Russell is a widely published adventure journalist and blogger, who is better known as Fiona Outdoors. She is based in Scotland and is an all-round outdoors enthusiast with favourite activities including trail running, mountain walking, mountain biking, road cycling, triathlon and skiing, both downhill and back country. Her target for 2021 is to finish the final nine summits in her first round of all 282 Munros, the Scottish mountains of more than 3,000ft high. Aside from being outdoors, Fiona's biggest aim is to inspire others to enjoy the great outdoors, especially through her writing. She is also rarely seen without a running skort! Find out more at Fiona Outdoors.