Why use a heart rate monitor? Using tech to track your ticker
Why use a heart rate monitor? We explore the benefits of using technology to analyze your performance and present the two main types of heart rate monitor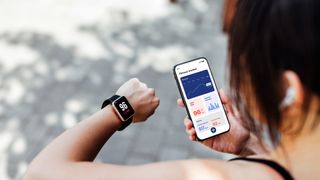 (Image credit: Oscar Wong)
When you're doing an aerobic activity like trail running, hiking or wild swimming, your heart rate increases, which trains your cardiovascular system to be more efficient, burns calories and lowers cholesterol, all of which is great news. But if you're looking to improve your performance on the trail and go further or faster, you might want to invest in a heart rate monitor to help your training. But why use a heart rate monitor when you've got two fingers and a stopwatch, you ask? In this article, we take a look at the benefits of using a heart rate monitor, and the main types of heart rate monitor.
Why use a heart rate monitor?
While measuring your beats per minute tells you exactly how fast your heart is beating, that's really only a small part of the puzzle and doesn't really tell you what to do with that information. A heart rate monitor not only gives you more scientific data around your heart rate, it can help you adjust your training to meet your personal goals, stores historical data for a bigger picture of your performance and even gives you recommendations for how to recover after a long run or other workout.
While there's certain kit that you absolutely need – like the best trail running shoes – using a heart rate monitor is not essential. There's a lot you can figure out using your watch and our article on determining your normal heart rate when running. Plus, you might get out in the wild to get away from technology, and that's completely reasonable. But if you are a tech lover and you really don't want to keep stopping to take your pulse, and you're looking for more accurate information around your heart for performance purposes, you will love training with a heart rate monitor.
Heart rate monitors are small devices that can be worn in different ways – usually around your chest, wrist or bicep – that measure electrical signals from your heart or pick up information from your pulse and transmit the data to a wrist watch or app that you can access from another device. Nowadays, the information is transmitted in real time so you'll be able to access it while you're moving and use it to adjust your pace and technique as needed. For example, if your goal is weight loss, your heart rate monitor will make suggestions regarding your pace and intensity and how long to sustain it for optimum results. Rather than just running as hard as you can for as long as you can in the hope you'll lose weight, you might actually find yourself going slower.
When you've finished your workout, you can analyze the data from home and it will give you a plethora of information such as how long you need for recovery, in hours, before your next workout, and even predict when your next peak performance time will be using metrics like your VO2 max.
Types of heart rate monitor
Basically, there are two types of heart rate monitors: a chest strap that pairs with a wrist watch, and one that is just a wrist watch. Originally, the chest strap variety was the only one to use electrocardiogram (ECG) technology, making it more accurate, however since 2018, smartwatches are also able to use this technology.
Chest strap
For years, the only option for heart rate monitors for athletes came as a chest strap that pairs with a wrist watch. The adjustable strap tightens around your chest and once there's a little moisture, from sweat, it starts to detect the electrical impulses from your heart. This type of heart rate monitor is extremely accurate and reliable – over 99% according to a 2017 randomized controlled trial by Medicine and Science in Sports and Exercise.
That said, there are some obvious downsides, the most notable of which is that some people find wearing a strap around their chest during exercise annoying or uncomfortable. Further, though they require some moisture to work, over time this degrades the strap and sensors and you need to replace the strap. In the past, straps were the more expensive option but the advent of smartwatches has reversed this – though it's easy to imagine this type of heart rate monitor becoming obsolete in the near future.
Watch or fitness tracker
While wearing a strap around your chest on a run might take some getting used to, most of us already wear a watch, which explains why wrist watch versions (or fitness trackers) have gained so much popularity. As we've said, some smartwatches now utilize ECG technology making them as reliable as a chest strap, whereas other types work using an optical heart rate sensor. Optical heart rate sensors have to be worn next to your skin and measure pulse waves, or changes in the volume of a blood vessel. Although these can come as separate devices that you can attach to your watch, or as a dedicated fitness tracker like a Fitbit, many of us already own smartwatches which already have this capability, so it might not be a case of choosing a heart rate monitor so much as learning how to use the one you already wear.
Obvious advantages to this type of heart rate monitor is that they're easier to wear and if it's a smartwatch, will have lots of other functions and gadgetry. These also come as straps that go around your bicep, and the technology is even being introduced in some of the best running headphones, too. They're often on the pricier end, however, and there is some evidence from studies like a 2020 trial in the Journal of Medical Internet Research indicating that the technology is not quite as reliable as ECG. But again, if you love tech, you'll get round this by investing in a smartwatch that uses ECG for the best of both worlds.
All the latest inspiration, tips and guides to help you plan your next Advnture!
Julia Clarke is a staff writer for Advnture.com and the author of the book Restorative Yoga for Beginners. She loves to explore mountains on foot, bike, skis and belay and then recover on the the yoga mat. Julia graduated with a degree in journalism in 2004 and spent eight years working as a radio presenter in Kansas City, Vermont, Boston and New York City before discovering the joys of the Rocky Mountains. She then detoured west to Colorado and enjoyed 11 years teaching yoga in Vail before returning to her hometown of Glasgow, Scotland in 2020 to focus on family and writing.