What is section hiking? How to tackle a big trail bite by bite
We explain the seven main advantages of section hiking over thru-hiking and discuss how to get started by tackling a bit at a time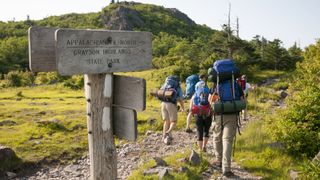 (Image credit: Getty)
You know that Desmond Tutu quote about how the only way to eat an elephant is one bite at a time? It turns out that this now-famous expression can be applied to hiking long trails, too. You've no doubt heard of thru-hiking, and probably been impressed by those hardy individuals who walk the entire length of a long-distance trail all in a oner. If you've always coveted this idea but feel you couldn't possibly walk for thousands of miles, or just don't have a spare six months available, section hiking might be perfect for you. Section hikers also tackle the world's long-distance hiking trails, but rather than do the whole thing in one go, they simply complete portions of the trail.
How long is a section hike?
The sections can be virtually any length. For instance, a hiker who lives close to a long-distance trail might simply decide to hike all the sections nearby that they can walk or drive to. This hiker might then select sections that they can reasonably do in a day, so they could be anywhere from two to over 10 miles. They might do a single section or multiples.
Another hiker might have a week off work, or a month of downtime between jobs, and decide to pack a tent and sleeping bag and tackle a heftier section. Then you've got the folks who end up covering the entire length of a long-distance trail, but in lots of smaller sections spread out over years. All of these are different approaches to section hiking that allow the hiker to enjoy the big trails and get a feel for the thru-hiking experience.
What are the advantages of section hiking vs thru-hiking?
There's no question that thru-hiking can be an incredible, life-altering experience, but it's also a massive undertaking. Not only are you committing to hundreds, if not thousands, of miles walked in your hiking boots, but you need anywhere from a month to a year off work, funds in your bank account, a lot of gear and then there's the incredible amount of planning involved in making sure you have everything you need, when you need it.
In almost direct contrast, section hiking allows you to immerse yourself in some of the best of the thru-hiking experience (AKA the scenery and the hiking) but the way we see it, carries seven main advantages over thru-hiking:
1. It takes less time
Obviously, section hiking doesn't require you to be granted a sabbatical from work. You can complete sections over weekends or during your holidays which means you don't have to quit your job or reorganize your entire life. If you have a job or a family, this will be a major bonus.
2. It costs less money
For those who love the outdoors, quitting your job and spending six months on the trail far from the pressures of modern life sounds like a dream come true, but that back-to-basics approach to living is surprisingly expensive. Did you know that most thru-hikers on the Continental Divide Trail report spending between $5,000 and $8,000 on their journey between food, supplies, gear replacements and lodging and that doesn't include the initial gear investment? Section hiking is bound to cost some money depending on how you approach it, but if you're doing it as a series of day hikes, it can cost next to nothing and even a week or two will be doable on a tight budget.
3. You may need less gear
This point is debatable, since if you're hiking for a month you really will need most of the same gear as a thru-hiker, such as a tent, camping stove and your sleep system, but for day hikes you can lose the camping gear entirely and unless you're hiking for months on end, you won't need replacement boots or clothing.
4. You can pick your seasons
For most people doing a six month or longer thru-hike, they'll be setting off in early spring, hiking through the summer and finishing up in the fall, which means they have to be prepared for a lot of different conditions. As a section hiker, you can pick your seasons meaning you only hike in the best possible weather – this again ties into needing less gear and spending less money.
5. You can skip the gnarly parts
Now we know that gnarly hiking might be your thing, but the beauty of section hiking over thru-hiking is that you can skip those really rough sections that people complain bitterly about – for example, the endless ridges that make up the southern Virginia portion of the Appalachian Trail or the treacherous trek from Stevens Pass to Rainy Pass on the Pacific Crest trail – and pick the most scenic ones.
6. It takes less planning
Not to say that there isn't any planning involved in section hiking, but planning for a thru-hike sometimes feels harder than the actual hike itself. It's not just a case of starting at the beginning and walking until you reach the end – before you leave, you need to figure out exactly what food and other supplies you need for each week of your hike, pack it all up individually and arrange for someone to mail them to post offices along the way so you can pick them up. For a six month hike, you're doing that no less than 24 times. A section hike that's longer than a week would certainly require this in miniature, but you can definitely think on a much smaller scale, and spend more time focusing on the trail itself.
7. It's less intimidating
Let's be honest, the thought of walking by yourself on a trail for half a year is downright intimidating for most people, but if you love the outdoors, why shouldn't you get to enjoy some of the world's greatest trails? With section hiking, you get to break a massive feat down into more palatable chunks and still achieve something life-affirming and hugely impressive.
How can I get started with section hiking?
To get started with section hiking, you'll want to pick a long-distance trail that's calling your name and then acquire a hiking guide for that trail to get an overview of the whole thing. Many good hiking guides will divide trails up by sections – these are usually obvious access points like towns that you can travel to and hop on the trail. You don't have to do an entire section between two of these points by any means, as they can be dozens of miles, but it can give you a good idea of where might be accessible for you, and what sections look nice or interesting.
Once you have figured out what section of sections you want to do, the distance will give you an idea of how much time you need and whether you need to plan for overnights. If so, you can start with our guide on backpacking for beginners, or if camping isn't really your thing, you can research small towns along the trail that almost always have accommodation for thru-hikers. Basically, with section hiking, the world is your oyster and you can do as much or as little as you like.
All the latest inspiration, tips and guides to help you plan your next Advnture!
Julia Clarke is a staff writer for Advnture.com and the author of the book Restorative Yoga for Beginners. She loves to explore mountains on foot, bike, skis and belay and then recover on the the yoga mat. Julia graduated with a degree in journalism in 2004 and spent eight years working as a radio presenter in Kansas City, Vermont, Boston and New York City before discovering the joys of the Rocky Mountains. She then detoured west to Colorado and enjoyed 11 years teaching yoga in Vail before returning to her hometown of Glasgow, Scotland in 2020 to focus on family and writing.