Should I buy a hydration pack?
We all know the importance of keeping hydrated during physical activity, but should I buy a hydration pack is a question hikers and trail runners need ask themselves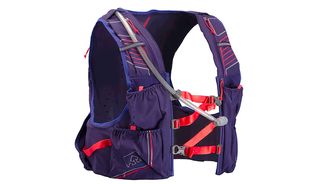 (Image credit: Nathan)
Trekking, trail running, fast-packing and thru-hiking are all thirsty activities so should I buy a hydration pack is a crucial question. Even in cooler weather, you'll have to rehydrate along the trail and proper hydration needs to be part of your plan.
Will you depend on water sources along the way (and are you confident they are running), take purifying technology/chemicals, or carry your own H2O? The latter option is the most reliable, but water is very heavy, so think hard about how you're going to cart it.
Fortunately, on-the-go hydration has come a long way in recent years with the advancement of various portable drinking systems. But it still comes down to how much water you'll need and the personal preference of how you want to carry that weight.
A few decades ago, hikers and trail runners used to carry metal canteens in basic canvas rucksacks or nylon backpacks they often picked up at an Army surplus store. The canteens worked well, but they were heavy, cumbersome and relatively small, and they typically bounced around inside a pack. The advent of plastic water bottles changed the game, but those too were limited by size and weight.
The biggest game-changer has been the development of bespoke portable hydration systems in the 1990s. These were pioneered by the brand Camelbak, whose founder Michael Eidson came up with the concept in 1989 when he found himself stuffing an IV bag full of water into a sock that he tied to his back while competing in the Hotter 'n Hell 100 bike race in Wichita Falls, Texas.
Twenty-five years later, the company Eidson launched off the back of that idea was worth US$412.5 million, and increasingly sophisticated hydration bladders had become widely integrated into sports-specific packs.
The short answer to the question above is, yes – if you're taking part in trail activities that are longer than 10km/6 miles in length, it is a good idea to invest in a hydration system. However, the following are a few insights for you to consider as you weigh up your options.
1. Hydration is crucial
We all know we need to drink when we're thirsty, but it's more than just that when we're participating in long endurance pursuits, including trekking. Many studies have shown that runners and hikers should be trying to replace the same amount of liquid they're losing in sweat. Everyone's sweat rate varies — and that can be greatly affected by the weather conditions — but drinking about 500 to 750ml (16 to 24 fluid ounces) per hour is a good estimate. In warm and hot conditions, you'll likely sweat more, so that could be increased to roughly one liter (36 fl oz) per hour. If you're embarking on longer adventures or activities in the heat, you're also need to replace the electrolytes you're losing in your sweat (primarily sodium, chloride, potassium, magnesium and calcium) to be able to properly rehydrate. The most effective and consistent way to do that is to dissolve electrolyte tablets into your hydration reservoir or one of your bottles after you refill them with water.
2. Your pack should fit your activity
If you're trail running, trekking or thru-hiking, you should wear a pack specifically designed to meet the precise needs of those activities. No matter if you're covering a long distance or a shorter distance, a properly fitting pack built for that activity will help you maximize your comfort and performance out on the trails, as well as helping you stay optimally hydrated. There are dozens of packs available out there for each activity – from lightweight minimalist vests to full-on backpacks – but not all come complete with hydration options at the time of purchase. Many backpacks have dedicated space for a reservoir, and an opening for the tube to come out of, but not all supply the bladder to fit in it – do your research before purchasing a pack.
Tip
Although you might be purchasing a pack primarily for the purpose of carrying water, consider all its other features as well, before choosing one – many are very cleverly designed to offer easy-access pockets for storing snacks/phone/sunglasses and so on, and mesh storage options for wet weather gear.
3. How do you want to carry and consume water?
The three biggest factors in understanding how to carry water on the trail are: 1) understanding how much water you'll need; 2) knowing where you'll be able to refill; 3) appreciating how you're most comfortable carrying and drinking water on the go. Once you consider those variables, you can understand your options and make informed decisions that will fit your needs and preferences.
4. Sport-specific considerations
Trail running
Trail running packs typically feature smallish (500ml/18 fl oz) soft bottles accessible from the front, and/or small-to-medium-sized hydration reservoirs (1–1.5 litres/36–50 fl oz) with drinking tubes that integrate into the pack. If you're running in a trail race — no matter if it's 5km, 42km or 100km — you'll benefit from having aid stations where you can stop and refill water bottles. That means you can carry less water while you're running, thus reducing your weight – but it also means you're reliant on variables outside of your control (for complete reassurance it's worth having some water with you). A pack with soft bottles can also work for short to medium-length adventure runs out in the wild (under 10km), but if you're embarking on a multi-hour run in remote terrain, you'll definitely want to consider a hydration reservoir – even though it's going to be heavy at first.
Tip
When looking at buying a reservoir/bladder for trail-running races, where time is precious, choose one with an easy-to-fill system.
Thru-hiking
Some medium to large hiking packs have medium to large hydration reservoirs (1–3 litres/50–100 fl oz) with drinking tubes, while others have no integrated hydration at all, which means you can opt to retrofit your own water bottles into that pack or buy an after-market hydration reservoir system. If you're thru-hiking on a long-distance trail, you're most likely going to have the chance to fill up your water receptacles as you pass through small villages or huts on the trail. But sometimes those waypoints are far apart (or the source might not be reliable), forcing you to carry ample water so you can make it from point to point — and maybe a little extra just to be safe. Hydration systems with reservoirs and easy-access drinking tubes are a lot more convenient. Carrying your own plastic bottles can be cumbersome because it often means you have to stop and remove your pack to access the water zipped up in your pack. The other option, of course, is to carry a water purification system or chemicals, but those can take time to work.
Tip
To clean and kill bacteria that can build up in a reservoir/bladder, rinse it out after use and then freeze it (empty).
Fast-Packing
Fast-packing combines the thrill of moving relatively fast while trail running with the long-distance endurance of backpacking and thru-hiking. Depending on your re-filling options, you could carry either smallish soft bottles or a hydration reservoir while you're fast-packing. If you're able to refill often at specific points along your route, carrying soft bottles could be best. But if the chance to refill from spigots is few and far between, you'll want to opt for a medium to large reservoir (1–3 litres/50–100 fl oz) and/or carry a portable water purification system, too.
All the latest inspiration, tips and guides to help you plan your next Advnture!
Brian is an award-winning journalist, photographer and podcaster who has written for Runner's World, The Times, Outside, Men's Journal, Trail Runner, Triathlete and Red Bulletin. He's also the author of several books, including Kicksology: The Hype, Science, Culture and Cool of Running Shoes. He lives in Boulder, Colorado, and loves to run, bike, hike, camp, ski and climb mountains. He has wear-tested more than 1,500 pairs of running shoes, completed four Ironman triathlons, as well as numerous marathons and ultra-distance running races.