Should I buy a pop-up tent? We weigh up the pros and cons
Hassle-free and perfect for summer camping trips – but we've all asked ourselves, 'Should I buy a pop-up tent for trekking?' (Spoiler: nope. But don't discount them yet.)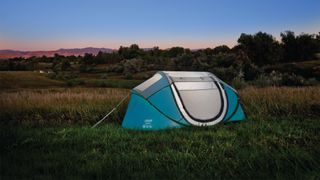 (Image credit: Coleman)
The question of should I buy a pop-up tent is easily answered when it comes to relaxed summer camping and going to festivals. Pop-up tents take all the faff away from putting your tent up by, quite literally, popping open and into place in an instant. If you haven't tested out these cheerful little tents yet, they tend to be lightweight and designed to sleep two to four people, and come packed into circular carry bags – open the bag, point it in the direction of your camping spot and the tent will unfurl into place. All you need to do then is peg in a few guy ropes and you can get on with starting up the fire and cracking open a few beers.
Where instant tents excel is in how quick they are to erect, and in their very pocket-friendly prices, with decent models starting from just £30/$40 (and our top three picks in our list of the best pop-up tents cost £40/$50, £75/$100 and £100/130 respectively, none of which will break the bank).
Pop-ups have their downsides, of course. They don't tend to be fully weatherproof, and while they'll withstand a summer shower, you're likely to get leaks in heavy rain and storms. Their flexible fiberglass poles make them flappy and unreliable in the face of high winds, too, even if you've pegged them in. And space is often limited – even four-person pop-up tents only have one bedroom, which limits the number of people and kit you can fit in, although some do have small porches, which makes it easier to store your backpack and boots. If you need a tent that can go further than sheltered campsites, pop-ups are not for you.
Verdict
The bottom line? A pop-up tent isn't technical enough for mountain expeditions, and you wouldn't want to take it on committing multiday treks either. It isn't lightweight enough for wild camping, or portable enough for backpacking, and it's only really suitable for warm summer weekends.
Even in some campsite, hardened adventures might scoff when you pop up your cheap-as-chips instant number, but that's doing instant tents a disservice – they are designed to be pocket-friendly, fun, and totally headache-free. They are perfect for casual summer camping sleep-outs with friends, for use as spare 'pup' tents for the kids, as an easy hideaway when you're at a festival, or just for popping open in the back garden or on a beach if you need an instant shelter. Most are priced at under £50/$65 and are easy to slot under the bed and stick in the back of your car – so there's no reason why you shouldn't own one or two for more casual camping, alongside more weatherproof, technically-advanced tent models for more ambitious trips into the wild. For affordability and ease of use, we reckon that once you pop, you won't stop.
All the latest inspiration, tips and guides to help you plan your next Advnture!
An award-winning travel and outdoors journalist, presenter and blogger, Sian regularly writes for The Independent, Evening Standard, BBC Countryfile, Coast, Outdoor Enthusiast and Sunday Times Travel. Life as a hiking, camping, wild-swimming adventure-writer has taken her around the world, exploring Bolivian jungles, kayaking in Greenland, diving with turtles in Australia, climbing mountains in Africa and, in Thailand, learning the hard way that peeing on a jellyfish sting doesn't help. Her blog, thegirloutdoors.co.uk, champions accessible adventures.