The best tent pegs 2023: hold your shelter firm in any weather
Whatever the terrain, these are the best tent pegs, pins and stakes to hold down tents and tarps in all conditions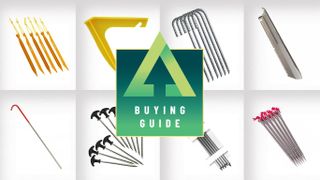 (Image credit: Future)
Not long ago, the concept of searching for the "best tent pegs" would likely have been met with incredulous disbelief. Tent pegs were the least sexy part of an adventurers' kit bag; something that simply came with whatever camping tent you happened to be using; something that most people wouldn't have thought twice about; something that usually took the form of a basic skewer of metal, with all the strength and rigidity of cooked spaghetti.
However, these often overlooked parts of a tent have always performed a very important job (shelter, along with sustenance, is a basic requirement in the wilds) and modern materials and new designs have now transformed the best tent pegs into desirable high-tech equipment.
Stronger metals and plastics, lighter – much lighter – weights and well-thought-out features can give you an arsenal of different pegs, spikes, stakes and pins to prepare you for pitching a tent in most terrains. And there's now a wide range of options, from pins with thin profiles for firm ground to pegs with wider surface areas for looser soils, through to stakes with a bit of heft to provide the greatest holding power possible.
Titanium and high-quality aluminum, used by Alpkit and Sierra, are weight-saving materials yet still offer strength, whilst the strong plastic used in the Piranha pegs can provide more surface area for better holding in many soils. Well-profiled hooks or notches to hold guy line loops securely are a plus, as are capped or profiled tops that ease driving pegs into hard ground (though bear in mind that no pegs stand up well to being bashed with stones or metal hammers; use a plastic or rubber mallet or piece of wood on heavier pegs and only push in the lightest pins by hand).
Loops or handles for pulling pegs out are useful, whilst reflective tags or color coatings can help you avoid tripping on them at night, or help finding them in long grass when striking camp. Innovative design can pay dividends; the Delta acts like a boat's anchor, setting itself deeper under increasing tension, while for multi-functionality the Vargo Dig Dig is both a wide-profile tent stake and a lightweight trowel that can be used for digging cat holes (for calls of nature) or fire pits (and there's more on that subject in How to build a camp fire).
Best tent pegs for all terrain
Solid but lightweight titanium rods
Specifications
Weight per peg:
15g / 0.5oz
Color, coating or finish:
Natural metal
Features:
Cord pull loops
Reasons to buy
+
Lightweight
+
Strength
+
Suitable for most terrains
Reasons to avoid
-
No profiled notch to take guy lines
Simple is good, and Alpkit's TiRods are as basic as a solid rod of strong titanium with a sharp end and a capped blunt end can be.
Despite their lightweight creds they "nail" easily into hard ground and have good holding in hard or firm earth, along with reasonable grip in looser surfaces.
The red loops at the head make them easier to spot when you're breaking camp, and are useful for pulling them out when driven home. The lack of a guy rope notch can be a plus rather than a negative if they are inserted at the correct angle, as it allows guy lines to slide down to ground level, for the strongest resistance to being pulled out.
The combination of versatility, weight saving and strength makes TiRods a good choice for an all-rounder set of pegs.
Best tent pegs for windy conditions
Innovative design gives big holding power without a weight penalty
Specifications
Weight per peg:
49g / 1.7oz
Material:
Nylon composite
Color, coating or finish:
Yellow
Number in pack:
4 upwards
Features:
Right-angle "anchor" shape
Reasons to buy
+
Big holding power across a range of holding conditions
+
Lightweight nylon
Reasons to avoid
-
Shape requires more storage space than conventional pegs
With two arms – one to go into the soil and another to lie along the surface and take the guy line's pull – the use of clever engineering principles means that increased pressure on the peg pulls it deeper into the ground rather than levering it out.
This gives immense holding power in soils from rocky to soft earth, with Delta claiming that in optimum conditions – firm terrain – each peg can hold over 11 stone (70kg) before failure.
Study the (simple) instructions to make sure the pegs are used to maximum effect, especially if they're being used for a high-tension purpose like a tarp ridge line or a tent's main guy ropes.
They're a lightweight option for firmly holding down big awnings, tents or tarps used in high winds.
3. Sierra Designs V-Stake
V-profiled stakes with good holding in hard and looser grounds
Specifications
Weight per peg:
9.7g / 0.34oz
Color, coating or finish:
Yellow coating
Features:
Hi-viz cord pull loops
Reasons to buy
+
Wide 'V' shape
+
Lightweight aluminum
+
Reflective loops
Reasons to avoid
-
Will abrade or chip if driven hard into gravelly ground
A 'V' cross-section with a heavier spine ensures these stakes are strong, while remaining lightweight. The two arms of its profile provide good grip, though you'll have to decide for yourself whether to place the 'open' side against the pull of guy ropes, or use the notch but face the apex against the force.
Whichever way round, for their weight and length these pegs have surprisingly good holding power in a variety of soils. The yellow color and the reflective strand loops make them easy to pick out against brown earth and green vegetation. Carrying some of these is a useful way of adding a bit of heft and versatility to a set of thinner pegs.
Super lightweight tent pegs
4. Gram-Counter Titanium Pin
Gossamer-light tent pegs for extreme weight shavers
Specifications
Weight per peg:
2g / 0.07oz
Color, coating or finish:
Natural titanium, orange at head
Number in pack:
Sold individually
Profile:
Wire "shepherd's crook" pin
Features:
High-visibility colored head
Reasons to buy
+
Literally featherweight
+
Easy-see orange heads
Reasons to avoid
-
Only suitable for firm soils
The amount of these pegs you'd need to stake out a whole tent would weigh less than a single AA battery, but it's better to think of them as extras to supplement a set of larger pins with stronger holding power.
On the other hand, real lightweight obsessives could use just these pegs to secure light bivvies or tents in good holding and sheltered conditions, such as woodland or firm sward. The trick is to probe the ground with them until you find a spot to push them home at the correct angle; they won't stand being bashed into earth where they can hit roots or stones.
Being titanium they are far stronger than they look, but be warned – they're so light and thin that they are easy to misplace in vegetation, though their orange-colored 'shepherd's crook' heads help you keep track of them.
Heavy-duty tent pegs
Heavyweight peg-and-mallet set to tie-down big shelters
Specifications
List price:
$43 (US) / £11.95 (UK)
Weight per peg:
65g / 2.29oz
Material:
Steel with ABS handle
Color, coating or finish:
Natural metal
Number in pack:
10 plus mallet and roll-bag
Features:
Profiled "T" pull handles
Reasons to buy
+
Long, thick, heavy bolt-style pegs
+
Spiral thread textured shafts for maximum grip
Reasons to avoid
-
Too heavy for hikers or cyclists
The NGT peg set is a roll of beefy metal stakes that are tough enough to drive into the hardest ground, yet will still hold in lighter soils because of their weight and length.
The supplied mallet with composite plastic head is indicative of the force you can apply to them, giving good holding power if setting up a big camp awning, or a heavy tarp in windy conditions.
If you're a van camper then a set of these on board should give peace of mind in even the strongest winds, while the contoured plastic pull-out handles help in drawing the pegs out of however firmly hammered in. They're a bit too chunky for bikepacking or hiking, though.
Budget tent pegs
6. Quechua Ultralight Non-Anodized Aluminum Tent Pegs
Strong no-nonsense pegs with good grip
Specifications
Weight per peg:
10g / 0.35oz
Material:
Non-anodized aluminum
Color, coating or finish:
Natural metal
Features:
Orange and reflective silver cord pull loops
Reasons to buy
+
Good profile for grip
+
Environmentally sound aluminum production
Reasons to avoid
-
Lesser hold in soft or loose earth
The Quechua Ultralights' square profile makes them easy to drive into hard soil or amongst roots whilst still giving a good grip in less packed terrain.
The simple hook on the "anvil" head is enough to stop light guy lines jumping off even when the pull angle isn't optimum, while the orange and silver reflective loops might well stop you tripping over them at night.
The aluminum is un-anodized, meaning no acids are used to provide coatings or finishes, which besides being good for the environment also means that the bare aluminum can be used for makeshift bars for grills on stoves and fires (though take the loops off first).
Versatile tent pegs
A wide-profile tent peg or a trowel (or both)
Specifications
List price:
$25 (USA) / £28 (UK)
Weight per peg:
36g / 1.25oz
Color, coating or finish:
Natural metal
Profile:
4.5 cm wide shallow "V"
Features:
Combines a peg profiled for most terrains with a lightweight trowel
Reasons to buy
+
A lightweight digging tool is always useful
+
Wide shape works across a range of holding conditions
Reasons to avoid
-
Can be difficult to push into hard ground
A clever idea that has resulted in a product that is both a wide-profile tent anchor and a lightweight trowel that's useful for camp tasks like digging cat holes or excavating fire pits.
A contoured handle and serrated edge make digging comfortable, though it can make pushing it home into hard ground as a tent stake more difficult. As a tent or tarp main fixing point it's at its best in looser soils and would even work in hard sand or packed snow where thinner pegs have less purchase.
Whether carried primarily as a heavyweight stake or as a trowel, the Dig Dig adds versatility to any arsenal of assorted pegs and pins. As an bonus, its shallow "V" shape makes it a convenient "case" to carry other lighter fixings in if they're held in place with a sturdy rubber band.
Tent pegs comparison table
Swipe to scroll horizontally
Best tent pegs

| | | | | | |
| --- | --- | --- | --- | --- | --- |
| Tent peg | List price | Weight per peg | Length | Material | Number in pack |
| Alpkit TiRods | $40 (US) / £28 (UK) | 15g / 0.5oz | 16.6cm / 6.5in | Titanium | 6 |
| Delta Ground Anchor | £12.55 (UK) for 4 | 49g / 1.7oz | 15.5cm / 6in | Nylon composite | 4 |
| Sierra Designs V-Stake | $14.49 (US) / £12.49 (UK) | 9.7g / 0.34oz | 15.5cm / 6.12in | 7001 aluminum | 6 |
| Gram-Counter Titanium Pin | $3.66 (US) / £3.49 (UK) | 2g / 0.07oz | 13cm / 5in | Titanium | Sold individually |
| NGT Bivvy Peg Set | $43 (US) / £11.95 (UK) | 65g / 2.29oz | 25.5cm / 10in | Steel with ABS handle | 10 |
| Quechua Ultralight Non-Anodized Aluminum Tent Pegs | £9.99 (UK) | 10g / 0.35oz | 16cm / 6.29in | Non-anodized aluminum | 5 |
| Vargo Dig Dig Tool | $25 (USA / £28 (UK) | 36g / 1.25oz | 20.5cm / 8.1in | Natural metal | 1 |
How we test tent peds
To find the best tent pegs available, our testers used all of the pegs above during camping and backpacking adventures in a wide range of conditions, using them to anchor tents and tarps.
For more details, see how Advnture tests products.
How to choose tent pegs
For a seemingly simple piece of kit, there is a surprising amount to consider when choosing the best tent pegs. A lot, of course, depends on when and where you intend to go camping but do take into account the following factors and features.
Design
For something as simple as a peg stuck in the ground, the design of a tent stake can separate the useful from the frustrating, no matter whether you're trying to erect a family tent, a one-person tent, a bivvy or a tarp.
The best pegs either fine tune the basics by using materials and features to produce a stake that's lightweight yet strong, and has good holding power under as many conditions as possible. Or they use mechanical principles and different profiles to increase the holding power to keep tents, bivvies and awnings tied down in extreme weather conditions.
Design should also cover the shape of notches to hold guys securely; the form that heads take and how they ease driving or pushing pegs into the ground; and the cross-sections that give the best grip. Get all those right and one has something of sculptural and functional beauty.
Function
No one peg will fulfil every need for all terrains, so decide what your likely scenarios are for any trip so you can make the best choices.
Super lightweight pegs won't have the holding power of heftier stakes, though bear in mind that if you have spare pins you can double them up – one behind the other with a loop to tie them together – to increase their resistance. Heavier or wider cross-section pegs will usually hold better in looser soils.
With all that in mind, many of us carry a quiver of assorted designs to provide solutions to whatever peg-out challenges might occur; a few heavier stakes for ridge-lines, and lighter pegs or pins for the edges of bivvies, tarps or tents.
Material
Modern materials have transformed the properties of tent pegs, and though titanium is often the go-to for combined strength and lightness, hardened aluminum and high-tech plastics can also provide the necessary combination of ruggedness and weight saving. Some nylons and composites can give greater surface area (equating to a better hold in less firm soils) for less weight and expense. Untreated metal pins can also double up as supports or grill bars on stoves or fires.
Features
It's challenging, and usually counterproductive, to add too many features to something as simple as a tent peg, but some features can make a positive difference.
A method of pulling pegs out of the ground, such as a loop, hook or handle, especially if it's reflective or brightly colored so that you can more easily find them in grass or leaf mold, is useful. As are well-thought-out and tested profiles and shapes that grip in as wide a variety of holding challenges as possible. Innovations, such as the Dig Dig stake-cum-trowel or the Delta Ground Anchor, can provide extra functionality or increased holding power that are worth any extra weight or bulk.
Price and value
With all outdoor equipment there's a three-way pull between cost, weight and function. In the case of tent pegs there's also the added consideration of how easy it is to lose them. It's expensive to miss a titanium peg or two when breaking camp, so have a system to count them back in when moving on, and use a bag to hold them all together and to keep earth and mud off other kit.
Or if you're the kind of person who loses things, then just buy cheaper pegs.
But, still, for any outdoors person it's pleasing to collect a batterie of varied pegs, stakes and pins to cover all situations, and as vices go it's not the most cripplingly expensive indulgence.
All the latest inspiration, tips and guides to help you plan your next Advnture!
After a wild childhood in west Cork, Jasper Winn began embarking on long cycles, walks, horse journeys and kayak trips across five continents – adventures he's decanted into books, magazine articles, radio and television documentaries. Keen on low-tech but good gear, Jasper is an advocate of slow adventures by paddle, pedal, saddle, boot and sail. He has circumnavigated Ireland by kayak and cycled across the Sahara. Twice. Having ridden north-to-south across Algeria he discovered the only way to get back was to turn round and pedal north again.