Sunglasses for hiking: why you need to protect your eyes on the trails
A guide to the importance of wearing sunglasses for hiking and what to look for in a good quality pair of shades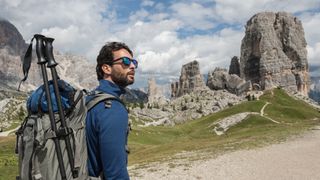 (Image credit: Getty)
Many people will think of sunglasses as a fashion product and something extra to wear in the summer only, but eye specialists recommend we make sure we have sunglasses to hand all year round and especially when spending time in the hills and mountains.
In fact, sunglasses for hiking are recommended as an essential piece of kit and there are many different types of sunglasses to choose from.
Farah Topia is an optometrist and clinical adviser for the Association of Optometrists. She says: "Just as ultra violet (UV) light causes damage and premature ageing in the skin, so UV can negatively affect the eyes."
Sharon Copeland, an optician at Feel Good Contacts, gives greater clarity about the danger of UV rays. She explains that there are three types of UV rays that the sun emits: UVA, UVB and UVC.
She says: "UVC rays are the most damaging but are absorbed by the Earth's atmosphere before they reach us and are not a direct threat, while UVA and UVB rays can have serious long and short-term effects on the eyes and our vision."
It's not just in summer that there is a danger form UV rays. Topia says: "In the summer, when it is bright and sunny, people are much more likely to think about wearing sunglasses but we should also be thinking about wearing them during the winter, especially for activities like hiking and skiing."
UV dangers and risk to eye health
Copeland lists some of the potential health risks caused by exposited to UV rays.
Macular degeneration (AMD): UV rays can contribute to the onset of macular degeneration, a condition where the retina becomes damaged, resulting in central vision loss. This gradual loss of sight often happens as we get older, however increased exposure to UV light can speed up the process.
Cataracts: These are clouds that form on your eye's lens, obscuring vision and your ability to focus on objects. Studies have shown that exposure to UVB rays increases the risk of cataracts forming, which require surgery to remove.
Pterygium: This is a benign growth that forms on the conjunctiva of your eye as a result of UV light.
Photokeratitis: Typically caused by UVB light reflecting off snow, photokeratitis is caused by high short-term exposure to the rays. Essentially, the eye becomes sunburnt from this light, causing blurry vision or temporary sight loss.
Cancer: Another potential risk is cancer of the eye, eyelids and surrounding skin.
What to look for in sunglasses for hiking
Fortunately, there are a few precautions you can take to limit your eyes' exposure to UV rays and keep them safe from harm. There are plenty of factor to consider whether you are looking for the best hiking sunglasses, or the best sunglasses for trail running.
Maya Tailor, a dispensing optician at Whitby & Co. Opticians, states the first and most important factor when purchasing sunglasses for outdoor sports, including hiking, is how well they will protect your eyes from UV radiation.
She says: "Ideally you want sunglasses with a UV400 protection, which will filter out up to 99% of UVA and UVB rays. You can tell whether sunglasses offer UV protection by checking the frame or labelling for a CE or UV400 mark, which confirms they conform with the EU standards."
UV400 refers to UV rays at the top end of the UV spectrum and up to a 400-nanometer wavelength. Sunglasses with this level of protection block an even wider spectrum than the CE and British Standard models, which many eye specialists advise as the ultimate protection for your eyes.
Copeland adds other things to consider when purchasing sunglasses for hiking. She says: "Sunglasses with darker lenses offer the most protection, while wrap around frames and those that sit close to the face offer a fuller coverage of your eyes from angles around the lenses.
"For extra protection, consider a pair of polarised sunglasses which protect against glare and halos from reflected rays if you are near water or snow. This can also be extra useful when driving."
Oculoplastic surgeon Dr Elizabeth Hawkes adds that size is important, too. She explains: "I would suggest choosing oversized sunglasses because these have a larger surface area of protection, which not only protects the eye itself but also the eyelid skin which, due to the structural complexity and function of the eyelids, is one of the most delicate areas of the face.
"Oversized glasses are also beneficial for protecting the skin that surrounds the eye area in order to prevent sun damage, which can cause premature ageing and 'crow's feet' around the eyes, as well as poses the risk of causing skin cancer."
Experts also advise that if you wear clear everyday prescription eyewear, both glasses and contact lenses, you should consider requesting the addition of UV filters.
Sunglass lenses for hikers
It can be confusing when choosing the right lenses for your sunglasses. These days there are an array of colours, tints and effects.
Dr Susan Sarangapani, consultant eye surgeon at the OCL Vision clinic, says: "The key thing to remember here is that a darker tint doesn't necessarily equal better UV protection. Dark tints work best in very sunny conditions, but on cloudier days they can make it hard to see."
As well as the UV400 rating, which tells you that the lenses are effective at blocking harmful UV rays, there are categories of tint. So, for example, for sunny conditions and especially when hiking, you should consider a category 3 lens.
The category number equates to a percentage of the VLT (Visible Light Transmission) and how much light the lens lets through. The higher the VLT the lighter the lens, conversely the lower the VLT the darker the tint will be, blocking more light coming through to the eye
Category 0 (VLT 80-100%): a clear or very light tint lens – mainly used for impact protection. Many safety eyewear glasses have a clear lens.
Category 1 (VLT 43-80%): typically a yellow or pale / light tint. This lens is not ideal for sunny conditions but fine in overcast conditions.
Category 2 (18-43%): typically orange, rose blue and red lenses. These are fine for partially sunny conditions and offer a good amount of protection against sun glare.
Category 3 (8-18%): for strong sunlight and the most common category because almost all brown and grey, or smoke lenses, are Category 3.
Category 4 (3-8%): these typically have a very dark grey or brown lens and they are great in the mountains or desert where the sun is intense and there are high glare conditions.
Dr Hawkes, who is a Fellow of the Royal College of Ophthalmologists, adds: "'What you're looking for in sunglasses lenses depends very much on what you'll be using them for. Tinted lenses are good for certain sports, because they reduce the light intensity and cut the glare, which helps to reduce eyestrain."
It's also important to remember that if you are hiking at higher altitude, near water or snow, the sun's glare and intensity will be greater so you might benefit from a darker tint.
Another consideration is whether or not the lenses are polarized. Polarized lenses reduce the glare from horizontal surfaces such as water, the road and snow.
Dr Hawkes says: "Polarized lenses are usually more expensive but are ideal if you're doing lots of driving or spending time by water."
Some brands have their own lens technology. For example, Oakley adds PRIZM lenses to some of their sports sunglasses. PRIZM lenses are said to "fine tune vision for specific environments". PRIZM lenses emphasise colors where the eye is most sensitive to detail, which in turn has the potential to enhance performance, safety and your overall experience of chatty you can see around you.
In addition, you'll see many people wearing mirrored lenses. Glare is the primary reason why people choose sunglasses with mirrored lenses so if you are driving or participating in an outdoor sport in sunny conditions, a mirrored lens could be a good choice.
Mirrored sunglasses are also very fashionable just now and they allow you to hide your eyes behind the lenses, if this is something you wish to do.
However, there are some disadvantages of mirrored sunglass lenses such as the need to take greater care of them to prevent scratches in the coating and also they usually cost a bit more than standard tinted lenses.
What about lens coatings?
When buying high quality sunglasses for hiking, including prescription sunglasses, you might be asked if you want extra coatings. This will add to the coast of your sunglasses but it could be a useful addition if you are rough with your specs, although there appears to be questions about the effectiveness of some coatings.
Dr Susan Sarangapani, consultant eye surgeon at the OCL Vision clinic, says: "If lenses get scratched, they can lose some of their protective qualities – especially their ability to block UV rays. If this happens, you should replace them to ensure they offer adequate UV protection.
"The jury is still out on how effective scratch resistant coatings are. The best way to prevent scratching is to keep your sunglasses in a case or soft pouch when you're not wearing them. Don't just leave them rattling around the bottom of your bag."
Choosing the best frame for sunglasses for hiking
There is a wide range of different frames and colours of frame for sunglasses. If you are hiking you need to make sure the frames and lenses feel comfortable. A good fit is important so that you are happy to wear them for long periods.
If your sunglasses rub your ears or nose or constantly fall down your face, you will be less likely to stick with them.
A popular choice of sunglasses for hikers is a wrap-around frame, which offer a neat fit on the face and protection from the wind as well as the sun. Aside from wraparound styles, the modern look for sunglasses is for larger lenses and this is beneficial because they cover more of the face and eyes.
Polycarbonate lenses are a good choice, too, because they are lightweight and impact-resistant.
Also look for wide arms at the side of sunglasses to offer more protection from the sun from the sides, as well as rubber or silicone-tipped arms and comfort nose pieces so that the sunglasses stay on your face.
Hinges that open out the way, as well as in the way, are likely to be more long lasting especially if you are in the habit of taking your specs on and off a lot.
Lastly, if you are hiking in more extreme conditions, you choose sunglasses that have side and nose bridge protectors.
Our verdict on sunglasses for hiking
It's clear that the eye experts recommend that when hiking it is important to have protection from harmful UV rays, even in the less sunny months, and the best solution is a comfortable and high quality pair of sunglasses. Adding a wide-brimmed hat or peaked cap will also give greater protection to vulnerable eyes and the skin around the eyes.
All the latest inspiration, tips and guides to help you plan your next Advnture!
Fiona Russell is a widely published adventure journalist and blogger, who is better known as Fiona Outdoors. She is based in Scotland and is an all-round outdoors enthusiast with favourite activities including trail running, mountain walking, mountain biking, road cycling, triathlon and skiing, both downhill and back country. Her target for 2021 is to finish the final nine summits in her first round of all 282 Munros, the Scottish mountains of more than 3,000ft high. Aside from being outdoors, Fiona's biggest aim is to inspire others to enjoy the great outdoors, especially through her writing. She is also rarely seen without a running skort! Find out more at Fiona Outdoors.