Take a Hike: new BBC show reveals the quirky love of walking in Britain
Take a Hike? Or curl up on the couch and watch strangers do it for you on the hit new BBC show? We let you decide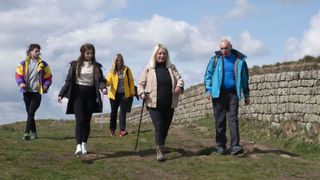 (Image credit: BBC)
It's no secret by now that hiking boomed during the pandemic. When gyms were shuttered and folks around the world found themselves largely confined to their homes for work and school, there was really nothing left to do but hit the trails to spice things up and boost health and wellbeing.
But let's face it, no matter how much you love the hills, you can't spend all your time in your hiking boots and with the weather turning colder, it might just be time to curl up on the couch for an episode or three of Take a Hike, BBC Two's new trail-based show.
Take a Hike
If you haven't caught the show yet, Take a Hike makes for mandatory viewing for lovers of the outdoors, bingeing on gorgeous shots of some of the most scenic walking trails in the UK. The show, narrated by Welsh comedian Rhod Gilbert, follows five strangers, all from different walks of life – sorry, couldn't resist... – as they take turns guiding their four teammates on their favourite hike. Think Come Dine With Me, but with hiking – Come Hike With Me, if you will...
"The programme is a light-hearted and fun new format for audiences, highlighting how a love of walking has been born out of the pandemic," explains Julie Shaw, commissioning editor for BBC Daytime and Early Peak. Indeed, a survey at the end of 2020 suggested that a quarter of the British public now identify as ramblers.
Everyone wants to win
But wait, there's a twist. Take a Hike stages these walks as a friendly contest between strangers. Now, we've previously stated that hiking is not technically a sport due to its lack of competition, but this show had us eating our words, because at the end of each day, the hikers rate their guide with a score out of ten on categories such as how nice the views were, what kind of entertainment was provided, the difficulty of the terrain and of course that all-important picnic lunch.
"Everyone's lying if they think they don't want to win, cause everyone wants to win. Why would you not?" says 29-year-old Rosie in episode one.
At the end of the week, the winner takes home a £500 voucher for outdoor gear and a highly coveted golden walking stick.
Season one opens on a sunny day in gorgeous Devon, home to the Southwest Coast path, with 63 year-old taxi driver Helen taking a group on five kilometres of coastal path from Ilfracombe to Hele. This rugged cliffside path provides plenty of eye candy for viewers, while the lighthearted interaction between the challengers as they climb trees, kayak across the bay and mock her picnic makes for some hilarious, family-friendly entertainment.
No one left behind
As you already know, hiking on your own is one thing – you get to choose the route, set the pace and take as many breaks as you want. But throw a few strangers into the mix and you've got a very unpredictable day ahead of you indeed. What if one person is afraid of heights and you're planning on bagging a peak? What to do if you packed cheese sandwiches and someone doesn't like cheese?
Watch the show and you'll learn the answers to these vital questions as the strollmongers combat real-life issues such as your best hiking pants chafing, too much wind and those inescapable dietary restrictions that seem to plague all social events in the modern age.
"There have been a few funny moments, from contestants and crew getting soaked to the skin and stuck in the snow, to one contestant disastrously losing her false eyelash, and we had to deal with unpredictability of the weather," says Shaw, recalling that in typical British fashion, the directors scouted the locations in glorious sunshine only to return a week later to find themselves filming in torrential rain.
Hills that go up
The show travels northward, from the southwest through rugged Northumbria to the remote highlands of Scotland, where an opera singer, a tattoo shop manager, a professional biscuit maker and an amputee find themselves being paraded up Stac Pollaidh by army cadet trainer Daisy. The first grumble? How to pronounce the mountain's name (it's "stack polly"). The crew soon learn that pronunciation is the least of their problems, however.
This iconic mountain in the northwest highlands climbs over 2,000ft in under three miles and Daisy's chosen route involves clambering up and down several rugged ridges. Much to her team's dismay, Daisy delegates the gear carrying – including the toilet – among her comrades and marches them uphill, pausing only to teach them how to drink water from a special moss containing antiseptic properties. Which they do begrudgingly.
"It just kept going. There's no relief. Just up and up and up and up and up," bemoans professional biscuit taster Kathy.
Entertaining and heartwarming viewing
So if you're seeking another dry travelogue featuring a middle-aged tweed-clad walker extolling the virtues of Britain's historic paths, this show is probably not for you. It's truly the mix of abilities, personalities and experience level on each hike combined with the uniqueness of the British infatuation with picnics that makes for some very entertaining and heartwarming viewing.
"The participants are all united by a love of the great outdoors, and the series brings together the warmth of our shared human values – laughter, learning and collaboration," reflects Shaw.
So what can we learn from this show? Well for one, lunches bring out the strongest responses in hikers, with hot drinks trumping cold beverages and a surprising affinity for eating pease pudding on the trail amongst Northumbrians causing deep rifts. In terms of entertainment, kayaks and castles are more popular than golf and when it comes to terrain, gentle strolls tend to win out over jagged peaks. Most of all though, you'll likely get your eye on a few ideas for some new hikes to try in the near future and fall back in love with the fabulous British countryside.
Take a Hike is available to watch now on BBC iPlayer (UK only).
All the latest inspiration, tips and guides to help you plan your next Advnture!
Julia Clarke is a staff writer for Advnture.com and the author of the book Restorative Yoga for Beginners. She loves to explore mountains on foot, bike, skis and belay and then recover on the the yoga mat. Julia graduated with a degree in journalism in 2004 and spent eight years working as a radio presenter in Kansas City, Vermont, Boston and New York City before discovering the joys of the Rocky Mountains. She then detoured west to Colorado and enjoyed 11 years teaching yoga in Vail before returning to her hometown of Glasgow, Scotland in 2020 to focus on family and writing.