World Book Day: our expert panel choose their favourite adventure books
Books that will take you out of your comfort zone and into the wilderness, either vicariously or by inspiring you to explore more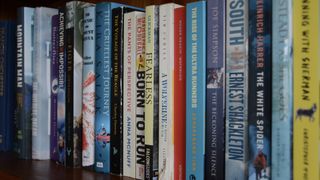 (Image credit: Pat Kinsella)
In celebration of World Book Day (March 4), we asked our writers to nominate their best adventure books. We wanted books that told of survival, discovery and travel and which inspired them to get out and explore the world. Here's their exciting, extensive and wide-ranging list.
You can also check out our guide to the 21 best books about running.
The best hand-picked adventure books
Chosen by Pat Kinsella – editor of www.advnture.com, co author of Lonely Planet's Atlas of Adventure, Everyday Adventures and Pocket Mountains' 40 Coast & Countryside Walks in Devon and Dorset
No Picnic on Mount Kenya by Felice Benuzzi
It is a terrific true story about Italian POWs breaking out of a British prison camp to climb Mt Kenya during WWII. They utilise the very things that had been used to confine them as tools for their liberation, for example, turning barbed wire fencing into crude crampons. They then break back in to the prison when they get back down the mountain. It is written with immense humour, humility and humanity, too. It's the best.
The Kon-Tiki Expedition by Thor Heyerdahl
In 1947, our hero Thor comes up with a theory about how the islands in the midst of the Pacific were populated from ocean-travelling people from South America, but everyone laughs him out of the room. So he says, "screw you" to the lot of them, goes to Peru, builds himself a balsa wood raft and, with a few mates, sets off on a 4,300-mile open-ocean journey with no safety net. Pure adventure and all true.
Around the World on Two Wheels by Peter Zheutilin
This is a brilliant book about a young mother, a Latvian immigrant to the US, who in 1894-95 changed her name to Annie Londonderry and cycled around the planet (sort of), with a set of spare bloomers and a pearl-handed revolver - totally gaming the international media as she went.
The White Spider by Heinrich Harrer
The books tells the terrifying tale of the quest/race to claim the first ascent of the north face of the Eiger, a mountain not named the Ogre for nothing. The body count is horribly high.
Chosen by James Forrest - writer and adventurer, author of Mountain Man
Free Country by George Mahood
A side-splittingly funny, quirky and heart-warming account of a LEJOG (Land's End to John o'Groats) adventure without spending a penny. Every chapter had me in fits of giggles.
A Walk in the Woods by Bill Bryson
Brilliantly written and laugh-out-loud funny, in my view this book is the holy grail of entertaining adventure writing.
Feral by George Monbiot
A thought-provoking, powerfully written book that changed the way I think about the UK's landscapes
Walden, or Life in the Woods by Henry David Thoreau
Part memoir and part spiritual quest, Thoreau's Walden is a 28-year-old writer's account of two years spent living in a self-built cabin in Massachusetts, America. It explores what it means to be self-sufficient, while closely observing harmony and beauty in nature. It has rightly become one of the seminal works of American literary history.
Chosen by: Jasper Winn – slow adventurer, author of Waterways and Paddle, A Long Way Around Ireland
A Voyage for Madmen by Peter Nichols
This account of the first single-handed, non-stop, around-the-world yacht race, in 1968, enthralled, horrified and inspired me as, one by one the nine original starters in their low-tech boats take on not only the weather and the oceans, but also their own personalities. Sailors abandon the race, or race so hard their boats break-up. One goes mad and another finds saintly release and disappears back to the oceans, until finally there is only a single finisher.
The Snow Leopard by Peter Matthissen
As much an adventure of the mind as of place, Matthissen's classic makes light of hard travelling on the Tibetan Plateau to create a pilgrimage of Zen tranquility and cultural insight as he walks for two months in the hope of finding elusive snow leopards.
My Midsummer Morning by Al Humphreys
After cycling around the world and rowing the Atlantic, among other challenging feats, Humphreys was finding it hard to recreate the excitement and terror of his earlier travels until he set off to follow in the footsteps of poet Laurie Lee and walk and busk his way across Spain, dependent on making food money with a fiddle he could barely play. I spent months as a teenager in Spain living off my guitar and this brought back the joy of Spain's back roads, the inspiration of Laurie Lee and the highs, lows and fears of making money by playing music in streets and squares.
Chosen by: Jonathan Manning, outdoor writer
Walking Home by Simon Armitage
The UK's Poet Laureate walks the UK long distance path, the Pennine Way, capturing the magnificently bleak, rugged landscape without once wandering lonely as a cloud.
The Snow Geese by William Fiennes
This odyssey follows the incredible migration of snow geese from Texas to the Arctic and along the way delivers moving insights into the irresistible power and pull of home.
Chosen by: Adharanand Finn - writer and runner, author of Rise of the Ultrarunners, Running with the Kenyans, The Way of the Runner
Feet in the Clouds by Richard Askwith
This book offers a wonderful ode to the mighty fell runners of Cumbria. Its wild landscapes and earthy characters are beautifully described, as is his own attempts to complete the epic Bob Graham Round in under 24 hours.
The Salt Path by Raynor Winn
A heart-wrenching, inspiring tale of one couple's enduring love for each other in the face of calamity and of their accidental odyssey along England's South West Coast Path.
Where There's a Will by Emily Chappell
A gripping account of the extreme highs and lows, the exhaustion and elation, the quirks, the sights and sounds (and the many coffee stops) of a 4,000km transcontinental bike race.
Adventure books can excite and enthral
Chosen by: Damian Hall - ultrarunner, author of A Year on the Run and In It for the Long Run
Into the Wild by Jon Krakauer
It ends badly, but this book celebrates the call of the wild and made me want to disappear into the wilderness for weeks at a time, chasing some sort of idealistic somethingorother.
Journals: Captain Scott's Last Expedition by Robert Falcon Scott
So many biographies have been written about Robert Scott, with a high variance of views. Make your own mind up by reading his own words. This book drips with Edwardian pathos.
Chosen by: Berne Broudy, outdoor writer
Never Cry Wolf by Farley Mowat
A naturalist's account of being assigned to investigate why wolves were killing Arctic caribou. He spent a summer living alone with the wolves in the frozen Arctic tundra, eventually bonding with the wolves and concluding that they're not a threat to men or caribou.
Miles from Nowhere by Barbara Savage
This is the story of Barbara and Larry Savage's 23,000-mile bike tour through 25 countries in two years in the mid 1980s.
Adrift by Steven Callahan
A firsthand account of surviving 76 days at sea, floating across the Atlantic in an inflatable raft after Callahan's boat sank.
Chosen by Sian Lewis, travel and adventure writer and author of The Girl Outdoors
My Journey to Llasa by Alexandra David-Neel
In the 1920s, French explorer Alexandra David-Neel decided to up sticks and trek for 14 years through the Himalayas in order to smuggle herself into Tibet. Her fearless can-do attitude and descriptions of an Asia now changed forever are an astonishing read.
The Outrun by Amy Liptrot
Amy Liptrot's delicately painted but brutally honest story of her return to her native Orkney and her recovery from addiction is a love letter to landscapes and wild swimming.
What I was Doing while you were Breeding: A Memoir by Kristin Newman
This is the perfect read for anyone who would rather be roaming the planet than settling down. Newman's writing will make you totally identify with her wandering itch.
Chosen by: Tobias Mews - adventure journalist, author of 50 Races to Run Before you Die
Microadventures by Al Humphreys
If you're looking for some inspiration on your next adventure, then this is it. There are many bite-sized chunks that you can chew in a day! Yummy.
Ultramarathon Man by Dean Karnazes
You don't have to be an ultra runner to like this book. And if you're not one, you might want to become one by the end of it. Inspirational.
Born to Run by Christopher McDougall
It's a classic, but a truly inspirational book that will have you jumping at the bit to get outside and start running.
Chosen by: Fiona Russell, aka Fiona Outdoors, an award-winning blogger and freelance journalist
The Munros by Rab Anderson and Tom Prentice
A fourth - and new edition – of the Munro bagging bible from the Scottish Mountaineering Club. It was the third edition (now very dog-eared) that whet my appetite for bagging all of Scotland's 282 mountains with a height of more than 3000ft (914.4m). Back then, some 10 years ago, I never imagined I would now be eight Munros short of finishing my first round. This book inspired a passion for a walking and running hobby that has taken me to many amazing locations and on numerous adventures with friends. I even met my husband during a walk of three Munros. This latest edition of the book is beautifully illustrated, expertly written and includes lots of useful information and details about reaching all the Munro summits, as well as the 226 subsidiary Munro Tops.
Islandeering: An explorers' Guide to the the Islands of Britain by Lisa Drewe
What started as a hobby for the author has turned into a passion – and then a book. The book asks: How many of the 6,000 islands that surround the British Isles could you walk, run, bike, swim or kayak around in a lifetime? It offers great insight and inspiration into the islands – and has set me on another quest for adventure.
To the Poles (Without a Beard) by Catherine Hartley
I read this when it was first published and I am shocked to see that is almost two decades ago. It is a funny and inspiring story of Hartley, who had no previous polar experience, yet she broke three world records taking part in the first extreme tourist expedition to the Antarctic and Arctic in 1999 and 2001. She faced many struggles such as funding, fatigue and frostbite, as well as rewards, including incredible landscapes, wildlife and, most importantly, self-achievement. She was a similar age to me at the time and it struck me what is possible if you have a dream. I am wondering now where she is and what she is doing… (Book available second-hand on various websites.)
Across the Limpopo: A Family's Hazardous Journey Home by Michael Nicholson
I am going back decades again to when I read this book, which was published in the 1980s.It tells the adventure of a family, who travelled 4000 miles overland through Africa. I am convinced it was the starting point for my own ambitions to travel in Africa, which I did in the mid-90s, and the true travel and adventure story has stayed with me throughout my life. It still sits on my bookshelf. (Book available second-hand on various websites.)
Chosen by: Emily Woodhouse – outdoor writer and author of All the Tors
Touching the Void by Joe Simpson
I picked up this slim volume from a second-hand bookshop and read it last winter, waiting for a weather window in a Scottish hostel. I was barely able to put it down. It tells the story of how, in 1985, two young climbers, Joe Simpson and Simon Yates set out to be the first to reach the summit of the Siula Grande in the Peruvian Andes. They succeed but during the descent, disaster hits. Even though you know Simpson must survive to write the book, you find yourself asking "HOW?" with every turn of the page.
My Quest for El Dorado by Ross Salmon
I've had a fascination with South American archaeology since I was a child. This book follows four expeditions into the Bolivian jungle with something of a real life Indiana Jones (albeit a middle-aged one from Devon). It's a story of old-school exploration and adventure with a chance of treasure - what's not to like?
More great adventure books
Chosen by: Amanda Loudin, award-winning journalist
Welcome to the Goddamn Ice Cube: Chasing Fear and Finding Home in the Great White North by Blair Braverman
Blair is a badass adventurer and has completed the Iditarod sled dog race in Alaska. Her memoir captures her lifelong obsession with the cold in a fascinating and entertaining read.
Chosen by: Ross Taylor, journalist and co-author of Lonely Planet's Atlas of Adventure
Three Against the Wilderness by Eric Collier
I read this story about a family living in the Chilcotin wilderness in Canada and their efforts to restore beavers to the landscape many times as a child.
A Short Walk in the Hindu Kush by Eric Newby
This is a classic travel tale with an hilarious encounter with the legendary explorer Wilfred Thesiger at the end.
Chosen by: Matthew Jones – outdoor writer
The Living Mountain by Nan Shepherd
Scottish writer and poet Nan Shepherd's influential memoir, The Living Mountain, is based on her experiences of hill walking in the Cairngorms. Nobody has better captured the allure of mountains, their exquisite majesty and changing aspects through the seasons, nor their importance as a habitat for myriad interconnected birds, animals and plants.
Waterlog by Roger Deakin
A spiritual bible for wild swimmers everywhere, Waterlog is heartfelt, eloquent and full of shimmering prose. Deakin's ability to perfectly capture fleeting moments and nature's tiniest details will make you want to plunge immediately into the nearest lake or river.
The Worst Journey in the World by Apsley Cherry-Garrard
Put bluntly, this Polar classic is a suffer-fest of the highest magnitude. But it is also far more than that. The 1922 memoir of Scott's ill-fated South Pole expedition by the party's youngest member is mature, sensitive and full of humanity, despite the most adverse circumstances and extreme conditions.
Chosen by: Jen and Sim Benson – adventure writers and authors of 100 Great Walks with Kids, which is published on World Book Day.
The Wild Guide Series (various authors)
Covering much of the UK and with an Alps edition out later this year, the Wild Guides are filled with adventurous places to go, things to see and do (many of which are free), great places to eat and stay and beautiful photography. There are our go-to guides when we're on the road.
Waymaking, edited by Helen Mort, Claire Carter, Heather Dawe and Camilla Barnard
Waymaking is a celebration of women's adventure and nature writing, poetry and art. It is a beautiful book to dip into for inspiration or solace. All Royalties go to charity.
The New Complete Book of Self-Sufficiency by John Seymour
This is not an adventure book as such, but it is packed with practical advice on living in a wilder, more adventurous and more sustainable way.
Chosen by: Lou Dzierzak, outdoor writer and judge for the National Outdoor Book Awards
Call of the Wild by Jack London
This is the classic tale of survival in hostile environments.
The Twenty-Ninth Day by Alex Messenger
The true story of a young man's encounter with a grizzly bear. Seriously wounded, his path to survival is a thrilling tale.
Dragons in the Snow by Edward Power
The book reveals alternating stories describing backcountry skiers who have survived avalanches with stories for the scientists working to understand why and how snow slides.
Hidden Nature by Michael Ray Taylor
The landscape of the southeastern United States is filled with underground caves and caverns. The book describes the experienced caving experts mapping out the subterranean highways.
Deep Survival by Laurence Gonzales
The book is a thoughtful examination of how thrill-seekers like mountain climbers have survived potentially fatal situations.
Chosen by: Mary-Ann Ochota, writer, broadcaster and author of Secret Britain: Unearthing Our Mysterious Past
The Last Grain Race by Eric Newby
Sailing a three-masted tall ship from Ireland to Australia, Eric is young and naïve and feels every jolt from his shipmates and the ocean. It's heartfelt, exciting and also captures the relentless exhaustion of being at sea for long stretches. You can almost taste the brine as you read it.
The Book of the Bivvy by Ronald Turnbull
This is part dry-humoured rumination on the pleasures of sleeping outside without a tent and part how-to manual. It gave me the courage to go bivvy bagging for myself and I've never looked back.
The Pants of Perspective by Anna McNuff
Girl guiding ambassador and self-proclaimed "mischief maker" Anna runs a 3000km trail across New Zealand. This isn't endurance hardnut stuff. It's funny, warm and makes you think you could do it too, or at least do some exciting adventure you have set your sights on.
Chosen by: Matthew Swaine, outdoor writer
As I Walked Out One Midsummer Morning by Laurie Lee
This beautifully poetic book sees the author set sail for Spain armed only with a violin and a single phrase: "Can I have a glass of water please?" He walks across a country that is set to break into a civil war. It is a book that has inspired countless adventures and it was my companion on a four-month cycle trip around Spain in the 90s.
The Butterfly Isles: A Summer in Search of our Emperors and Admirals by Patrick Barkham
Some of the greatest adventures of all time have seen explorers set off in search of rare orchids or birdlife. Here in the UK, a mission to see all 59 British species of butterfly in a single year took natural history writer Patrick Barkham around the country to find some of our most elusive butterflies and uncover the stories that lie behind successful reintroductions and incredible life cycles.
One People, One Planet: The Adventures of a World Citizen by Andre Brugiroux
Three summers in the early 90s I spent hitch-hiking and busking around Europe and as a far as Turkey, Israel and Egypt. It was this book that first inspired my adventures. Andre Brugiroux spent 18 years on the road, travelling 135 countries and travelling more than 250,000 miles. He lived on just a dollar a day. His story is remarkable and this is a book well worth checking out.
Chosen by: Jessie Leong, outdoor writer and photographer
Waterlog by Roger Deakin
During lockdown 3.0, I've loved getting into wild swimming, which has helped me stay sane. This is a fabulous book from one man's perspective about swimming in all kinds of places, including mountain tarns, wild seas and even the RAC headquarters in Pall Mall.
Climbing Days by Dorothy Pilley
A uniquely refreshing take on what climbing is like in the 1930s, but which could have been written in modern times. Describing the contrasting experience between the vividness of climbing in the mountains before returning back to a "normal" life in London, this piece has more relevance than ever from one of the Pinnacle Club's founding members – and as the women-only club celebrates its 100th anniversary in 2021.
Tough Women Adventures Stories by Jenny Tough
A brilliant anthology of women's adventures that range from BASE jumping to survival, edited by ultra runner, Jenny Tough. Varied and detailed, the pieces are little postcards that pinpoint moments that are easy enough to dip in and out of and perfect for a quick bedside read.
Chosen by: Casey Blaine, running journalist
Wild by Cheryl Strayed
Who hasn't dreamed of strapping on a backpack, dropping off the radar and losing yourself in the wilderness? For Strayed, hiking the PCT (Pacific Crest Trail) was much-needed catharsis during a hard time in her life. She shares her story with such raw honesty, wit, and relatability, you can't help but love and root for her, not to mention get completely stoked about hiking the PCT.
Into Thin Air by Jon Krakauer
This edge-of-your-seat thriller about a deadly summit of Mt Everest is all the more compelling because it's true. It offers an intimate, close-range glimpse into what it's like to summit Everest, but what makes it especially compelling is that journalist Krakauer, an amateur mountaineer, is not only reporting on the tragedy, he's living it as it unfolds.
Lonesome Dove by Larry McMurtry
So much more than "just a Western," this Pulitzer Prize-winning novel takes you on one hell of a journey across the American West. I promise, it's an epic ride you'll never forget. Absolutely absorbing, compulsively readable and filled with characters who will move you, shake you and totally draw you in, this is a must-read adventure masterpiece by a master storyteller.
Chosen by: Brian Metzler - running journalist and author of Kicksology: The Hype, Science, Culture and Cool of Running Shoes
Desert Solitaire by Edward Abbey
A colourful, honest and appreciative look into the depth of life in the desert by someone who immersed himself in every aspect of it.
North by Scott Jurek
This is an epic tale about perseverance of a champion ultrarunner's quest to run the Appalachian Trail in a record-setting time.
Chosen by: Claire Maxted, running writer and author of The Ultimate Trail Running Handbook
Epic Runs of the World: Explore the World's Most Thrilling Running Routes and Trails by Lonely Planet (various authors)
This is such a beautifully illustrated book packed full of exciting ideas for running adventures all over the world. From Asian temples to American coastline, the wildlife of Africa and the mountains of England, this collection of more than 50 epic runs can't fail to inspire you to plan your next trip of a lifetime.
Don't Stop Me Now by Vassos Alexander
This is inspiring book charts Virgin Radio sports journalist and parkrun podcaster Alexander's journey into trail running after the Keswick Mountain Festival 25k race in 2014. He became totally hooked on this exciting new sport on muddy, rocky paths over even more muddy, rockier hills with fantastic views of lakes, mountains and forests. So, he wrote this book about his own journey, interviewing famous athletes, such as Paula Radcliffe, Steve Cram and the Brownlee brothers about how they got into running, too
All the latest inspiration, tips and guides to help you plan your next Advnture!
Fiona Russell is a widely published adventure journalist and blogger, who is better known as Fiona Outdoors. She is based in Scotland and is an all-round outdoors enthusiast with favourite activities including trail running, mountain walking, mountain biking, road cycling, triathlon and skiing, both downhill and back country. Her target for 2021 is to finish the final nine summits in her first round of all 282 Munros, the Scottish mountains of more than 3,000ft high. Aside from being outdoors, Fiona's biggest aim is to inspire others to enjoy the great outdoors, especially through her writing. She is also rarely seen without a running skort! Find out more at Fiona Outdoors.