Types of rock climbing shoes
We size up the three main types of rock climbing shoes, including the advantages and disadvantages of each, to help you pick out your next pair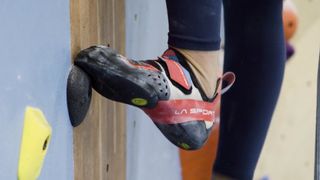 (Image credit: La Sportiva)
Virtually all rock climbing gear is focused on safety, except for your climbing shoes, which are all about performance. Those snug-fitting, smelly rubber shoes might not look like much at all, but they can be the make-or-break of nailing a tough overhang or enduring a long crack. The best climbing shoes offer you great grip even when you're edging, good foot sensitivity to feel the rock and – even though climbing shoes are meant to have a tight fit – sufficient comfort that you can actually climb in them. With so many different types of rock climbing, you've probably figured that there are bound to be different types of rock climbing shoes, so we've sized up the three main types here, the advantages and disadvantages of each plus other factors to look for when picking out your first – or next – pair.
Neutral/flat-lasted climbing shoes
Flat/neutral profile
Thicker, stiffer sole
Neutral, or flat-lasted climbing shoes essentially look the most like a regular shoe. By that, we mean there's no great curvature of the sole. The sole is more or less flat, keeping your foot in a fairly natural position, which is why they're often recommended for beginner climbers who won't be used to the discomfort of most climbing shoes. However, we're not so sure that's a fair classification, as lots of experienced climbers prefer these shoes too, particularly for long, multi-pitch climbing – they often simply size down for a more technical fit.
The more comfortable fit of shoes like the Five Ten NIAD Lace climbing shoe means you'll be happier spending the whole day in them, and they have a stiffer, thicker sole so they're also the preferred choice for jamming your foot in when you're crack climbing. They're a bit sturdier and tend to withstand more wear and tear, but on the flip side, you will experience less foot sensitivity in these, so you may not want to use them once you start to tackle more advanced routes.
Moderate climbing shoes
Moderately downturned profile
Thinner sole
Compared to neutral climbing shoes, moderate climbing shoes have a slightly downturned profile, meaning the toe box curls down a little, and a thinner sole. This provides more power and sensitivity for climbing, so these are often recommended for more experienced climbers, and they're better for more advanced climbing routes.
The downturned profile means they're not as comfortable as your neutral shoes, so you won't be quite as happy wearing them for a full day of climbing, but you'll definitely feel more secure on the wall in them. These shoes can handle every type of climbing route, but the thinner sole means they're not quite as tough and durable as the neutral shoe. It can be good to climb in a pair of moderate shoes like the Tenaya Ra LV for a while before progressing to the aggressive profile.
Aggressive climbing shoes
Aggressive downturned profile
Thin sole
Aggressive climbing shoes are meant for aggressive climbing routes. These are high performing shoes with a significantly downturned profile that often also curve asymmetrically like a banana from your heel to your big toe. This design is intended to make it easier for you to transfer the strength of your leg into your big toe without losing your footing. Expect lots of sensitivity in aggressive shoes like the Scarpa Instinct Lace, especially on tricky routes with overhangs.
Needless to say, the position of your foot in these shoes will be the least comfortable of all three types, and there's a good chance you'll want to change back into your approach shoes when you're on belay. These aren't great for crack climbing, unfortunately, and you'll probably want more comfort and protection for multi-pitch days at the crag.
Choosing rock climbing shoes: other considerations
Once you've figured out which profile you're in the market for, there are a couple of other considerations to make that will affect the comfort and performance of your shoes.
Stiff or soft midsole?
Some climbing shoes like the Tenaya Masai boast a stiff midsole, which might reduce foot sensitivity on the rock, but provides you with more protection against jagged rock and more support when you're spending all day balancing on tiptoes.
The softer midsole of shoes like the Black Diamond Momentums sacrifices a little of that support and power for comfort, so again these should be your choice if you're brand new or looking at long days.
Fastening type
Velcro: Velcro climbing shoes are popular because they're so easy to get on and off, so people love them at the climbing wall and for bouldering. They provide some level of adaptability for when your feet swell and shrink, but only around the actual Velcro. The Velcro itself isn't always as durable as laces.
Lace up: Lace up shoes take a little longer to get on and off, so they might be a nuisance if you like to kick your shoes off between climbs, but the laces do allow you to get a really snug, customized fit. If the laces fall apart, you can just buy a new pair.
Slip on: Like ballet slippers, slip on climbing shoes are extra stretchy so you can pull them on, and a vacuum fit holds them in place. They're pretty comfortable, although there's no way to tighten them, so they may not be the best choice for unusually-shaped feet. That said, there's no Velcro or laces to deal with or snag on rock.
All the latest inspiration, tips and guides to help you plan your next Advnture!
Julia Clarke is a staff writer for Advnture.com and the author of the book Restorative Yoga for Beginners. She loves to explore mountains on foot, bike, skis and belay and then recover on the the yoga mat. Julia graduated with a degree in journalism in 2004 and spent eight years working as a radio presenter in Kansas City, Vermont, Boston and New York City before discovering the joys of the Rocky Mountains. She then detoured west to Colorado and enjoyed 11 years teaching yoga in Vail before returning to her hometown of Glasgow, Scotland in 2020 to focus on family and writing.