Utah National Parks and Monuments: desert landscapes and cultural treasures
In Utah National Parks and Monuments you can explore deep desert canyons, hike across high plateaus and travel back in time through geological phenomena and ancient civilizations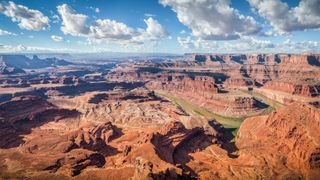 (Image credit: Jakob Radlgruber / EyeEm)
Few US states can compete with the natural beauty of Utah, with its sweeping deserts and magnificent red rock formations that make you feel as though you've landed on another planet. Combine the natural beauty here with a relatively low population and year-round fair weather and there are lots of good reasons to head out into this western state for some outdoor adventures, not least being the incredible options when it comes to Utah National Parks and Monuments.
Utah is home to the third largest number of National Parks in the country, after California and Alaska, and along with its National Monuments, the preservation areas here are truly a sight to behold. Unlike the forested trails you might associate with parks of the northwest and east coast, here you can adventure in deep desert canyons and atop high plateaus, travel back in time through geological phenomena and ancient civilizations and do some of the best stargazing of your life. Simply put, Utah National Parks and Monuments are some of the most unique in the country.
Utah National Parks and Monuments boast some of the best hikes, river trips and rock climbing around and make unforgettable day trips, weekend getaways and long road trips and our guide will have you loading up your backpack, dusting off your hiking boots and heading out for some otherworldly adventures. If you plan on camping – and we highly recommend it – read our guide to desert camping before you set off.
Utah National Parks
Utah's five National Parks are known collectively as "the Mighty 5" and encompass some of the country's most iconic desert landscapes.
Arches
In eastern Utah just north of the town of Moab lies Arches National Park, home to more than 2,000 natural red sandstone rock arches carved by wind and time. The unique desert landscape here provides visitors with slickrock trails on which to explore towering arches, delicately balanced rocks and gigantic rock fins and pinnacles highlighted by some of the most memorable sunrises and sunsets the world has to offer. Some of the most popular hikes here are Delicate Arch, Landscape Arch and Windows Loop.
You can definitely plan to spend a few days exploring Arches, and it can easily be paired with Canyonlands National Park if you have time, which lies just a half hour drive to the south, and many people will stay in Moab and explore both parks in one trip. Check out our guide to the best hikes in Moab if that's your plan!
Canyonlands
Just southwest of Moab, you'll find the rugged beauty of Canyonlands National Park, a desert wilderness that is home to an unknown number of canyons formed by the Colorado River and the Green River as well as smaller tributaries. These rivers divide the park into four sections: Island in the Sky, the Needles, The Maze and Horseshoe Canyon.
These four districts are ecologically distinct, far apart from each other and it is not always easy to move between them, so people often pick just one section to explore in a single trip. Island in the Sky is by far the most accessible, and houses popular hikes such as Mesa Arch and Grand View Point whereas the Needles and the Maze offer more remote, backcountry experiences. Horseshoe Canyon can be done in conjunction with Island in the Sky, but plan for a full day there. It is more than worth it to see the most significant collection of well-preserved Indian rock art in North America.
Capitol Reef
Capitol Reef is situated in south central Utah and is best known for The Waterpocket Fold, a 100 mile monocline which is a geological feature that essentially looks like a massive wrinkle in the earth. This park is another playground of desert features like cliffs, canyons and arches, so its name is a little curious. It was given the name "capitol" for its white domes of Navajo Sandstone that resemble the domes found on state capitol buildings, and "reef" refers to the rocky cliffs which are a barrier to travel, like those of the ocean.
Capitol Reef is great for a couple of days and popular hikes include Capitol Gorge, which takes you into a deep canyon where you'll find ancient inscriptions and can climb into water pockets, and the more adventurous Chimney Rock Loop for 360-degree views of the Waterpocket Fold.
Bryce Canyon
In southwest Utah, about a two-hour drive from Capitol Reef, Bryce Canyon is famous for being home to the world's largest collection of hoodoos. A hoodoo is a tall, thin rock spire (sometimes called a tent rock or fairy chimney) and Bryce's vast collection of them can be found on a high plateau at the top of the Grand Staircase.
If you're spending a night or two here, you can enjoy hikes to Sunset Point, along the Rim Trail or down into Bryce Amphitheater, however Bryce also really lends itself to a short visit. With its proximity to Zion and Capitol Reef, it actually makes a great stop between the two where you can stretch your legs with a short, easy hike like Sunset to Sunrise and take in some stunning views.
Zion
Down in the southwest corner of the state, Zion holds the distinction of being Utah's first National Park and is the most visited National Park in Utah by people eager to explore its world famous hikes like Angel's Landing and The Narrows. It's no surprise why – the park centers around mesmerizing Zion Canyon, a 15 mile long canyon carved by the Virgin River that cuts up to 2,640ft deep into the earth leaving high red sandstone walls, sparkling waterfalls, emerald rock pools and hanging gardens which frankly should be on everyone's bucket list.
Zion, which over the centuries has been home to the Anasazi and Paiute tribes as well as Mormon pioneers, is only a two and a half hour drive from Las Vegas and under two hours from the Grand Canyon. Be sure to check out our list of the best day hikes in Zion National Park before you go.
Utah National Monuments
In addition to its five National Parks, Utah boasts nine National Monuments which protect both ecological and cultural treasures. If you don't know, National Monuments are generally pretty similar to National Parks but are established by a different branch of government. While National Parks tend to hold more status, Monuments should not be overlooked, least of all in Utah.
Timpanogos Cave
Take an underground adventure in Timpanogos Cave, south of Salt Lake City. The system of three caves can only be visited on a guided tour and is accessed via a steep but wide trail. The caves, discovered in 1887, have been connected by blasted tunnels and are a magical place for viewing geological features like helictites, stalactites and stalagmites.
Dinosaur
Dinosaur National Monument straddles northeast Utah and northwest Utah, and as the name suggests, it is a bit of a mecca for paleontology buffs. This monument features over 1,500 well-preserved dinosaur fossils embedded into the cliff, all on the Utah side, making one of the largest collections of dinosaur fossils in the world, as well as petroglyphs and dramatic desert landscapes. You can drop in for the day if you just want to see the fossil bones, or hike on the Desert Voices and Sound of Silence loop and tour geological history.
Bears Ears
Bears Ears down in southeastern Utah is appropriately named due to two orange buttes that distinctively stick out above a desert meadow, resembling those of bear's ears. The surrounding area is largely undeveloped and a place to explore red rock landscapes, juniper forests, high plateau and historical artifacts from indigenous people. It is an area that indigenous tribes have traded for centuries, and is the only national monument erected out of the support of Native Americans. Though you can visit Bears Ears, you should not expect the same level of infrastructure here as in other National Monuments and should check local information before you.
Hovenweep
Hovenweep straddles southeast Utah and southwest Colorado and here you can find the remains of six prehistoric villages built between 1200 and 1300 CE. This ancient settlement was once home to 2500 people and is a shrine to the remarkable engineering of ancestral Puebloans. The best way to see the archaeological sites is on foot and all trails here lead you through the villages.
Grand Staircase-Escalante
The Grand Staircase-Escalante National Monument is in southern Utah, closer to Zion, and was afforded National Monument status in 1996 owing to its massive geological phenomena that features high plateaus and deep slot canyons and was home to ancestral Fremont and Puebloan tribes. The so-called staircase consists of cliffs and terraces, plateaus and canyons all dotted with rock with monoliths, slot canyons, arches and natural bridges. This Monument is remote and unspoilt, and one of the last places in the continental United States to be mapped. You can stop here for a day hike to Calf Creek Falls or Little Death Hollow, or enjoy a multi-day trek in the rugged wilderness.
Cedar Breaks
Cedar Breaks is an enormous natural amphitheater that stretches three miles wide and over half a mile deep. The rim sits above 10,000ft offering stunning views with rock formations similar to those found in nearby Parks like Bryce and Zion. About an hour's drive west of Bryce Canyon, this can easily be visited on the same day.
Rainbow Bridge
In southern Utah on the banks of Lake Powell and close to the Arizona border lies one of the largest natural bridges in the world. Rainbow Bridge spans 234ft and 290ft high and can be viewed by boat, from Lake Powell, by a short walk from the National Park Wharf in Bridge Canyon, or a longer and more strenuous trail from Navajo Nation. This feature is not only a geologically wonder – it is spiritually and culturally significant for indigenous people.
Natural Bridges
Natural Bridges in southwest Utah is the state's first National Monument, established in 1908 to preserve three stunning natural rock bridges carved by water. This land also has a long history of habitation by indigenous people as indicated by the discovery of stone tools, rock art and ancient cliff dwellings.
You can easily view the three bridges from overlooks – Owachomo Bridge is the most accessible, oldest and most beautiful – or take a more adventurous hike down amongst the rock formations. Stay overnight and you'll be treated to a phenomenal show by the stars.
All the latest inspiration, tips and guides to help you plan your next Advnture!
Julia Clarke is a staff writer for Advnture.com and the author of the book Restorative Yoga for Beginners. She loves to explore mountains on foot, bike, skis and belay and then recover on the the yoga mat. Julia graduated with a degree in journalism in 2004 and spent eight years working as a radio presenter in Kansas City, Vermont, Boston and New York City before discovering the joys of the Rocky Mountains. She then detoured west to Colorado and enjoyed 11 years teaching yoga in Vail before returning to her hometown of Glasgow, Scotland in 2020 to focus on family and writing.