How to wash a sleeping bag – and other tips for keeping it in good working order
It's easy to spend three figures on a sleeping bag, so you want it to last – read on to find out how to wash a sleeping bag and keep it in good working order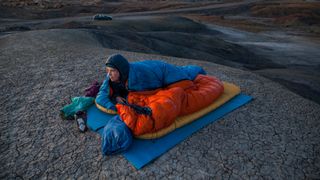 (Image credit: Getty)
The best sleeping bag is one of the most important pieces of kit for the outdoors that you will ever buy. Quality sleeping bags aren't cheap (here's how to choose the right sleeping bag for you), so once you've invested in one, you need to look after it properly.
Here we explain how to wash a sleeping bag – along with some other handy tips for keeping it in good working order – to make sure you have many long and happy nights' sleep in the wilds.
10 steps to look after your sleeping bag
1. Keep it clean
Show your sleeping bag a bit of love and respect while you're camping. Don't walk on it in muddy footwear, keep it away from your boots in the tent, and roll it out carefully across your camping mattress. And don't hop around the campsite in your sleeping bag like some overgrown caterpillar – sack races ended in primary school!
2. Sleep clean
You may not have showers or even wash facilities when you camp, but there's still no excuse for clambering into your sleeping bag in sweaty, smelly base layers and socks that you've been wearing all day. Give yourself a wash with baby wipes (make sure you wipe off any sunscreen) and change either into a clean set of underclothes that you only use for sleeping throughout your trip, or into the clothes and socks you plan to wear the next day. Use a snood (like a buff) to keep your hike-greasy hair off the bag, too.
3. Use a liner
A cotton, silk or synthetic liner will add warmth to your sleeping bag, help to keep the bag clean while you sleep, and be much easier to wash at the end of a trip than the sleeping bag itself.
4. Keep your sleeping bag dry
It's unavoidable that you will sweat during the night, so if conditions allow, unzip your sleeping bag in the morning and spread it over the tent or hang it from a line to air. Damp bags will always start to smell.
5. Air it out
At the end of every trip (or each morning if you get the chance), unzip your sleeping bag and hang it up to air on a washing line or over a door. Make sure it's absolutely dry before you put it away.
6. Don't compress it for long periods
The insulation in sleeping bags, whether down-filled or synthetic, depends on the filling trapping air. As a result, you want to encourage as much air as possible into the insulator in between uses, rather than squeezing the life out of it in a compression stuff sack. More expensive sleeping bags tend to come with two types of carry bags – a loose fitting storage sack and a compression sack for expeditions. Only ever use the storage sack, or perhaps a cotton pillowcase, to store your sleeping bag in between adventures. Alternatively, hang it in a wardrobe or roll it out under your bed (just beware that it might get dusty).
7. Store in a warm, dry place
It's inescapable that your sleeping bag will pick up bacteria from you and your camping trips. Don't let these bacteria develop into mould and mildew by storing your sleeping bag in a damp place like a garage or garden shed (where it might also attract nesting mice). Keep the bag in a warm, dry room, and give it a shake and air every few weeks of the off-season.
8. Spot clean your sleeping bag
If there's just a dirty mark, smudge or smear on your sleeping bag, avoid a full-on clean. Use a damp sponge or soft toothbrush with non-detergent soap to work away the grime. Products like Grangers Odour Eliminator can also help to get rid of pongs and refresh your sleeping bag in between washes.
9. Wash your sleeping bag
At the end of the camping season it will probably need a wash, but how to wash a sleeping bag will depend on its insulation. There are specific cleaning products for down sleeping bags, such as Grangers Down Wash and Nikwax Down Wash Direct. These clean and restore the loft to down that has started to compact and bunch, compromising its performance.
For synthetic sleeping bags use a specialist cleaner, such as Nikwax Tech Wash, or soap or a non-biological liquid detergent.
Follow any washing instructions attached to your sleeping bag. Both down and synthetic bags typically require a gentle wash (sometimes labelled as 'delicate' or 'wool') on a 30°C cycle.
Depending on the size of your washing machine, some people find it easier to hand wash a sleeping bag in the bath, squeezing it gently to get the soap to pass through the insulation. Rinse repeatedly in clean water and then carefully roll up the sleeping bag to drain out the water. Be careful when you lift a sleeping bag out of a bath out that the extra weight of the waterlogged down doesn't rip any of the baffles.
Drying the bag thoroughly is just as important as the wash. Choose a low temperature on a tumble drier, and check at least every 30 minutes that the sleeping bag is not getting too hot. The aim is to restore the loft of down or synthetic insulation, and adding a tennis ball or two to the drier can help to separate the damp feathers and restore their loft.
It's worth noting that it can take much longer than you might expect to completely dry a sleeping bag – the down may be damp long after the shell is dry, so set aside several hours for the process. Even then, the sleeping bag will need to be hung up for a few days to air and dry properly before you can store it. If the sleeping bag has a water repellent finish on its shell, hang it up to air inside out.
10. Never dry clean
The chemicals used in dry cleaning can damage sleeping bags, so never resort to this to clean your bag.
However, some specialist laundries do offer dedicated sleeping bag cleaning services. Classic Clean of Harrogate and Mountaineering Designs, for example, will wash and dry a sleeping bag, with a mail order service available. Prices start at about £35 in the UK. In the US, Rainy Pass Repair offers a similar service.
All the latest inspiration, tips and guides to help you plan your next Advnture!
After spending a decade as editor of Country Walking, the UK's biggest-selling walking magazine, Jonathan moved to edit Outdoor Fitness magazine, adding adrenaline to his adventures and expeditions. He has hiked stages or completed all of the UK's national trails, but was once overtaken by three Smurfs, a cross-dressing Little Bo Peep, and a pair of Teletubbies on an ascent of Snowdon. (Turns out they were soldiers on a fundraising mission.)