What is a trailer tent? Your guide to tents on wheels
What is a trailer tent? We explain the main benefits of these towable shelters, and explain how you can use them to increase comfort levels while camping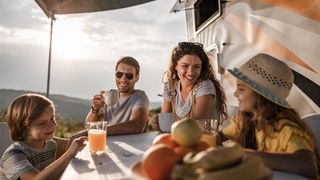 (Image credit: Getty)
Love everything about camping except for sleeping on the cold, hard ground? If that sounds like you, trailer tents might be just the thing to level up your camping game. A larger, more comfortable style of tent that can be conveniently hitched to the back of a car and towed to your destination of choice, they offer a ton of advantages over normal pitch-and-peg-out tents, especially if you're sticking to campsites. But what is a trailer tent? In this article, we explain exactly what trailer tents are and when you might consider using one, so you can increase the comfort on your next camping trip.
What is a trailer tent?
Trailer tents are pretty much exactly what you'd expect from the name: a tent that comes pre-packed as a towable unit that can be connected to the back of your car and hauled to your destination. Once on-site, it's just a matter of unpacking your trailer tent and pitching it out. Due to how they're packed away, they're normally easy to erect and require little more than a few tent pegs to hold everything in place. Generally speaking, they can also then be packed away just as easily: you just need to remove all pegs and fold everything back into the trailer.
How big are trailer tents?
One of the biggest advantages of trailer tents is their size. Even the smaller ranges are much more spacious than standard tents, making them perfect for longer stays on campsites. In fact, calling these shelters 'tents' at all is arguably a bit of a misnomer. Despite being made from canvas, trailer tents are more akin to touring caravans. Many even come with multiple rooms and – at the higher end of the spectrum – you'll even find trailer tents that are fully kitted-out with comfortable living rooms and kitchen spaces, furniture included!
How much do trailer tents cost?
Trailer tents can range from around $6,000 (£5,000) to $25,000 (£20,000) for a top of the range model. As with any big investment, it depends on how many bells and whistles you want and how often you will use it. At the top end of the spectrum, you'll find brands like Pennine Outdoor Leisure and Opus Camper which make a range of high-end trailer tents that come fully equipped with electrical outlets, plumbing, separate bedrooms and living spaces, as well as gigantic awnings to maximise space. But consider shopping second-hand, especially outside of the busy summer season, to save money.
What are the advantages of trailer tents?
Trailer tents come with numerous advantages over smaller backpacking-style tents and touring caravans. Firstly, they're considerably more comfortable than regular tents. This is due to the increased space trailer tents generally afford, as well as raised sleeping platforms that allow you to relax on a real mattress. What's more, many can be connected to electricity or plumbing, meaning you don't need to give up too many home comforts while you're camping. If you're camping as a family, the largest trailer tents will also come with separate bedrooms and sleeping spaces.
But what about trailer tents versus touring caravans? After all, you have to haul a trailer tent with you, restricting its use to campsites much like a regular tourer. In this regard, the main advantages are in weight and cost: trailer tents can be towed by smaller cars with less horsepower, and their initial price tags tend to be substantially lower than touring caravans. Additionally, ongoing maintenance costs, insurance premiums and pitching fees are all lower than a regular touring caravan. Finally, the associated fuel costs of hauling a trailer tent across the country are vastly lower than when towing a caravan. This is better for both the environment and your wallet.
What are the main drawbacks of trailer tents?
If this article has convinced you to investigate trailer tents further — then good, we're glad you've come around. But before you go investing thousands, there are some clear drawbacks you need to be aware of. First of all, as with any tent, you're still sleeping in a shelter made out of some sort of canvas. Security is not something these structures offer much of, nor are they particularly good at retaining heat. Therefore, if you're looking for a comfortable year-round camper that will keep you warm and safe in a storm, trailer tents might not be the best direction to go in. What's more, despite being relatively lightweight for what they afford, you're not going to get very far without a car to tow it. That means you're still highly restricted on where you can pitch.
Where can you buy one?
Trailer tents are not something that you'll find in just any outdoor shop. The likes of GO Outdoors in the UK and REI in the US don't stock them. Instead, you'll have to turn to specialist dealers, much like you would if you were to buy a campervan or a touring caravan. For second-hand options, check out eBay and Facebook Marketplace.
All the latest inspiration, tips and guides to help you plan your next Advnture!
Growing up just south of the glorious Brecon Beacons National Park, Craig spent his childhood walking uphill. As he got older, the hills got bigger, and his passion for spending quality time in the great outdoors only grew - falling in love with wild camping, long-distance hiking, bikepacking and fastpacking. Having recently returned to the UK after almost a decade in Germany, he now focuses on regular micro-adventures in nearby Snowdonia and the Brecon Beacons, as well as frequent trips to the Alps and beyond. You can follow his adventures over on komoot, or visit www.craigtaylor.co for more info.