What is coasteering? We look at this liberating amphibious adventure
We take a look at the thrilling pursuit that's been steadily making waves since it first developed on British shores almost 40 years ago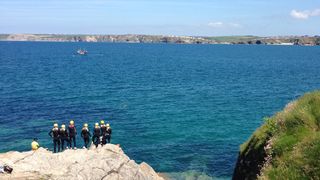 (Image credit: Getty)
What is coasteering? After a first glance at the word, it's likely you'll have already thought something along the lines of: "Ah! Mountaineering but along the coast." You'd be correct in that this is indeed the root of the word. However, mountaineering often involves the use of climbing gear such as ropes and protection that keep you attached the rock wall in case of a fall, which coasteering usually doesn't. A true fusion of mountaineering and the coast exists: it's called sea cliff climbing. So, what is coasteering?
Coasteering is more closely related to activities like unroped scrambling or canyoning. It involves adventurous movement along a rocky coast's intertidal zone, the region that's underwater at high tide and basks in the sun at low tide.
This adventurous movement can be anything from leaping between rocks, swimming across pools, scrambling up gullies, exploring caves, clambering over boulders, riding the swell or taking daring jumps from the cliffs. You won't want to take your best hiking boots, a grippy pair of old trainers or water shoes will help you make the traverses.
It's a pursuit that takes you to places few venture. These are the wild, in-between places along the 'impact zone' where waves terminate against staggering rock formations, the hinterlands between coves that hide secret caverns, spectacular vantage points and astonishing wildlife. Of course, as with canyoning, you can expect to get wet, which is all part of the fun.
Is coasteering dangerous?
There's no doubt that, as with activities like winter mountaineering, coasteering takes place in a dynamic and potentially hazardous environment. Unless you know what you are doing, it could be very dangerous indeed. However, just as you wouldn't head straight up an icy mountain ridge without any idea of what to do with ice axes and crampons, you (hopefully) wouldn't launch yourself into a coasteering adventure without at least some previous experience.
This is why most coasteering experiences take place with the assistance of a knowledgeable local guide. In fact, the commercialisation of the pursuit was how it came into limelight in the first place (more on this in a bit). An expert on the region will be able to take you to the most exciting and interesting places, while making sure the risks are minimized to an acceptable level. They'll also ensure that you're not operating in a way that adversely affects any birdlife.
A guide will also ensure you have suitable equipment and clothing, such as helmets, wet suits, buoyancy aids and appropriate shoes. Fast drying, grippy water shoes are probably the best bet, though a hiking shoe will do the job well too. If you're exploring deep, dark caverns, a headlamp wouldn't go amiss.
The use of buoyancy aids means that, surprisingly, being able to swim isn't necessarily a requirement. It's common to see groups of children being guided along in popular coasteering destinations and, unlike scrambling up a mountain, it doesn't require huge levels of physical exertion
However, it's fair to say that coasteering without a guide can be very dangerous indeed. The hazards include the potential for rock impact, unpredictable currents and the effects of the cold, particularly when water is thrown into the mix.
The origin story
Before we get stuck into coasteering's origin story, it should be stressed that it's undoubted that people have been enjoying similar activities long before the term 'coasteering' was coined. Indeed, mountaineers and climbers have long enjoyed the challenge of sea cliff climbing, which often involves adventurous approaches along the intertidal zone.
It's thought the term coasteering was first used by renowned photographer, writer and mountaineer John Cleare, who is described in the Penguin Encyclopedia of Mountaineering as "the outstanding British mountain photographer of the post-war era." Cleare was using the term in a book about sea cliff climbing and he predicted the pursuit's future popularity.
The term was then adopted in 1986 by Andy Middleton, founder of TYF, which is an adventurous activity provider based in St David's, a tiny city (Britain's smallest, in fact) in Wales' Pembrokeshire Coast National Park. TYF provided the first commercially guided coasteering experience and it was such a success that other operators started cropping up across the country. To date, it's thought TYF alone have showcased the Pembrokeshire Coast to over 200,000 people.
Just under forty years later and coasteering providers can be found in various places across the world, offering visitors a thrilling day out.
Where can you go coasteering today?
As the pursuit originated in Britain, let's begin there. As the spiritual home of coasteering, the Pembrokeshire coast is the obvious starting point and there are a number of established operators and destinations. The Cornish coast in England's southwest has a similar vibe, with expert guides ready to showcase the best spots. Further north, Scotland's spectacular Isle of Skye is home to some top-class outings.
Given its popularity with the Brits, it's unsurprising that some of the most developed coasteering destinations in Europe are in popular vacation destinations like the Canary Islands' rugged cliffs, Portugal's beautiful Algarve region, Greece's Cretan coast and the Spanish island of Mallorca, where Magaluf, Paguera, Cala Romantica and Alcudia offer exciting adventures.
Further afield, the coasteering bug has spread to places as far flung as Australia, South Africa and Hong Kong. There's no doubt that the pursuit will continue to grow and new providers may just wash up on a shore near you.
All the latest inspiration, tips and guides to help you plan your next Advnture!
Alex is a freelance adventure writer and mountain leader with an insatiable passion for the mountains. A Cumbrian born and bred, his native English Lake District has a special place in his heart, though he is at least equally happy in North Wales, the Scottish Highlands or the European Alps. Through his hiking, mountaineering, climbing and trail running adventures, Alex aims to inspire others to get outdoors. He is currently President of the London Mountaineering Club, training to become a winter mountain leader, looking to finally finish bagging all the Wainwright fells of the Lake District and hoping to scale more Alpine 4000ers when circumstances allow. Find out more at www.alexfoxfield.com