What does greenwashing mean? And how can you find eco-friendly gear?
What does greenwashing mean? We explain how to be a discerning shopper when it comes to sustainability claims, and help you source the best eco-friendly gear for your adventures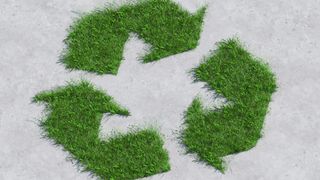 (Image credit: Andriy Onufriyenko)
With climate change at the forefront of conversation, adventure lovers are naturally seeking ways that they can continue to enjoy the outdoors while minimizing their impact on the environment. As many brands adapt to meet these new demands by focusing on sustainability in manufacturing, consumers are being warned of greenwashing. But what does greenwashing mean? And how can you be sure you're really getting your hands on eco-friendly gear when you're shopping?
What does greenwashing mean?
The term greenwashing was coined in 1986 in an essay by environmentalist Jay Westerveld in which he claimed the hotel industry promoted the reuse of towels as part of an environmental strategy, when in fact, it was designed as a cost-saving measure for the industry. Greenwashing describes misleading or exaggerating claims of environmental responsibility and industries from petroleum and automobile to fashion and the outdoors have been accused of doing it to gain favor with their customers.
How can you source eco-friendly gear?
We're happy to report that many of our favorite eco-friendly outdoor brands are really stepping up to the plate when it comes to environmental responsibility, producing sustainable hiking gear made from recycled materials, offering services like resoling hiking boots and tent repairs to make your gear last longer, and making clothing that doesn't require frequent washing.
This is important because, as we've previously reported, a 2018 study on the carbon footprint of active sport participants found that participants in nature sports actually had the highest emission levels of all. Not only do our outdoor pursuits require us to own a lot of gear, we tend to wear our gear out faster on our adventures, meaning we tend to replace them sooner.
Naturally, we want to give advice on taking good care of your gear to make it last, doing things like fixing your tent when it gets older and recycling it when it's no longer usable. We also want you to prioritize eco-friendly gear and we're aware that it can be difficult to know what claims are true and what it all means. After all, an item claiming to be recycled might contain only a very small percentage of recycled materials, and some products are better for the ocean but terrible for the land.
It can all be a bit of a minefield, but rather than focus on the negative, we set out to give you some useful tips to help you be a discerning consumer when it comes to shopping sustainably.
1. Look for supporting evidence
Lots of gear today will display claims like "recycled" or "sustainably produced" on the labelling, but it's helpful to know what this really means. If there isn't more information on the label, go to the brand's website and look for supporting data regarding how much of the product is made from recycled materials and facts regarding how much energy the company is saving in production to lessen the impact of their manufacturing. Companies that are genuinely dedicated to being more green will provide lots of supporting information on their websites – chances are they will be proud of the work they're doing to save the planet.
As some examples, BAM Bamboo tells you exactly how much energy and water was saved making products like their Tregarrick base layer, while The North Face has a whole section of their website detailing their commitment to sustainability and an appointed sustainability manager, Julian Lings, who told Advnture:
"Brands like us have the opportunity, and most importantly, the responsibility to take action and give hope. That's why we've got ambitious carbon reduction targets and sustainability goals that we are pushing hard to reach. It's not just about where you are now, but where you want to go, and The North Face want to go towards creating a sustainable planet that has served us so well, and hopefully inspire other brands to do the same."
2. Look beyond the imagery
When you pick up a pair of hiking socks at the store with a price tag printed on brown cardboard that appears to be recycled, or see an advert of someone running through a forest, it's difficult not to associate those items with health and nature.
Many companies – even petroleum companies – use imagery in their marketing that elicits a psychological association with sustainability. It might be using the color green in their logo or imagery of trees and nature in their ads, but it subtly gives the impression that a product is somehow better for the environment. Though it may well be, it's important not just to take these things at face value. Again, research the company's website and see what they are doing and what they plan to do in the future to offset the environmental impact of manufacturing.
3. Seek certification
Companies truly invested in sustainability will have certifications on their website proving their commitment. Look for association with organizations such as the Outdoor Industry Association's Climate Action Corps, 1% for the Planet and Fair Trade.
4. Know your fabrics
There are a lot of claims made about some fabrics being more eco friendly than others, and in truth, this is a murky area. Natural fabrics such as cotton and bamboo biodegrade, so it is better to have them in landfills than synthetic materials that never break down and rely on petrochemicals for their production. That said, just because it's a natural material doesn't mean it's actually sustainably sourced, so look for data that tells you it is, and seek organic materials too.
For waterproof gear in particular, seek out items that are PFC-free and PTFE-free as those substances are thought to be contaminants to the environment under certain conditions. For vegan gear, make sure it's not simply made from plastic and made from organic materials that are, again, sustainably sourced.
5. Check individual products
A company might have an eco-friendly line of clothing or gear, but that doesn't mean that everything they produce is sustainable. It's good to research the individual items you intend to buy rather than paint an entire company with a green brush because you know some of their products are sustainably produced.
6. Consider the social impact
In addition to taking care of our earth and oceans, it's important to consider how companies are treating their human resources too. Do you really want a sustainably produced jacket made from recycled organic materials that's been manufactured in a sweatshop? Climate change means climate justice after all, so look for Fair Trade certification which means the company has committed to fair working conditions and a living wage.
7. Seek local
When possible, a company that is based in your own country and manufactures their products locally will be best of all, as it supports your local economy and minimizes the effect of shipping on the environment.
8. Ask questions
In tandem with being more discriminating and doing your research, don't be afraid to reach out to companies and ask them for more information regarding how their products are made and what they're doing to offset climate change. As a consumer, you're well within your rights to ask for more information, and asking questions is a way of holding outdoor companies responsible and letting them know what's important to you. Vote with your voice as well as your wallet.
All the latest inspiration, tips and guides to help you plan your next Advnture!
Julia Clarke is a staff writer for Advnture.com and the author of the book Restorative Yoga for Beginners. She loves to explore mountains on foot, bike, skis and belay and then recover on the the yoga mat. Julia graduated with a degree in journalism in 2004 and spent eight years working as a radio presenter in Kansas City, Vermont, Boston and New York City before discovering the joys of the Rocky Mountains. She then detoured west to Colorado and enjoyed 11 years teaching yoga in Vail before returning to her hometown of Glasgow, Scotland in 2020 to focus on family and writing.