Sustainable hiking clothes: enjoy the outdoors responsibly
By Julia Clarke
Read our tips on wearing sustainable hiking clothes to cut down on your carbon emissions without cutting down on your time outdoors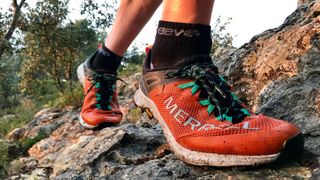 (Image credit: Sian Lewis)
Sustainable hiking clothes are increasingly in demand by outdoor enthusiasts as we learn more about the devastating impact of the clothing industry on our environment. The clothing industry is now believed to be the second most polluting industry in the world, second only to the oil industry, and if we want to keep enjoying the outdoors, it's time we started seeking out sustainable hiking clothes and gear for our adventures.
According to the UN, the fashion industry utilizes around 93 billion cubic meters of water each year, while 370 million people are living in drought-like conditions. Further, the UN reports that around half a million tons of microfiber is now being dumped into the ocean each year by the clothing industry.
Now as an outdoor lover, you may feel that you take on the role of steward of nature with a great sense of responsibility, leaving no trace when you venture out on the trail, but no doubt you also love having the sturdiest hiking boots and best backpacks and you wouldn't be alone. In fact, a 2018 study on the carbon footprint of active sport participants found that participants in nature sports actually had the highest emission levels of all. Not only do our outdoor pursuit require a lot of gear, we tend to wear them out faster than our everyday clothes on our adventures meaning we replace them faster.
None of this means you have to stop enjoying the outdoors, but it's definitely time to make sure you love the wilderness more than you love having new gear.
The good news is that people are waking up to the impacts of what is often termed 'fast fashion' – mass produced, low cost clothing that tends to exploit underpaid workers – and seeking sustainable alternatives. In response, many large-scale outdoor retailers like Patagonia, Finisterre and Arc'Teryx are investing heavily in sustainable options and new products like jackets made using materials saved from waste, vegan hiking boots and daypacks made from wood seem to hit the market daily. Of course, as the consumer, it's up to you to tell the industry what you want, and ultimately help steer this ship in a more sustainable direction.
Our article on the best eco-friendly outdoors brands offers some great tips for reducing your carbon footprint, such as buying gently used gear, researching brands and only buying from ones that practice sustainability, and getting damaged gear repaired rather than throwing it away to end up in a landfill.
Seek out sustainable materials
For hiking clothes in particular, try to seek out non-leather hiking boots and shoes since the cattle industry is believed to generate more greenhouse gases than all the world's cars. For your hiking trousers, tops and base layers, avoid synthetic materials when you can – these don't biodegrade, are difficult to recycle and release harmful gasses into the environment. Look for gear that is made from natural materials such as merino wool, hemp and bamboo.
Consider location
It's also important to factor in where your gear is being made. Even if it's made from all-natural, recycled materials, if it's being produced on the other side of the world then flown across the globe, it's contributing to the problem. Seek out brands in your own neck of the woods and make sure their production takes place locally before you buy.
Buy durable gear, and less
Needless to say, durability plays an important role in making sure your hiking clothes are sustainable. If you start with good quality gear and take good care of it, it will last longer meaning you won't buy as much gear over time. In this same vein, consider that you don't need ten pairs of hiking trousers, as nice as they all are. One or two pairs will do and if you can find clothing that crosses different sports, like one top for hiking, running and biking, you'll thin down on your outdoor wardrobe significantly.
Rent when you can
Finally, while there are certain staples you'll want to own because you use them all the time, you might rent equipment that you don't plan to use all that often, particularly when it comes to big ticket items like tents and overnight backpacks.
All of these practices make it possible for you to cut down on your carbon emissions without cutting down on your time outside.
Julia Clarke is a staff writer for Adventure.com. She is an author, mountain enthusiast and yoga teacher who loves heading uphill on foot, ski, bike and belay. She recently returned to her hometown of Glasgow, Scotland after 20 years living in the USA, 11 of which were spent in the rocky mountains of Vail, Colorado where she owned a boutique yoga studio and explored the west's famous peaks and rivers. She is a champion for enjoying the outdoors sustainably as well as maintaining balance through rest and meditation, which she explores in her book Restorative Yoga for Beginners, a beginner's path to healing with deep relaxation. She enjoys writing about the outdoors, yoga, wellness and travel. In her previous lives, she has also been a radio presenter, music promoter, university teacher and winemaker.
All the latest inspiration, tips and guides to help you plan your next Advnture!
Thank you for signing up to Advnture. You will receive a verification email shortly.
There was a problem. Please refresh the page and try again.