What is mountain running and is it as tough as it sounds?
What is mountain running? A man who has run around the world, from the highlands of Kenya to the peaks of Japan, explains everything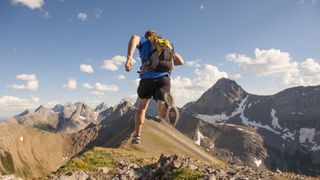 (Image credit: Getty)
What is mountain running? Before answering the question, it's worth remembering that humankind has long seen a peak and wanted to run over it. Running long distances in the mountains is an ancient activity, with the oldest recorded race dating back to Braemar in Scotland around 1040. It is thought King Malcolm Canmore set up the competition to find a swift messenger. A hill race still takes place at the annual Braemar Gathering (opens in new tab) to this day, to commemorate this tradition.
These days, mountain running comes in various distances and formats, from fell running to sky running, each with its own federation and championships.
Many runners regularly compete across all the different branches of the sport, while others tend to stick to one format. At the annual World Mountain Running Championships (opens in new tab), for example, athletes from East Africa are often among the medals, but they are rarely seen at the longer Mountain Ultra Trail (opens in new tab) (MUT) races, such as the 105-mile Ultra Trail du Mont Blanc (opens in new tab) (UTMB) or on the sky running circuit.
Notable mountain running events in the US include the Dipsea (opens in new tab), which is the oldest trail race in America having begun in 1905. The super scenic rollercoaster course from Mill Valley to Stinson Beach is only 7.4 miles long, but it is notoriously tough and steep, with one section called Suicide.
In Europe, you could try the Jungfrau Marathon (opens in new tab), a 26-miler that starts in the Swiss lakeside town of Interlaken and heads straight up into the Alps to finish at 7,200 feet.
Sky running
With races first held in the early 1990s, sky running is a relatively modern form of mountain running. The sport has its own strict criteria – for example, 5% of the total distance of a designated sky race must have an incline of at least 30%. Generally, the races tend to be more technical (meaning the terrain can be quite rocky and tricky to run over) and as the name suggests, they take place at higher altitudes – usually somewhere above 2,000 meters (6,500ft).
Events in the Skyrunner World Series (opens in new tab) often include short, lung-bursting uphill challenges called Vertical Kilometre races, in which the course typically heads straight up a sharp incline, rising 1,000m in elevation. A rarer alternative is the short downhill race, such as the Inov8 Descent Race (opens in new tab) in Austria, which is just 350 meters long, down what organizers call "a blood-curdling, insane slope".
Fell running
In the UK, racing in the mountains is commonly known either as fell running (in England and Wales), hill running (in Scotland) or simply mountain running (in Northern Ireland). These events have a long, rich tradition and often allow runners to follow their own route (or "line" as the fell runners call it) between checkpoints. Although runners carry maps, local competitors who know the hills well have a big advantage, especially when the mist comes down. Outsiders turning up and attempting to simply follow a local runner's line – if they can keep up – is generally frowned upon.
Records and challenges
Outside of races, many mountain runners like to chase records on famous 'rounds' (a set route encompassing a number of peaks or fells), set Fastest Known Times (FKTs) on alpine routes, or try and beat the fastest known ascent and descent of particular mountains.
Fed up with racing, a few years ago the famous Spanish runner Kilian Jornet (opens in new tab) set off on a project to break the records on a series of the world's most iconic mountains. As well as smashing the speed records on Mont Blanc, Kilimanjaro, the Matterhorn and Aconcagua, along the way he also set a new record on the UK's most famous round, the Bob Graham Round in the English Lake District. Although he's currently training to break a 23-year-old record run strictly on the flat…
In what has subsequently become a fascinating duel to claim the most records, the Ecuadorean runner Karl Egloff (opens in new tab) has since beaten some of Jornet's times.
The future of mountain running
Starting in 2021, a number of the different strands of mountain running – which, up until this point, have each had their own governing bodies – will come under the umbrella of World Athletics (opens in new tab) for the first time, and a combined World Championships will be held.
Adharanand Finn is a runner, podcaster, journalist and author of The Way of the Runner, The Rise of the Ultra Runners (one of Advnture's best running books), and Running with the Kenyans, which was named Sunday Times Sports Book of the year.
All the latest inspiration, tips and guides to help you plan your next Advnture!
Runner, podcaster, journalist and author, Adharanand's books involve immersive research, from attempting to run with elite Kenyan athletes, to travelling across Russia by train with his three small children, and completing 10 ultra marathons in two years. He's not sure which was the hardest. He was twice shortlisted for the William Hill Sports Book of the Year and his first tome, Running with the Kenyans, was named Sunday Times Sports Book of the Year. His other books are The Way of the Runner and The Rise of the Ultra Runners.