Yeti vs Igloo: which brand's the coolest?
It's Yeti vs Igloo, as we open the lid on the battle between two of the finest camping cooler brands around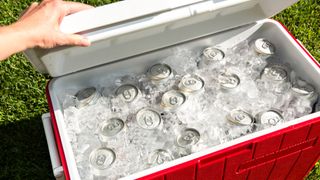 (Image credit: Getty)
Yeti vs Igloo. These two big names of the cool box world can be seen everywhere from summer BBQs and college parties to remote fishing trips and Arctic expeditions. One's been chilling for the best part of a century while the other threw its thermally insulated hat in the ring less than two decades ago.
A quality camping cooler is basically your fridge in the great outdoors. It uses thick, insulated walls to maintain the inner temperature and to keep the heat from outside… outside. Of course, to work properly, it needs its insides thoroughly chilled before you close it, which is why you have to add bucket loads of ice along with your beverages and food items.
There are broadly two types of camping cooler: hard sided coolers that are highly insulating but not all that easy to move around; and soft sided coolers that don't keep everything cold for quite as long but are much more portable. Yeti and Igloo are leaders in the field of hard sided coolers in particular, but also boast a range of other camping products too.
So, did we find to be Yeti abominable by comparison or did we give Igloo an icy reception? It's going to be hard and almost certainly not one sided (just like their boxes then). Let's get to it: Yeti vs Igloo.
Yeti vs Igloo: origins and reputation
Igloo have been creating camping coolers since 1947 and are one of the most recognizable ice box brands in the US. They've repeatedly kept things fresh over a 75-year existence that has seen a number of firsts: from the wheeled cooler in 1994 to the fully-recycled plastic cooler in 2021. Their range of products is broad, with many fashionable and colourful options, as well as the occasional collaboration too, such as Disney and Hello Kitty.
Yeti, by contrast, are recent upstarts. Founded in 2006, they've risen rapidly to prominence and are considered by many to be the benchmark when it comes to hard-sided coolers. Launched by two brothers who found themselves frustrated at the apparent lack of quality – particularly in terms of durability – of the coolers on the market, they decided to create a cooler for the 'serious outdoor enthusiast.'
Yeti vs Igloo: products
Igloo's range of coolers is broader than Yeti's with many models and styles. The IMX coolers are their most durable and also feature Ultratherm insulation for the brand's longest ice retention. They boasts a few thoughtful features, such as an integrated bottle opener and cup holders. Their BMX coolers are also designed for rugged adventures, while their ECOCOOL boxes are a world first in recycled plastic.
They have five other varieties of hard sided coolers and a dazzling array of styles when it comes to soft sided coolers: think the Luxe range for the fashion conscious and their Disney collection for the kids. Their Playmates coolers are aimed squarely at school children.
Yeti's ultra-durable Tundra cool boxes are widely regarded as the finest around. Wonderfully insulated there's no chance of bears stealing the contents either, as the Tundra is designed to be bear proof. Both the Tundra Haul and Roadie boxes come with wheels for increased portability. Yeti's modern Hopper soft sided coolers have a good reputation too, albeit not the stellar rep of the Tundra. Both come in a range of sizes.
As well as coolers, Igloo make a range of drinkware, with bottles, cans, jugs and tumblers. Yeti also put their insulation know how into a range of tumblers, bottles, mugs (such as the Yeti Rambler), jugs and barware, all of which are well regarded and rival some of the finest products available today. In fact, we squared them off against another industry leader in Hydro Flask for our Yeti vs Hydroflask feature.
High levels of durability is a common factor in Yeti's product line-up. This quality can also be seen in their Trailhead camping chair, which is very highly thought of but also very expensive. Yeti also have a range of bags, dog products and their marvellous Lowlands blanket.
As cool boxes are arguably both brand's forte, for the purposes of comparison we've chosen the Yeti Tundra 65 and the Igloo IMX 70 hard sided coolers. They're ideal for delving deeper into the insulating qualities, durability and price points of these two brands.
Yeti vs Igloo: insulation
Yeti's Tundra 65 will keep food fresh for almost a week, a duration that's pretty much unrivalled in the cool box world. It's worth noting that the smaller versions of the Tundra don't boast quite the same level of insulation but they will still retain ice for around four days.
Igloo's IMX 70 can't compete with the Tundra 65 in terms of ice retention. While it does slightly outperform the smaller Yeti's in this regard, food lasts over a day and a half longer in the Tundra 65 compared to the IMX. Yeti comes out on top.
Yeti vs Igloo: durability
The IMX's lack of integrated hinges immediately raise eyebrows when it comes to durability. If overextended, you can literally see them straining towards breaking point. The box's rubber latches are also known to contort over time. This adds up to a lid that won't withstand years or abuse in rugged outdoor settings.
Meanwhile, the Tundra's rotomolded contruction and magnificent design means that it's almost indestructible. The robust and patented T-Rex lid latches are designed so that they never fail and the box's hinges interlock, with an almost unbreakable dual-pin design.
Yeti vs Igloo: price
Igloo's IMX 70 is priced at $250, whereas the Tundra 65 will set you back a cool $375.00 (£400.00), so it's clear that the additional quality comes at a price.
Comparing water bottles also finds Yeti to be more expensive, with their 36oz Water Bottle with chug cap costing $50.00. Meanwhile, Igloo's 36oz Legacy Growler costs only $20.99 and has the added bonus of being Star Wars themed.
Verdict
Yeti have proven time and time again that their products stand up to the most robust and rigorous tests. If you're in need of a tough as nails cooler that will keep everything chilled for several days, there's no doubt that Yeti is a solid choice.
Igloo's coolers are less durable and don't perform as well or for as long as their Yeti counterparts. However, they are substantially cheaper and this will appeal to the more casual user. Setting up base camp on Everest? Go Yeti, no doubt about it. Getting a cool box for your summer garden parties or getting your kid a soft sided cooler for school trips? Igloo's more colourful, budget friendly options may suit better.
All the latest inspiration, tips and guides to help you plan your next Advnture!
Alex is a qualified Mountain Leader, adventure writer and content creator with an insatiable passion for the mountains. A Cumbrian born and bred, his native English Lake District has a special place in his heart, though he is at least equally happy in North Wales, the Scottish Highlands or the European Alps. Through his hiking, mountaineering, climbing and trail running adventures, Alex aims to inspire others to get outdoors. He is currently the President of the London Mountaineering Club, training to become a Winter Mountain Leader, looking to finally finish bagging all the Wainwright fells of the Lake District and hoping to scale more Alpine 4000ers when circumstances allow. Find out more at www.alexfoxfield.com