How to choose a down jacket or puffy jacket: we explain the benefits of an outdoors wardrobe staple
If you're wondering how to choose a puffer jacket for winter, we explain what you need to look for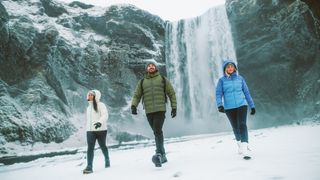 (Image credit: Colombia)
Now that cold winter weather is upon us, you've probably been asking yourself if it's worth buying a down jacket or puffer? Whether you're after a warm layer to pull out of your pack when you reach a mountain summit or a cosy coat for winter commutes, you've probably been tempted by the now-ubiquitous puffer jacket (or puffy jacket – depending on where you're from).
But knowing how to choose the best down jacket or puffer can seem complicated. For one thing, they come with plenty of technical jargon. Do I need down or synthetic insulation? Duck down or goose down? And what's with fill power and fill weight?
The second off-putting factor is that high-end down and puffer jackets can be eye-wateringly expensive. In the world of technical outdoor gear, you're looking at hundreds of dollars or pounds for a premium down model. And if you stray into the world of fashion, you could be looking at thousands – although then of course, you're paying a hefty chunk for the brand name, whether it's Canada Goose, Moncler or even Prada.
But the fact that all those designers and high-end brands even make such jackets shows that the classic puffer is one of the few bits of outerwear to have strayed from trail to catwalk, as well as from high peak to high street. The reason for that is partly the puffer's distinctive (and divisive) look, but also its desirability. Put simply, people like puffers because nothing else feels as warm, inviting or as downright cosy.
That's a firm tick in the 'yes' box, then, when considering whether you should buy a down jacket or puffer.
The bottom line is, compared to other insulating layers such as fleece or wool pullovers, puffer jackets offer superior warmth to weight. That makes them a key part of most layering systems when venturing into the great outdoors – certainly if you're going anywhere cold, or high up, or both, but also if you are simply looking for lightweight warmth.
Here we explain how to choose a down jacket or puffer.
So, what exactly is a puffer jacket?
Before we go any further though, maybe we should be clear and answer this question: what exactly is a puffer jacket? Basically, we're talking about any jacket designed primarily to offer warmth (as opposed to wind or rain protection) that uses a high loft (hence 'puffy') fill, usually sandwiched between two layers of fabric (a lining and a face fabric).
The insulation can be a natural material (eg down) or a man-made synthetic insulation (which is invariably made from polyester). Some forms of synthetic insulation are a sheet of wadding, but in classic puffers the insulation is a loose fill, traditionally, clusters of down (either duck or goose down). To prevent this fill from moving around inside the jacket and gradually settling in one place, it is housed in 'baffles', a series of stitched pockets, arranged in rows. This is what gives the classic puffer its distinctive look.
How do down jackets and puffers keep you warm?
Basically, it's all about hot air. The fill of a puffer jacket is made up of thousands of tiny fibres that form innumerable tiny pockets. These are designed to trap as much air as possible and hold it within the baffles of the jacket. This trapped air is gradually warmed by your own body heat, providing insulation. The warmest puffers are exceptionally thermally efficient. That's why they are often used as outer layers or under a windproof layer in extremely cold but dry environments, like the polar regions or the Himalayas.
These expedition-level puffer or down jackets tend to use a 'box-wall' construction, where the down is housed inside brick-shaped baffles. This gives plenty of room for the down fill to loft, and also means that there are no exposed seams or stitching through which wind can penetrate.
Lighter puffer jackets tend to use a 'stitch-through' construction, where the baffles are created by sandwiching the fill between two layers of fabric, separated by lines of stitching. This saves weight and cost, but can also result in cold spots, as the stitching is an insulation weak point. It can occasionally cause some down fill to escape from the baffles. However, most down puffies use stitch-through construction, as it is a practical solution for less extreme conditions. That makes them ideal for a range of uses – as an extra 'throw-on' layer for chilly campsites or exposed summit stops, as a midlayer for alpine activities from climbing to skiing, and even for everyday wear.
How can you tell how warm a puffer jacket will be?
This can come down to numerous factors, including the jacket's overall design and construction, but three principal considerations are:
The type of fill
Its insulating power (or fill power)
The total fill weight (ie how much insulation the jacket contains)
When it comes to type of fill, your choices essentially boil down to down vs synthetic insulation. Recently other forms of natural plant-derived insulation such as kapok have re-emerged in the outdoor industry. Similarly, some puffers use a blend of down and synthetic fibres, while other use zoned panels of these two different fills. But the majority of the jackets on the market still use either predominantly down or a synthetic fill.
Down jackets
Down is nature's best insulator. Premium down provides the best warmth to weight ratio of any common material, which is why it is usually chosen for the warmest (and therefore most expensive) puffer jackets. The insulating ability of down is usually expressed in a numerical fill power. This is a measure of the down's ability to loft, or trap air.
For down puffer jackets, fill power ranges from about 550FP (entry level) through to 700FP (mid-range) up to 850FP+ (premium down). Higher fill power down tends to be sourced from geese rather than ducks, which is where the common misconception that goose down is 'better' than duck down comes from.
In fact, 700FP duck down will be just as warm as a 700FP goose down, provided the fill weight is the same. And the world's warmest down in terms of fill power actually comes from the eider duck – specifically, the breast feathers of the female Eider, though this has to be collected by hand from the bird's nesting sites in Iceland and Canada, which makes it extremely expensive.
It is generally true that the bigger the bird, the bigger the down cluster, which is why big geese make better down than smaller ducks (although since most down is a by-product of the meat industry, the age at which birds are killed is a factor in this too). The climate in which the bird is raised also has an effect, with thicker clusters being found on birds from colder regions. Most of the world's goose down comes from China, but premium down tends to originate from Eastern Europe, particularly Poland and Hungary. A small amount of goose down also comes from the United States and Canada.
The quality of down is also sometimes given a supplementary figure, called a down-to-feather ratio. As a natural product, down is tricky to collect, and a small proportion of feather quills are inevitably mixed up in the down clusters. Feathers do not insulate as well as down, so ideally you want a higher proportion of down to feathers. A ratio of 80% down to 20% feathers is good, 90:10 is excellent, and 93:7 is exceptional.
You might think that an 850FP jacket will therefore be warmer than a 650FP jacket. That may be true, but isn't necessarily so, because a down puffer's warmth also depends on total fill weight: basically, the amount of down stuffed inside it. So, an ultralight down jacket with a high fill power will be very warm for its weight but won't necessarily outperform a chunky down jacket with a lower fill power but a far greater fill weight. It is true that with premium down, you need less fill to deliver the same warmth, and this is why it is used in technical puffers designed for elite mountaineering and climbing, where low weight is an essential consideration. Down is also highly compressible, meaning that down jackets can pack down to a very small size.
When treated well, down is very durable. It does need some specialist care though – down garments shouldn't be stored compressed for long periods, as this can damage the fill, affecting its loft. It should also be washed carefully, using specialist down cleaners and reproofers. Learn how to look after a down jacket in our comprehensive guide.
Drawbacks of down jackets
The traditional drawback of down jackets is that they do not work so well if they get wet. Although down is actually much more resistant to moisture than most people think, if it does get saturated it tends to collapse. This means it can no longer trap air and therefore loses its insulating ability. As such, down puffers are not ideal for wet weather conditions, particularly if worn as an outer layer and exposed to rain. Of course, their drawbacks can be mitigated if you wear a down jacket with a waterproof shell over the top. (Check out the best on the market in our guide to the best waterproof jackets you can buy.)
To protect the down fill from moisture, almost all modern down jackets have a face fabric that has been treated with a durable water repellent (DWR) finish. This helps water to bead and roll off the surface of the fabric rather than soaking through to the down fill. It's a fairly effective solution, although it only provides water resistance, not full-on waterproofing. DWR treatments also deteriorate over time. In addition, some DWR treatments have been shown to be harmful to the environment, using damaging perfluorinated compounds (PFCs), sometimes also called fluorocarbons. The outdoor industry is now gradually phasing these out, though some brands still use them.
To further counter the negatives of down's poor performance when wet, some brands, including Crux, Rab and Columbia, have also produced fully waterproof down jackets – like the Columbia Grand Trek, though these are still relatively niche products. A more common solution has been to try and make the down itself more resistant to moisture, by treating it with a DWR in the same way as face fabrics. Such down is often called 'hydrophobic' down. It has been shown to be effective, though its long-term durability is sometimes disputed. Still, these innovations have gone a long way towards making down puffers a more practical choice in a wider range of conditions.
While not necessarily a drawback of down, a further and final consideration is the fact that as a natural product derived from ducks and geese, there are animal welfare issues to consider. Cheaper down jackets – even those from some of the biggest high street brands – often use low-grade, unregulated down. Birds may have been mistreated and even live-plucked. These unethical practices still go on, although increased supply chain transparency as a result of various outdoor industry initiatives have drawn attention to these problems and started to address them.
Basically, if you're buying a down jacket, look for evidence that the down has been responsibly sourced. In some cases, down products will have a coded swing tag that allows you to check where, when and how the down in the product was produced.
Check out our guide explaining everything you need to know about ethical down.
Synthetic puffer jackets
When synthetic insulation first appeared, it was produced as a sheet or roll of wadding that was then glued or stitched between two layers of fabric. Though this resulted in a heavy and somewhat cumbersome jacket, it provided very effective block insulation, epitomised by the classic climbers' 'belay jacket'. This was designed to be worn over all your other layers and deliver a big hit of near-instant warmth. It wasn't particularly good for moving around in, but that didn't matter, because it was meant to be worn in cold, wet and exposed locations when the climber was in a fixed, static position, like belaying a partner.
Lighter wadded jackets subsequently appeared, intended for less specialist use. Wadded fills (also called 'blanket' or 'sheet' insulation as well as 'continuous filament' insulation) include Primaloft Gold and Silver, Arc'teryx Coreloft and various other brand names. This type of fill is a popular choice, particularly if you're hard on your kit. That's because if you happen to snag a wadded synthetic jacket on a rock or branch, it is far less likely to leak as much fill as a down jacket. They are generally more resilient and easier to repair too – perhaps why most military-issued insulated jackets tend to use synthetic fills (indeed, the first synthetic insulation was developed by the US military as a more practical alternative to delicate down).
As synthetic fills developed, newer types of insulation emerged. This includes loose fills that look and feel a lot like natural down. They can also be blown into baffles, just like down, so the result is a jacket that looks like a classic 'puffer'. Examples include Primaloft Thermoplume, The North Face's Thermoball and Patagonia's PlumaFill insulation. They are still not quite as thermally efficient as premium down, but can match entry-level 550 to 600FP down, and in addition have many other advantages.
Foremost among these is the fact that synthetics resist moisture much better than down. They retain warmth even when wet and are also much quicker drying. Synthetic fill is also fairly hard-wearing and easy to look after – most synthetic puffers can be washed in a standard washing machine, without specialist treatment. Lastly, synthetic puffers are invariably cheaper than down alternatives.
One final note is that synthetic puffers are also allergy-free, whereas down puffers – particularly those made with lower fill power down – can trigger down allergies among those who are sensitive to the microscopic mites that live on the down clusters.
Drawbacks of synthetic puffers
As we've already noted, even the best synthetic puffers are not as warm for their weight as premium down jackets, nor as compressible. This makes them a heavier and bulkier option for outdoor pursuits like climbing, mountaineering and backpacking.
Like down fills, synthetics should not be stored compressed for long periods of time. In fact, many synthetics are less resistant to compression than down, meaning they lose their loft over time, reducing the insulating power and the effective lifespan of your jacket.
There are also environmental concerns to consider. Most synthetic fills are made of polyester, which is derived from petrochemicals. It is therefore ultimately a material based on fossil fuels, which does not make them a particularly sustainable choice. However, many manufacturers are now making synthetic insulation from recycled polyester, or even from bio-based polymers to improve their green credentials.
Other considerations
A puffy jacket, as a rule, is not particularly breathable. They are much better suited to static or stop-start situations than active wear.
Having said that, 'active insulation' layers and lightweight hybrid puffer jackets have been developed to offer better breathability. In the latter case, they do this by combining panels of down or synthetic insulation together with air-permeable panels of lighter, more breathable fabrics, such as stretch fleece. This also has the benefit of making the jacket more comfortable and better articulated, providing greater freedom of movement. Good examples of this approach include Montane's synthetic Icarus Stretch jacket and Salomon's Haloes Down Hybrid Hoodie.
'Active insulation' jackets are not usually puffers in the conventional sense but instead use more breathable forms of (usually synthetic) insulation combined with lighter, breathable shell fabrics. Good examples include Patagonia's Nano Air range, which uses the brand's Fullrange insulation; the Arc'teryx Atom LT, which uses fleece panels plus its synthetic Coreloft fill; and jackets that use Polartec Alpha Direct, a loosely-woven synthetic insulation that requires no inner lining to hold it in place, thereby maximising breathability. These jackets include the Rab Alpha Flux and the Montane Hydrogen.
Summary
Each fill has its pros and cons, but establishing your intended use, anticipated weather conditions, overall budget and priorities in terms of performance will help guide you.
If you're primarily looking for a jacket that offers maximum warmth for minimum weight and packability, then a premium down puffer with a high fill power should be your top choice.
If you want a jacket to wear as an outer layer in extreme cold but dry conditions, then look for a box-wall down jacket with a high fill power and a generous total fill weight.
If you want a jacket to carry in your pack as a toasty extra layer, then a lightweight stitch-through down jacket is a good choice.
If you need a piece to wear as a midlayer under a shell, or for more active use, consider a hybrid down or synthetic jacket, or a synthetic 'active insulation' jacket.
In all cases, if you're likely to experience prolonged wet weather, then go with either a down jacket with a hydrophobic fill or even better, a synthetic jacket.
Of course, in an ideal world, having a down puffer and a synthetic puffer would be a failsafe way to cover all the bases for future adventures.
An outdoors writer and editor, Matt Jones has been testing kit in the field for nearly a decade. Having worked for both the Ramblers and the Scouts, he knows one or two things about walking and camping, and loves all things adventure, particularly long-distance backpacking, wild camping and climbing mountains – especially in Wales. He's based in Snowdonia and last year thru-hiked the Cambrian Way, which runs for 298 miles from Cardiff to Conwy, with a total ascent of 73,700 feet – that's nearly 2½ times the height of Everest. Follow Matt on Instagram and Twitter.
All the latest inspiration, tips and guides to help you plan your next Advnture!
Thank you for signing up to Advnture. You will receive a verification email shortly.
There was a problem. Please refresh the page and try again.