What is active insulation? Meet Polartec Alpha for sweaty adventures
Designed for US special forces, this active insulation is a game changer when you need both insulation and high breathability for sweaty adventures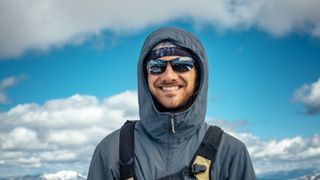 (Image credit: Alex Ratson)
Like a lot of outdoorsy people, I've spent years trying to perfect my body temperature on sweaty adventures when the temperatures are low. It's easy to think that when it's cold out, you want an insulated jacket such as a down jacket or a fleece, and when it's warm out, you lose the insulation altogether and hike in a T-shirt. But of course, if you've ever left the house, you know it's not that simple.
There are actually loads of scenarios where you might need some insulation but traditional insulation, like down or fleece, would make you far too warm. In cold weather, you often need some insulation, but if you head out on a high intensity pursuit like trail running or ski touring in a down jacket, you'll soon be dripping with sweat. Long summer adventures like hiking a 14er on a warm day can often be bookended by cold mornings and evenings. Gaining elevation can mean that even though you didn't need insulation at the trailhead, you find you do need it for that windy summit or exposed ridge. And of course, even in the best weather, when you're adventuring in the backcountry there's the possibility you could get lost or injured, spend the night on a mountain, and need more than your trail running shirt for warmth.
So over the years, I've experimented with light down and fleece jackets but invariably found that in addition to being too warm and bulky, especially for fast and light adventures, they aren't breathable enough. So once I start to sweat, that moisture doesn't have anywhere to go, meaning my body's natural cooling system doesn't work and my inner base layer gets soaked, which is no good once the temperatures drop. Therefore, I've long relied on merino wool, since at least when it gets wet it continues to insulate. Recently, however, I've discovered a type of so-called active insulation, known as Polartec Alpha, which has been around for a few years now and is proving to be a total game-changer when it comes to sweaty adventures.
What is Polartec Alpha?
Until active insulation came along, you could pretty much count on an active garment having either insulating properties or being breathable, but it was unlikely you'd find one that suitably met both of these requirements.
To understand why it's such a fine balance, it's helpful know that sweating is your body's way of cooling itself down, but it only works if that perspiration can evaporate off your skin, which is why humid conditions feel much hotter than arid climates, even if the thermometer says it's the same temperature outside. A moisture-wicking, breathable base layer help to draw perspiration off your skin, but that only goes so far when the next layer isn't breathable. If it's cold, you might need that layer to have some insulation, and a less breathable outer layer means all that moisture stays trapped in your clothes, you get clammy and then chilled. No good if you're adventuring in changeable conditions, after dark or at high altitude.
For this reason, Polartec, the company which invented fleece, the insulated fabric that's become a stalwart of outdoor adventure, created Polartec Alpha. Polartec Alpha was created for the US special forces who needed protection against variable temperatures and is a type of active insulation, meaning it helps to regulate your body temperature rather than just providing heat.
Like any insulating fabric, the fibers are designed to trap air which is then warmed by your body heat, but it also allows moisture to escape and evaporate quickly. Polartec Alpha is made using lofted fibers connected to mesh. The first time I experienced it was on my Jack Wolfskin Prelite Alpha jacket, where it's used in the jacket's lining around the chest. It looks like brushed fur, but when you examine it, you can see the furry fibers are bonded to quite a loose mesh, meaning there's lots of opportunity for air and moisture to escape.
Better yet, Polartec is naturally water-repellent and quick drying, so when you do get damp it doesn't last long, and compared to a traditional fleece, it's super light and compressible. So far this year, I've worn the jacket as my outer layer on mild hikes as well as on a chilly run, and I've been really impressed by how much warmth I can get with almost no weight, and how breathable it is when I get my heart rate up. Depending on the garment, you can also find Polartec Alpha made using up to 100% recycled materials, which is a bonus, and it's being included in more and more outdoor jackets.
Because it's so light and breathable, Polartec Alpha isn't necessarily enough for freezing winter conditions when you're hiking or camping, but if you're expecting variable temperatures and planning on moving at a faster pace, it might be the breathable answer to insulation you've been looking for.
All the latest inspiration, tips and guides to help you plan your next Advnture!
Julia Clarke is a staff writer for Advnture.com and the author of the book Restorative Yoga for Beginners. She loves to explore mountains on foot, bike, skis and belay and then recover on the the yoga mat. Julia graduated with a degree in journalism in 2004 and spent eight years working as a radio presenter in Kansas City, Vermont, Boston and New York City before discovering the joys of the Rocky Mountains. She then detoured west to Colorado and enjoyed 11 years teaching yoga in Vail before returning to her hometown of Glasgow, Scotland in 2020 to focus on family and writing.