How to choose ski goggles for optimal visibility and protection
Knowing how to choose ski goggles keeps your eyes protected from the sun, wind, snow and foreign objects and makes sure you can see clearly in all conditions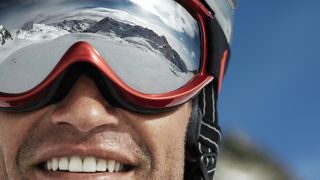 (Image credit: David Trood)
From your ski gloves to your jacket, ski gear is all about providing protection. Ski goggles might bear the most responsibility in your ski kit for keeping you safe. After all, whether you're cruising down a groomer on a bluebird day or shredding powder in the trees, the last thing you want is to risk injury to your eyes from the sun's rays or a stray branch. Knowing how to choose ski goggles ensures that your eyes are protected from the weather as well as foreign objects and still make sure you can see where you're going, no matter the conditions.
Ski goggles have gone from being a bad weather alternative to sunglasses to essential kit for all types of skiing in all conditions. Whereas sunglasses only protect your eyes from sunlight, ski goggles also form a protective seal against cold, wind and snow and keep out ski poles and twigs that can do serious damage when you're moving at high velocity.
In addition to eye protection, the last thing you want is your vision to be impaired when you're flying down the slopes. There usually are other skiers to be avoided and gorgeous views to enjoy whether it's blue skies all day or dumping snow and the best ski goggles stay fog-free and allow for ample peripheral vision.
These days, ski goggles are usually unisex and come with all kinds of options and extras, from helmet compatibility and extra ventilation to treatments to help prevent them from fogging. They're also a pricey piece of kit so it's important to choose a pair that is comfortable and gives you the right protection for the conditions you'll be skiing in.
Size and fit
The first consideration when choosing ski goggles is making sure you find a pair that fits properly or many of the other functions won't work. You want your ski goggles to fit flush to your face without being too tight or causing pain. Ski goggles come in slightly different shapes while our faces are all different and you don't want to end up with a pair that has gaps where wind and moisture can leak in. You'll really need to try goggles on to make sure they work well with your bone structure, but something to look for is good flexibility in the frame, as this will make them more wearable and means they don't get as rigid when frozen.
Most goggles are one size with an adjustable strap, so if you have an unusual head size, make sure it's adjustable enough for you. There are goggles made for small and large heads so consider checking them out if needed.
Lens shape
Lenses are the most important aspect of your ski goggles and therefore there's lots to consider here. First, ski goggles lenses come in either cylindrical or spherical shape. Cylindrical lenses are often referred to as flat; in reality, they do curve around the vertical axis, but they may be subject to some glare and distortion. They're generally a bit more affordable than spherical lenses, which curve both vertically and horizontally, better replicating the shape of your eye and offer better field and quality of vision for a higher price.
Lens color
Next, you'll want to consider the color of your lenses. Ski goggles lenses come in a variety of colors with light, dark or clear tints, each of which allows for a different amount of light to reach your eyes, known as Visible Light Transmission (VLT). Basically, darker lenses block out more light and are great for sunny days, whereas lighter lenses let more light in and are good for cloudy, low light conditions.
Some companies use a numbered rating system where 0 is no tint (for night skiing) and 4 is maximum tint for the brightest days. In this system, goggles rated 2-3 are used for sunny days and 1-2 are best for low light conditions.
Many companies simply tell you what percentage of light each lens color allows through. Light tints are colors like yellow, amber, rose and green whereas dark tints may be blue, brown and gray.
Basically, just remember that if you tend to ski under cloudy skies, you want to let more light in with lighter lenses, and if you ski somewhere perpetually bright like Colorado, you want to allow less light in with darker lenses. Photochromic lenses automatically change their tint according to the sunlight, so if you ski somewhere where the conditions change quickly, consider this feature.
It's good to know that you can often switch out the lenses of your ski goggles, so you might have a pair for sunny days and another pair for low light conditions. Search for goggles with interchangeable lens functionality if you're likely to be skiing in extreme conditions.
Double or single lens
Almost all ski goggles are made using a double lens these days, which provides more insulation and prevents fogging with a little more weight.
UV protection
Remember that the intensity of the sun's harmful rays increases at high elevation and in snowy conditions and you want all the best defenses for your precious eyes. The good news is that most ski goggles these days are designed with 100% protection for UVA, UVB and UVC rays. Mirrored lenses will further increase the protection from UV rays by reflecting the sunlight.
Polarized lenses
If you're going to be skiing a lot of bluebird days somewhere like Colorado, consider polarized lenses which reduce the glare from the sun and snow.
Helmet compatibility
Any good pair of ski goggles nowadays will be helmet compatible via a clip at the back of your helmet that the strap goes through, but you'll still want to make sure that yours works with your helmet and isn't too tight or uncomfortable when you're wearing it over your helmet.
Padding
The part of the goggles that touches your face is a foam that provides comfort and moulds to your face. Look for a pair that has two or three layers of foam. If the foam is too thick, it can actually obscure or distort your vision.
Ventilation
There's nothing more annoying than having to stop mid-run because your goggles have fogged up, and ventilation helps with this. Vents are usually placed at the top, sides and bottom of your lenses and the wider they are, the better the airflow. That said, wider vents also reduce insulation, so avoid these if you plan for lots of extreme cold conditions.
Glasses compatibility
Finally, if you wear eyeglasses, search for ski goggles that come in Over the Glass (OTG) styles.
All the latest inspiration, tips and guides to help you plan your next Advnture!
Julia Clarke is a staff writer for Advnture.com and the author of the book Restorative Yoga for Beginners. She loves to explore mountains on foot, bike, skis and belay and then recover on the the yoga mat. Julia graduated with a degree in journalism in 2004 and spent eight years working as a radio presenter in Kansas City, Vermont, Boston and New York City before discovering the joys of the Rocky Mountains. She then detoured west to Colorado and enjoyed 11 years teaching yoga in Vail before returning to her hometown of Glasgow, Scotland in 2020 to focus on family and writing.