How to clean a backpack: by hand and in the machine
Our step-by-step guide on how to clean a backpack will have your gear hauler looking, feeling, and smelling good as new no matter how much rough and tumble you put it through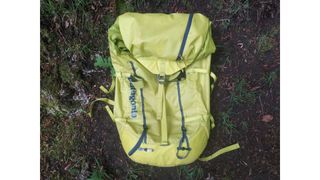 (Image credit: Kieran Cunningham)
Like all pieces of outdoor kit, our backpacks need a little TLC from time to time to stay in good shape and performing as they should. While dirt and general wear and tear are the two biggest culprits in causing even the best hiking backpacks or best daypacks to look shabby, smell funky, and perform imperfectly long before their time, other factors can take their toll – sweat, skin oil, insect repellents, sunscreen, and tree sap can corrode the fabric, food and campfire smoke can bequeath them a mighty pong, and smooth-running zippers can become stubborn ones without occasional cleaning.
Our guide on how to clean a backpack will help you avoid all of the above and keep your pack in prime condition in the longer term, offering step-by-step instructions for washing your pack both by hand and in the machine.
How to clean a backpack: machine washing
Step 1: Check the label
Not all backpacks are machine washable. To avoid inadvertently killing your pack when you only meant to give it a clean, take a quick look at the tag before you send it for a spin.
Step 2: Prep your pack for washing
First, empty everything out of your pack, unzip the pockets, then turn it upside down, and give it a good shake to remove any dirt lodged in pockets or the base of the pack. If the pocket configuration is of the awkward kind, use your vacuum cleaner to finish off the job. If you happen to have a pack with a metal frame, make sure you remove this before washing, too.
Step 3: Prep your machine
Run your machine on an empty wash to clear any residual detergent from the previous wash
Step 4: Use a pillowcase
Place your backpack inside a pillowcase (or a laundry bag, if you have one) before throwing it in the machine. This will prevent the shoulder and compression straps (see: Parts of a backpack) getting caught and tearing during the wash.
Step 4: Wash
Set your machine to a lukewarm, gentle wash to avoid harming any protective coatings on the pack, drop in a gentle detergent, and let the cleaning begin!
Step 5: Dry
Remove the pack from the pillowcase and hang it upside down to dry, either in the shade outside or indoors. The most important thing is to avoid exposing it to direct sunlight because UV rays can degrade the fabric. Make sure your pack is completely dry before returning it to storage.
How to clean a backpack: hand washing
Step 1: Prep your pack
Empty your pack, give it a shake to remove dust, dirt, and debris, and vacuum inside the pockets if required. If needed, use a soft toothbrush to pre-scrub any particularly dirty patches on the pack and clean dust or dirt out of the zippers.
Step 2: Fill your bathtub
Fill your tub with lukewarm water. Water that's too warm may damage the fabric or cause the colors to run; water that's too cold might not remove more stubborn stains.
Step 3: Add detergent
Add a small amount of gentle detergent. The best detergents are fragrance- and dye-free. Avoid using fabric softener as this could damage the backpack's materials and impair the DWR coating, if it has one (see: What is DWR?).
Step 4: Soak
Different backpack manufacturers offer different advice on how to clean their packs, with some advising full submersion and others recommending you soak only dirty areas on the pack. If submerging, give the pack a good swish around the water for 2/3 minutes to help remove the dirt and use a soft toothbrush or sponge to clean more stubborn stains.
Step 5: Dry
Hang your pack upside down to dry either in the shade or outside. As mentioned above, avoid exposing it to direct sunlight because UV rays can degrade the fabric. Make sure your pack is completely dry before returning it to storage to avoid the risk of it developing mold.
All the latest inspiration, tips and guides to help you plan your next Advnture!
Former Advnture editor Kieran is a climber, mountaineer, and author who divides his time between the Italian Alps, the US, and his native Scotland.
He has climbed a handful of 6000ers in the Himalayas, 4000ers in the Alps, 14ers in the US, and loves nothing more than a good long-distance wander in the wilderness. He climbs when he should be writing, writes when he should be sleeping, has fun always.
Kieran is the author of 'Climbing the Walls', an exploration of the mental health benefits of climbing, mountaineering, and the great outdoors.