How to store climbing rope: using a rope bag, taking coils and correct storage
We reveal how to store climbing rope, the benefits of having a rope bag, how to coil your rope efficiently and where, and where not, to store it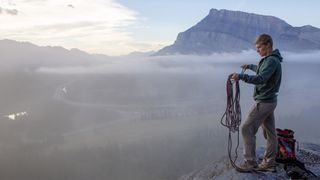 (Image credit: Getty)
Knowing how to store climbing rope is important, not only to enhance your rope's lifespan but to also keep it in good nick. After all, this is a piece of equipment that you often trust your own and others' safety to, so treating it poorly is downright irresponsible. Rope management goes way beyond what you do on the crag. Here, we guide you through the steps you can take when storing your climbing rope.
Having a rope bag is handy for both storing and transporting your rope. A bag will protect your rope from dirt and moisture and the bag's tarp sheet makes packing the rope away at the end of a climbing session quick and easy. Knowing how to store climbing rope in a rope bag is a very useful skill to have.
To pack your rope away:
1) First, tie one end of your rope around one of the tarp's loops.
2) Next, feed out the rope, just as you would before climbing, onto the sheet.
3) When done, tie the other end of the rope onto the loop on the opposite side.
4) You can then collect the tarp and rope together and drop it into the bag, carrying it away just like a hiking backpack. As an added bonus, the rope is also primed for your next climbing session.
The video below shows this process:
If you don't have a rope bag, no problem. Simply coil the rope (more on this in a mo) and carry it out. If you've got distance to cover on the walk out and it's raining, having a large dry bag handy is useful for keeping your precious rope out of the drink.
How to store a climbing rope: coiling your rope
At the end of a trad or sport climbing session, it's useful to be able to quickly coil your rope when leaving the crag. In mountaineering situations, this is even more essential, as speed equals safety, particularly in winter. The fastest way to coil a rope at the end of the climb is to:
1) Find the middle mark and hold this in one hand with one strand on either side.
2) Warp the strands around the back of your neck and extend the arm holding the middle marker straight down.
3) Take the strands down across your body to the little finger side of your hand, take them in your hand and pass them around the back of your neck again.
4) Next, do the same as step 3, but this time taking the strands to the thumb side of your hand.
5) Continue to repeat this process, alternating between little finger and thumb side, and take in as many coils as the rope allows. Keep your arm that's holding the coils straight to ensure all coil lengths are the same.
6) When there's a couple of metres of rope remaining, separate out the coils and wrap the spare rope tightly around the top of the coils a few times, before passing the end of the rope through the gap at the top.
7) You can then take the what's left of the loose strands, put them over your shoulders, tie them around your waist and carry them like a daypack.
This video below shows this process:
How to store a climbing rope: where and where not to store it
Once nicely coiled or bagged, you can store your climbing rope away. A big no-no is simply leaving it in the car for extended periods or, for that matter, anywhere else that is prone to fluctuations in temperature. Places like garages or outbuildings get cold during the winter months, which is when you are most likely to be leaving your rope unattended (unless you're a mountaineer or enjoy ice climbing, that is). These fluctuations don't do your rope any good at all.
Ideally, your climbing rope should be stored in a dry, dark and cool place, away from direct sunlight and chemicals. It should not be crammed into a container or anything else that squeezes it rather than letting it lie as naturally as possible. Rope bags are designed to provide plenty of room for your rope, which is why they are preferable. The rope should not be hung from any of its coils.
When dirt builds up over time and you notice your hands are black after handling it, it's important to clean your climbing rope too. Hand washing your rope is the safest approach and our guide explains exactly how to do it.
All the latest inspiration, tips and guides to help you plan your next Advnture!
Alex is a freelance adventure writer and mountain leader with an insatiable passion for the mountains. A Cumbrian born and bred, his native English Lake District has a special place in his heart, though he is at least equally happy in North Wales, the Scottish Highlands or the European Alps. Through his hiking, mountaineering, climbing and trail running adventures, Alex aims to inspire others to get outdoors. He is currently President of the London Mountaineering Club, training to become a winter mountain leader, looking to finally finish bagging all the Wainwright fells of the Lake District and hoping to scale more Alpine 4000ers when circumstances allow. Find out more at www.alexfoxfield.com