How to survive a polar bear attack
Knowing how to survive a polar bear attack is becoming increasingly important as global warming endangers bears and more people venture into the arctic seeking adventure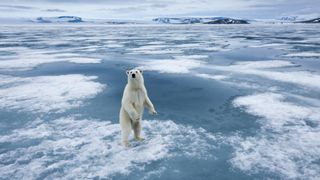 (Image credit: Paul Souders)
In all probability, knowing how to survive a polar bear attack isn't likely to be high on your list of hiking skills. If you're hiking out west, you realistically do want to know what to do if you meet a bear, but of course that's referring black bears or, in certain areas, grizzlies. But polar bears? They live at the top of the world in the arctic circle, a place so remote that few of us will ever venture there. So unless you're planning on breaking some rules at the zoo, why would you need to know how to survive a polar bear attack?
Yet despite the apparent unlikeliness of it, polar bear attacks on adventuring humans can and do happen. In 2013, a 49-year-old hiker from Maine was attacked by a polar bear while sleeping in his tent during a fjord expedition in northern Canada. More recently, in August 2022, a polar bear attacked a group of campers in Norway's Svalbard islands, the same location where a group of British teenagers were attacked in 2011, leaving one dead.
While polar bears seem like they only exist on the edge of the earth, the World Wildlife Fund reports that attacks on humans are on the rise and there seem to be two primary causes: global warming, forcing starving polar bears to spend more time on land and attack people for food, and more people venturing into the arctic in pursuit of rugged adventure. If you are planning an arctic expedition, knowing how to survive a polar bear attack is actually a critical piece of wildlife safety, so read on to find out more about these powerful predators.
Where do polar bears live?
Polar bears live on the ice (and swim under the water) in the arctic, where they largely feed on seals. There are believed to be between 22,000 and 31,000 of these large carnivores which are distributed between Alaska, Greenland, Denmark, Norway and Canada, the latter of which is home to 60 - 80% of them. In these locations, polar bear encounters are possible at any time of the year, though the highest risk of an encounter seems to be between late summer when ice melt is highest through the late fall when freeze up occurs.
Are polar bears aggressive?
According to an article in Yale Environment 360, polar bear attacks averaged between just seven and 12 per decade from the 1960s until the period between 2010 and 2014, when attacks shot up to fifteen in just four years. This leap in incidences may have helped cement polar bears' reputation of being aggressive, but of course that's not necessarily the full story.
While black bears and other wildlife like mountain lions are more likely to give humans a wide berth than try to eat them, polar bears do actually see humans as a potential source of food. This isn't to say that they're actively out on dry land, hunting humans these days, however. As we've said, their primary diet consists of seals and occasionally narwhals, beluga whales and adult walrus while on land, they will scavenge small rodents and even garbage. But if they do get a whiff of a tasty human on the menu, they'll certainly order one for dinner.
So they're not necessarily inherently aggressive, but they're big – they can be nearly 10ft long and males can weigh over 1400lb – and can sprint at about 25mph, and these days, they're often starving, thanks to global warming reducing their hunting season. Oh yes, and they have a keen sense of smell too, able to detect a seal 20 miles away and are skilled hunters. So if you happen upon a hungry polar bear, there is a solid chance it will try to eat you. If it's just feasted on a five course meal of seal and narwhal, however, it will leave you alone.
How to survive a polar bear attack
If you're heading out on an extremely northern adventure, Parks Canada advises the following when it comes to polar bear encounters:
1. Carry deterrents
First, when heading into polar bear country, arm yourself with a bear horn and a bear spray (which does work against polar bears). Make sure both are always easily within reach and know how to use bear spray properly.
2. Know the warning signs
Polar bears will exhibit certain behaviors when they're curious about you, such as sniffing the air, moving their ears forward or flattening them back, staring directly at you or huffing and popping their jaws. Watch for these cues that they've noticed you, and they're interested.
3. Stay calm and communicate
If you see a polar bear, keep your voice calm and quiet and communicate with your group about where the bear is, what it is doing and what your escape route should be.
4. Don't run
Despite their immense size, polar bears are surprisingly agile and running away might alert them to your presence (also, you can't outrun them). Keep facing the bear and keep it in your sights at all times as you slowly back away and prepare to make a wide detour around the bear.
5. Stay down wind
Polar bears have an extremely sensitive nose, so if possible, stay downwind from them and they may not detect you. This means that if you're facing a polar bear, the wind should be blowing into your face, not against your back.
6. Be prepared to fight
If a polar bear looks set to charge at you, it's probably not a false alarm. You and your group should stick together, drop your backpacks and arm yourself with anything heavy and sharp, such as your ice axes and trekking poles, that you can use as a weapon. Don't play dead as this just makes it easier for the polar bear to eat you.
All the latest inspiration, tips and guides to help you plan your next Advnture!
Julia Clarke is a staff writer for Advnture.com and the author of the book Restorative Yoga for Beginners. She loves to explore mountains on foot, bike, skis and belay and then recover on the the yoga mat. Julia graduated with a degree in journalism in 2004 and spent eight years working as a radio presenter in Kansas City, Vermont, Boston and New York City before discovering the joys of the Rocky Mountains. She then detoured west to Colorado and enjoyed 11 years teaching yoga in Vail before returning to her hometown of Glasgow, Scotland in 2020 to focus on family and writing.