10 hiking skills absolutely every walker needs to master
The more you hike, the more you realize you need to know, so we've compiled a list of 10 hiking skills absolutely every walker needs to know before they go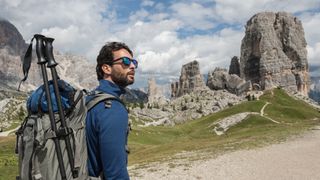 (Image credit: Getty)
At first glance, hiking doesn't seem like it requires a lot of skill compared to, say, rock climbing or playing basketball. Isn't it just walking, but on a slope and further away from home? When you're out in the wild, however, one wrong step can lead to more than just a wet foot – you could end up on the wrong trail, with a sprained ankle, or spending an unplanned night out in the cold praying for mountain rescue. The more you hike, the more you realize you need to know, so we've compiled a list of 10 hiking skills absolutely every walker needs to know before they get their hiking boots on.
10 hiking skills to master
1. Planning
Planning a hike might seem as simple as picking a trail, setting a time to meet at the trailhead and packing a nice lunch, but there's a lot more that goes into it. For a route you've never attempted, you'll want to research the hiking trail and understand what kind of distance and difficulty to expect, plus whether the trail is well-marked or if there are points of confusion that you'll want to be aware of. It's helpful to read up on a hike to have a good idea of basic waymarkers that you should keep a lookout for to ensure you're on the right track. Finally, planning involves checking the weather before you go (meaning, the morning of your hike) using a reliable weather app so you can dress appropriately and change your plans if needed.
2. Pace
Finding a pace and rhythm where you're not expending too much energy and walking efficiently takes a bit of practice, but we definitely consider it a vital skill for hiking. Even if you have a lot of ground to cover and are concerned about time, if you start out too fast, you'll tire yourself out quickly and then you'll have a new set of problems. Find an easy walking pace where you'll be breathing more heavily than when you're resting, but you feel you can keep going for a long time – using trekking poles and learning how to breathe while hiking might really help with this. You shouldn't have to take breaks every 10 minutes, but you should take breaks occasionally to fuel up, perhaps once an hour or so for about 10 minutes. Slow down on the uphills but lean into the hill, and use plateaus and downhills to catch your breath, rather than stopping completely.
3. Navigation
With the advent of navigation apps, many (perhaps most) hikers have completely relinquished any mastery over a map and compass, but it's an absolutely essential hiking skill that can be the difference between life and death on a mountain. Even if you love using your phone or GPS watch, it's a good idea to have a backup that isn't battery-reliant, and know how to read a map and use a compass.
4. River crossings
River crossings can be very hazardous indeed for hikers, and are often not advised. You'll want to know how to cross a river safely, especially when you're hiking in spring and runoff is peaking, and when not to cross at all and find a different route instead.
5. High altitude
Not all hiking is high altitude, but a lot of the best hiking in the US can be. In the States, high altitude is considered to be anything above 8,000ft which means lots of hiking in Colorado, Wyoming, Montana and California for starters. Higher elevation carries a slew of unusual risks, such as altitude sickness, more extreme weather conditions and boulder fields, so you'll want to acclimate and train for high altitude hiking and carry the right gear.
6. Hot weather
Hiking in hot weather sounds great to those of us who live in colder climes, but it can be risky. Heatstroke is a common condition among hikers, and you'll want to carry extra water in a water bottle or hydration pack, know how to source safe drinking water, and what to wear for hiking in hot weather to make sure you're picking the right fabrics (moisture-wicking with a loose weave) and covering up instead of stripping off and getting sunburnt.
7. Cold weather
On the other end of the spectrum, winter hiking and cold weather hiking requires making sure your water doesn't freeze, dressing in hiking layers to avoid hypothermia, avoiding tight clothing that restricts your circulation and possibly using traction devices such as Yaktrax or Microspikes.
8. Emergency management
Though the vast majority of hikes end with the hiker getting off the trail safe and sound, there is a lot that can go wrong on a hike, from nasty spills to getting lost. You don't have to be Bear Grylls to head out into the wilderness, but you do need some basic survival skills for emergency management, such as:
9. Wildlife safety
Okay, so if you're hiking in the UK, wildlife safety mostly involves not getting trampled by a herd of cows or butted by a feisty goat, but in North America, lots of things might want to eat you – bears, mountain lions, snakes and alligators, just to name a few. And of course, wild boar are rampant pretty much everywhere these days, so it's a good idea to read up on wildlife safety, know what you might anticipate where you're going and how to respond if you encounter wildlife on the trail. Remember, this is as much for the wildlife as it is for you.
10. Hiking etiquette
Finally, hiking etiquette is a skill that's vital to master to ensure a safe and comfortable experience for all trail users. Our guide to hiking etiquette covers everything from buying ethical hiking gear to keeping the trails trash-free, so please read up before you get your boots on the ground.
All the latest inspiration, tips and guides to help you plan your next Advnture!
Julia Clarke is a staff writer for Advnture.com and the author of the book Restorative Yoga for Beginners. She loves to explore mountains on foot, bike, skis and belay and then recover on the the yoga mat. Julia graduated with a degree in journalism in 2004 and spent eight years working as a radio presenter in Kansas City, Vermont, Boston and New York City before discovering the joys of the Rocky Mountains. She then detoured west to Colorado and enjoyed 11 years teaching yoga in Vail before returning to her hometown of Glasgow, Scotland in 2020 to focus on family and writing.