How to put on gaiters: and how to choose the right type of gaiters for your adventure
Knowing how to put on gaiters is essential if you're going to get the most out of your kit – as is knowing which gaiters to choose for your activity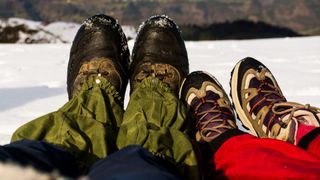 (Image credit: Getty)
They're an essential part of many outdoors enthusiast's kit bag, but until you know how to put on gaiters, you won't get the most of them.
It's also important to think about the best gaiters for your activity, whether you're running, hiking or going on longer treks. Although they're ostensibly a simple piece of kit – comprising material intended to protect your lower leg – there are several different types of gaiters available, all designed for specific sports and conditions.
Before we explain how to put on gaiters, here are the three main categories to consider:
Types of gaiters
1. Trail running gaiters
Designed to offer lightweight protection from general trail debris like dust, sand and pebbles, trail running gaiters are relatively simple in construction, enabling them to be fastened quickly and easily to trail running shoes. They typically provide a low-profile seal around the cuff of a trail shoe, and therefore extend to the ankle only. However, many ultralight hikers have also adopted trail running gaiters for fast and light trips.
2. Hiking gaiters
Extending to the mid-calf or just below the knee, hiking gaiters are a versatile option that provide a good level of protection for your hiking boots while remaining reasonably lightweight and breathable. They'll generally fend off mud, rain and debris, employing a midweight fabric backed with a breathable waterproof fabric such as Gore-Tex.
3. Trekking and mountaineering gaiters
Made from rugged fabrics and equipped with a high-performance waterproof-breathable membrane, trekking and mountaineering gaiters are designed for the toughest conditions, whether that's breaking trail through thick, tangled brush or tramping through deep snow. These gaiters are typically used for expeditions to remote areas or higher altitudes. They provide full coverage and as such may extend to knee height, with reinforced panels for added durability.
How to put on gaiters
Now you know which type of gaiters you need, we'll explain how to put them on.
Ankle gaiters are fairly straightforward to fit. However, hiking and mountaineering gaiters can be a little tricky to put on, particularly if you're not used to wearing them. Here are a few simple steps to ensure a neat fit every time.
1. Undo the gaiters completely so they lay completely flat, then wrap them around your lower leg so that the closure, usually a Velcro strip or zipper, is at the front.
2. Gaiters aren't usually marked left and right, but you want the strap buckle to be on the outside of your foot, rather than at the instep. This way it's less likely to snag or trip you up.
3. Position the straps under the instep of your hiking boots, just in front of the heel breast.
4. Fasten the front closure so that the gaiter encases your calf. Then tighten the straps that run underneath your boots via the buckle, to form a snug fit. Once initially adjusted, you can leave the instep strap in place. This makes it faster and easier to put on your gaiters in the future.
5. Attach the front lace hook to your boots, as close to the toe as possible, whilst ensuring that your ankle still has full freedom of movement. If the gaiter seems to be pulling, move the hook back up the laces a little.
6. Tighten the straps or drawcords at the top of the calves. They should be tight enough to prevent slippage or sagging, but not so tight as to feel uncomfortable or restrictive.
All the latest inspiration, tips and guides to help you plan your next Advnture!
An outdoors writer and editor, Matt Jones has been testing kit in the field for nearly a decade. Having worked for both the Ramblers and the Scouts, he knows one or two things about walking and camping, and loves all things adventure, particularly long-distance backpacking, wild camping and climbing mountains – especially in Wales. He's based in Snowdonia and last year thru-hiked the Cambrian Way, which runs for 298 miles from Cardiff to Conwy, with a total ascent of 73,700 feet – that's nearly 2½ times the height of Everest. Follow Matt on Instagram and Twitter.