How to survive a seagull attack on a coastal hike
We discuss how to survive a seagull attack on a hike to help you enjoy your best coastal walks without fear of perpetual bombardment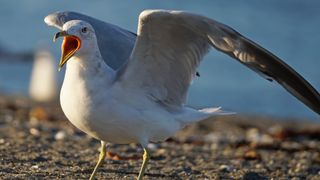 (Image credit: Christiane Godin)
There are places where you might like to hike that you'd expect to need a bit of wildlife safety to make sure you come home in one piece. On the best hikes in Yosemite National Park, you need to know what to do if you meet a bear on the trail, while in Colorado, you'd better understand what to do if you encounter a mountain lion and down in Florida, you need to know what to do if you see an alligator. But when you're strolling along a scenic coastal path in Devon or Cornwall, you might think it's going to be all sea breezes and tasty scones. If you cross an angry seagull, however, things can turn sour, and quickly. In this article, we discuss how to survive a seagull attack on a hike to help you enjoy your best coastal walks without fear of perpetual bombardment.
Seagull is the colloquial term for gulls, a species of medium to large-sized carnivorous seabirds. Seagulls live in large, noisy colonies and though they will scavenge when given the chance, they feed off live prey such as fish, crustaceans and small birds. They are known to display mobbing and harassing behavior against perceived predators, including pets and their owners. Seagulls are primarily found in coastal and, increasingly, urban areas.
Do seagulls attack humans?
Seagulls are mostly known for being extremely irritating and picking through trash, but more than just being a bit of a nuisance and stealing your ice cream at the beach, they have been known to attack children, peck chunks out of pensioners' heads and even take off with the odd beloved family pet. Seagulls primarily become aggressive during their nesting months in the summertime, when they may perceive you as threatening their chicks, and like a lot of wildlife, they've become less afraid of humans and more attracted to our food and waste as a source of food. If they attack, they can cause damage to your skin as well as broken bones with their wings, claws and bills.
How do you stop a seagull from attacking you?
According to Falcon Environmental Services, seagull attacks are relatively rare, and if you're paying attention, seagulls will likely give you some warning signs such as a "gag call" and spitting regurgitated food at you. Keep your ears free of headphones when you're on a coastal path and notice if a seagull is acting aggressively towards you and making a warning call so that you can keep yourself and any young children and pets out of harm's way. Here are some steps you can take to stop a seagull from attacking you, and what to do if one takes aim.
1. Guard your picnic
First of all, don't feed the seagulls just like you should feed any wildlife, as this encourages them to scavenge and approach humans. When hiking in a coastal area with lots of seagulls, think carefully about where to have your lunch. If you plonk yourself down a bench surrounded by seagulls, you might be asking for trouble as they eye up your sandwiches. Move on until you find a quieter, more sheltered spot to enjoy your hiking snacks.
2. Move away
With some animals, standing your ground is the best option, but if a seagull is swooping towards you, it's best to move away from the area. Raise your arms up over your head for protection as you do this to avoid injury to your head or face from its claws.
3. Don't wave your arms around
Unlike deterring a bear or mountain lion, it's not helpful to wave your arms or any other object around when it comes to seagulls – in fact, this can further agitate the birds which might see it as an act of aggression. Don't try to shoo the seagull away if it's bombdiving you – simply use your arms for protection.
4. Find something for protection
If you can't get away fast enough and a seagull is hell-bent on taking a chunk of your scalp home for lunch, find something that you can use as a shield between you and the bird. An umbrella makes a great form of defense, but you can also raise your backpack up over your head or pull on a hat until you get to safety.
All the latest inspiration, tips and guides to help you plan your next Advnture!
Julia Clarke is a staff writer for Advnture.com and the author of the book Restorative Yoga for Beginners. She loves to explore mountains on foot, bike, skis and belay and then recover on the the yoga mat. Julia graduated with a degree in journalism in 2004 and spent eight years working as a radio presenter in Kansas City, Vermont, Boston and New York City before discovering the joys of the Rocky Mountains. She then detoured west to Colorado and enjoyed 11 years teaching yoga in Vail before returning to her hometown of Glasgow, Scotland in 2020 to focus on family and writing.