How to wear running leggings: when and where to pull on running tights
Some runners wear them like a second skin, swearing by their protective, performance-enhancing and thermal qualities. Here's how to wear running leggings...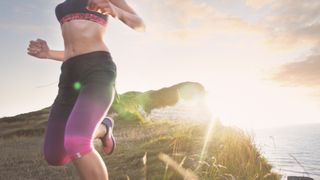 (Image credit: Getty)
In the colder months and on early morning outings, it's common to see runners wearing running leggings while out on the trail. Running tights can offer protection from everything from sunburn to windchill and tick attacks, but do they improve performance, and what's the best way to wear them?
In this guide, we explain how to wear running leggings.
Development
The creation of synthetic fabrics like nylon in the 1950s soon evolved in to more durable and stretchable fabrics like lycra and polyamide or elastane, which are essentially the same thing. By the 1980s and '90s, it was pretty standard to see lycra leggings in gyms, yoga studios and on the tracks and trails, with men maybe just a step behind in catching the bug.
So normal is it now to wear the shiny stuff, (although it's practically always black for some reason), that companies like Salomon are even making hi tech, quick dry appendages, which feel like second skins and which can be attached to a waist band and shorts.
Chaffing and breathability
This is an important consideration for any undergarment, because chafing is no laughing matter. Luckily, running leggings have come a long way in recent years. While four-way stretchability is now the norm, breathability and comfort against chaffing are not. If you're wearing your leggings in an outdoor environment, where it's easier for your skin to breathe, you may not notice as much as indoors in the gym, or out on a hot day, when even the thinnest leggings can sometimes feel like your legs are wrapped in clingfilm.
Pick a pair made from material that wicks moisture away and allows your legs to breath. Also look for leggings that offer anti-microbial and anti-bacterial materials, to protect you from fungal nasties.
What to wear underneath
It seems on the face of it, like a trivial question: What do you wear underneath – if anything? Should you go commando, or not? That is the surprisingly divisive question, and it's one that runners often ask each other.
In theory, leggings are technical pieces of kit, which can be worn as a high-performance undergarment, and to put on non-technical underwear beneath them seems counter productive. But some leggings can be a bit more revealing than runners are comfortable with – so some wear underwear, and others put shorts on over the top – and regular runners can't necessarily have a fresh pair for every day they want to hit the trails.
Do your leggings need a little more upholstering, in the form of gussets (additional fabrics between the crotch seams) or not? Not many leggings, it seems, come with this, although, most do at least offer crotch patches.
Fortunately, most leggings now come with their own anti-bacterial treatments, which make it far less likely that you'll develop something nasty from the fungal family, and this means the question of whether to go commando or not can be left to personal preference. It's also worth bearing in mind that some manufacturers will suggest how long you should go before washing them. Some brands will even advise that you sleep in them, if they are able to maintain a steady body temperature, close to 37.5°C/100°F.
Personally, I would never go commando in any leggings, especially if I want to get a few wears out of them each week, but for a broader view I asked some top trail runners what they do, and it seems I'm in the minority.
Damian Hall, (Inov8 athlete and Pennine Way record holder), says: "I tend to go commando. But if it's going to be really cold, I have some merino boxers made by SmartWool, which are okay."
Jo Meek (GB International trail runner) was even bolder: "I go commando every time! So I like the idea of some decent 'gusset fabric'. Although I tend to wash my leggings after every run anyway. Underpants equals chaffing!"
What is compression?
Some brands claim their leggings offer a performance boost, while others say tights aid recovery after a run. It stands to reason then, that they have to be worn during and after exercise, respectively, to gain any apparent advantage. The main advantage from a performance perspective is their proposed ability to increase venous return; the action of returning blood to the central system from the muscles, and in order to remove the biproducts of exercise and to replenish oxygen.
Compression is measured in mm of mercury. The standard target is said to be 15mm of mercury, to have the desired physiological effect, which is sometimes put on the box by manufacturers. This is also affected by intangibles like how toned you are, so the jury appears to be still out on this.
Some companies like UK based Kurio 3D Compression Ltd – who make leggings worn by Premier League football players, top rugby players, elite cyclists and athletes – do bespoke handheld measurements. Which means if you have an irregular physique (which most of us do), you will have your ideal performance and recovery tights. Kurio uses a scanner which takes 300,000 measurements within 0.5 of 1mm in 90 seconds. Each leg of the garment is bespoke; your left side perfectly matches your left leg and your right leg for example. Kurio will soon be launching their mobile scanning pods, which take 5.2 billion measurements within 1mm in 15 seconds.
How often can I wear leggings before washing them?
The addition of anti-bacterial treated fabric means you don't need to launder them as often as you might think, which is a big bonus for any hi-tech fabric, especially as washing leads to the breakdown of materials, which affects their compressibility.
Exactly how often you have to wash them – apart from the obvious factors of how muddy the terrain is, and whether you wear anything underneath them – depends partly on the type of fabric used. Most require the wearer to hand wash their leggings or use a 30°C/86°F setting.
How sustainable are they?
Look out for labels which use recycled nylon, fortified with something else, or even bamboo. Watch out though because the trade-off can often be durability, because nobody wants to boast about their bamboo leggings, when sporting a car key sized hole in the crotch!
All the latest inspiration, tips and guides to help you plan your next Advnture!
Founder of Wild Running and Wild Running Events, and a regular podium-placer at trail running events around the South West, Ceri has a background in journalism. He started and edited an outdoors supplement for a daily newspaper, has written for several national outdoors magazines and newspapers, and produces his own podcast. He can trace his interest in adventure back to when, as a slightly precocious six-year-old, he convinced his cousins and older sister to walk through the night into the centre of Newcastle in their pyjamas for a dare – an escapade that ended in a lift home in a police car. More recently, he became the de facto UK Snowshoe Running Champion when he was the first Brit to cross the finish line at the 2019 World Snowshoe Championships in Fondo, Trentino.