British barbel record rocked with biggest ever Thames catch
Bait company boss John Llewellyn caught this giant 20 lb 12 oz barbel.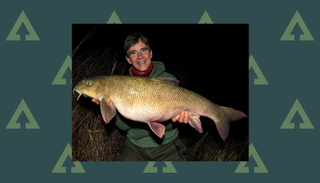 (Image credit: Angler's Mail)
Welcome to Advnture, the new home of AnglersMail.co.uk
The Big Carp owner initially thought he'd smashed the 21 lb 1 oz British barbel record when he weighed the fish, but scales checks later revealed it to be just below the target, halting his plan to make a claim.
John, 62, from Charvil, Berkshire, said: "I contacted Nick Simmonds at the British Record Fish Committee and it was five complicated forms to fill out and an affidavit at the solicitors as I caught the fish on my own but I did get Stuart Morgan and John Baker out to witness the fish.
"I had to verify my scales down to Trading Standards to be tested and in the end we settled for 20 lb 12 oz – which is still fantastic.
"Big barbel are often real travellers, moving up and down these long stretches of the lower river Thames.
"I run my own bait company, Big Carp and Big Cat Ltd and I have been making bait commercially, mostly for the foreign market, for the last 30 years.
"I firmly believe that the route to catching big fish consistently is to use good bait, something they recognise as a good food source and really want to eat.
"I use our krill based bait, or more recently a 'tricked-up' version called Ocean Blend.
"It is almost impossible to stop these fish on their travels and the aim is simply to give them a taste, so that they recognise the food source.
"Then they'll search for it and home in on the 'food' signals released from the bait.
"I have been baiting three spots on and off since October, just a couple of times per week with a few handfuls.
"I only managed a couple of evenings fishing in that period for one bream."
14 lb 6 oz catch before British barbel record rocked
John continued: "I got out for a night after the recent warm spell, deciding on a spot about 7 ft deep, downstream of an interesting feature mid-river.
"I use a simple hair rig, 12 inch trace, size 6 hook and a 5 oz lead on and I often clip on a back-lead to combat weed and rubbish.
"I wrap a boilie in matching paste, which makes a bait about 30 mm in size, and I hook on a stringer of boilies with a handful of freebies scattered in the area.
"I had two bites that night, a 9 lb bream and a 14 lb 6 oz barbel at dawn – result. Then I added a few handfuls of bait as I left.
"I was back a couple of days later and got a bream on dusk which is always a good sign, as carp and barbel are often not far behind.
"The tips stayed motionless until 7pm when, just as I was pouring boiling water over a tea bag, the right-hand rod knocked and knocked again – typical bream bite.
"I thought I'll just have sip of tea whilst it's hot I thought, and then wind it in and unhook it. So, 30 seconds later, with the tip still knocking occasionally, I wound down and pulled into what I thought was a bream.
"Then I had a big surprise as the rod hooped over and an angry fish stripped off line and pulled hard downstream in the current.
"After a dogged fight under the rod tip, the fish began to tire and I prepared the net.
"I put the head-torch on, and I nearly fainted when I saw the flank and head of what was obviously a massive barbel.
"It dived again and I prayed the fish was well hooked as it pulled hard for another couple of minutes before finally giving up and I was able to guide it over the net.
"I couldn't contain myself and I was like a whirling dervish, all on my own in the dark, dancing around with excitement like a madman.
"What a moment, and I've got goose bumps and a big smile on my face even now," concluded John.
All the latest inspiration, tips and guides to help you plan your next Advnture!
Running from 1964 until 2020, Angler's Mail was the UK's leading weekly magazine devoted to coarse fishing, telling readers everything they needed to know about which fish to catch, where to catch them, and what kit they needed to do it. Now, loads of the magazine's expert advice can be found on Advnture.com, as a helpful resource for angling newcomers and experts alike.