British record barbel quietly enters history lists
The specimen world was shocked when it read all about a new 21 lb 2 oz barbel.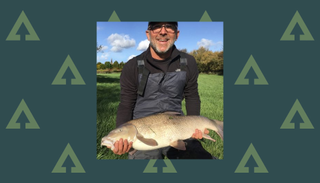 (Image credit: Angler's Mail)
Welcome to Advnture, the new home of AnglersMail.co.uk
Colin Smithson caught his 21 lb 2 oz British record barbel from a Sussex river on November 7.
He decided not to report his catch via any form of today's media.
Just 20 days after banking the fish, the British Record Fish Committee accepted the fish as a record. Their decision came in their final meeting of 2019 at London's Fishmongers' Hall.
The gathering took place at the historic building in London Bridge just two days before a horrific terrorist attack by Usman Khan left two people dead and three injured.
Colin's immense barbel overtakes Grahame King's British record barbel, caught from the Great Ouse back in 2006, by just 1 oz.
Colin, a 60-year-old retired air traffic engineer, shared details about the catch, as soon as it was accepted.
Big names told the magazine of their surprise – and delight at the British record barbel having finally been beaten.
British record barbel captor's story
"The club and I are very protective of this fish, so we won't be revealing anything about the location," said Colin.
"People on social media are already trying to track it down, after seeing the photograph, but I think we have a duty to protect the fish.
"I can tell you that it lives in a big river system, and will be able to travel five miles away from where I caught it, so there's lots of other club stretches that will have it at some point.
"There are just a few big barbel, and I think they get that way because they aren't under pressure.
"I don't think mountains of high-protein boilies actually does the weight or the health of the fish any good.
"Other rivers suffer from this, and the barbel don't get to the weights that they could reach. I think they need a more natural diet.
"We're not trying to keep the fish to ourselves, as it can go to a number of different club waters, but we feel duty-bound, as responsible anglers, to protect it."
'Like winning the Lottery'
Colin continued: "I wouldn't regard myself as a specimen hunter, but I have been fishing rivers for over 12 years.
"It is usually just a privilege to be out fishing, and I don't set myself any targets.
"When I caught this fish, it felt like I had won the Lottery. I never expected it.
"I try to fish three or four times a week, which gives me a chance of catching these wandering fish.
"I sometimes go up to the Wye, where you can catch as many fish in a session than you do in a whole season here," added Colin.
Reaction to the new British record barbel
Barbel Society chairman Steve Pope said: "I didn't know anything about the fish until I saw the Press release.
"It is not completely surprising if it's off somewhere like the Arun.
"Good luck to the guy. Grahame's fish (21 lb 1 oz from the Great Ouse) had a long run."
Former barbel record holder Ray Walton said: "I hadn't heard any rumours that this fish had been caught.
"It usually takes ages for a fish to be scrutinised, researched and accepted by the BRFC, so this is a real surprise."
Eastbourne, East Sussex-based specimen angler Tony King said: "I was not surprised at all by this fish.
"I think there are several rivers that could break the record. Great fish!"
All the latest inspiration, tips and guides to help you plan your next Advnture!
Running from 1964 until 2020, Angler's Mail was the UK's leading weekly magazine devoted to coarse fishing, telling readers everything they needed to know about which fish to catch, where to catch them, and what kit they needed to do it. Now, loads of the magazine's expert advice can be found on Advnture.com, as a helpful resource for angling newcomers and experts alike.