Climate change is putting wild camping at risk, researchers say
By Julia Clarke published
Researchers are warning that rising sea levels are eroding coastlines and causing popular wild camping spots to disappear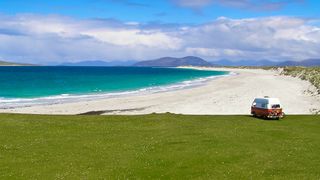 (Image credit: scott masterton)
Researchers are warning that some of Scotland's best wild camping spots are in danger of disappearing due to climate change.
The team, composed of researchers from the Centre of Expertise for Waters and the University of Glasgow, found that almost half of all Scotland's "soft coast" is under threat from coastal erosion due to rising sea levels, increased wave action and flooding. This is an increase of 38% in four years and Larissa Naylor, professor of geomorphology and environmental geography, warned that we have to act fast to slow climate change and offset the impact on coastal areas.
"Even with net-zero our sea levels will continue to rise and continue to erode key coastal assets like wild camping beaches and critical transport infrastructure," said Naylor, adding: "Many more wild camping sites will shrink in area or disappear in the coming decades, as sea level continues to rise and climate change impacts accelerate."
The findings were delivered as the world's leaders are gathering in Glasgow in a last ditch effort to slow climate change at COP26.
The outdoor brand Vango has created a map of the most at-risk areas, which include St Combs To Rattray Head, Lunan Bay, Angus, South Coll, Isle of Coll and Machrihanish, all popular scenic spots for camping, surfing, wild swimming and fishing. It is believed that these spots will be "significantly affected" by 2050, however Naylor warned that these locations make up only a small percentage of the areas in danger.
"The map is just a snapshot of some of the locations under threat – the tip of the iceberg. Many more sites will shrink in area or disappear in the coming decades, as sea levels continue to rise and climate change impacts accelerate."
As we've previously reported, a 2018 study on the carbon footprint of active sport participants found that participants in nature sports actually had the highest emission levels of all. Read out article on sustainable hiking clothes to learn how you can tread more lightly on the earth.
Julia Clarke is a staff writer for Adventure.com. She is an author, mountain enthusiast and yoga teacher who loves heading uphill on foot, ski, bike and belay. She recently returned to her hometown of Glasgow, Scotland after 20 years living in the USA, 11 of which were spent in the rocky mountains of Vail, Colorado where she owned a boutique yoga studio and explored the west's famous peaks and rivers. She is a champion for enjoying the outdoors sustainably as well as maintaining balance through rest and meditation, which she explores in her book Restorative Yoga for Beginners, a beginner's path to healing with deep relaxation. She enjoys writing about the outdoors, yoga, wellness and travel. In her previous lives, she has also been a radio presenter, music promoter, university teacher and winemaker.
All the latest inspiration, tips and guides to help you plan your next Advnture!
Thank you for signing up to Advnture. You will receive a verification email shortly.
There was a problem. Please refresh the page and try again.