Friday 5: outdoors writer and photographer Chris Townsend
We continue our quick-fire Q&A interview series with the Scottish adventurer who has a passion for long-distance hikes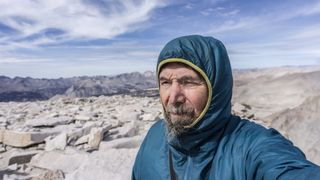 (Image credit: Chris Townsend)
Chris Townsend has spent most of his life exploring wild places. He most enjoys long-distance hikes and he has completed many between 1978 and 2019. These include Land's End to John O'Groats, the Pacific Crest Trail, The Continental Divide Trail, the Canadian Rockies End-to-End, The Arizona Trail, the Scottish Watershed and the GR5 through the Alps.
He has written 25 books and most have been illustrated with his own photographs. He has also written and illustrated hundreds of articles for newspapers, magazines and websites.
Chris, who lives in the Scottish Highlands, is a trustee of the John Muir Trust and has previously served as president of the Mountaineering Council of Scotland.
If you could only keep one item out of all your outdoor gear, which would you keep and why?
My Pacerpoles. They go on every trip summer and winter, hiking, ski touring and snowshoeing. I can't imagine being without them. On long distance walks they hold up my shelter, too.
What's your pet peeve in the outdoors/adventure space?
Any emphasis on conquering. I don't go out to conquer mountains or nature
If you could be instantly transported to the start of any adventure, what would it be, where and why?

Very difficult! There are so many. Here are two. The first would be, in Coire Ca ready for a multi-day ski tour round the high tops of the Cairngorms. The second is setting off from the Mexican border on the Pacific Crest Trail.
We're sitting round a campfire. Tell us a funny or entertaining story about one of your adventures.
There was the night of the porcupine. In a cabin in the Canadian Rockies with two friends we were woken by this very raucous sawing noise. "Porcupine," said someone, before nipping outside with a broom.
The sound ceased. "It'll be back," said a voice. It was. I ignored the noise for a while but realising my companions were better at pretending to be asleep than me I left my warm sleeping bag, grabbed the broom and headed outside dressed in nothing more than a baselayer.
Outside I found the porcupine in the tunnel below the eaves, a tunnel roofed with snow. I lobbed a few snowballs into the tunnel.
The porcupine stared at me. I crawled into the mouth of the tunnel and poked towards it with the broom. It turned its back and raised it's spines. I retreated and climbed up on to the roof to try to poke it through the snow.
Leaning over the tunnel, I thrust the broom downwards, slipped and slid off the roof, cursing.
Laughter came from inside the cabin. I had startled the porcupine though and it ran out of the tunnel. I chased it through the snow yelling until it shot up a tree. I shouted at it again then retreated into the cabin, battered and bruised.
"It'll be back," said a voice. "It won't," I replied. And it wasn't.
Is there any gear that's on your shopping list at the moment?
I have more gear than I'll ever need! But I will buy some Altra shoes for my next long walk.
All the latest inspiration, tips and guides to help you plan your next Advnture!
Fiona Russell is a widely published adventure journalist and blogger, who is better known as Fiona Outdoors. She is based in Scotland and is an all-round outdoors enthusiast with favourite activities including trail running, mountain walking, mountain biking, road cycling, triathlon and skiing, both downhill and back country. Her target for 2021 is to finish the final nine summits in her first round of all 282 Munros, the Scottish mountains of more than 3,000ft high. Aside from being outdoors, Fiona's biggest aim is to inspire others to enjoy the great outdoors, especially through her writing. She is also rarely seen without a running skort! Find out more at Fiona Outdoors.