Should I buy walking sandals? The benefits of a lightweight alternative to hiking boots
Lightweight and breathable but still tough enough for the trail, hiking sandals are the outdoor-ready footwear you never knew you needed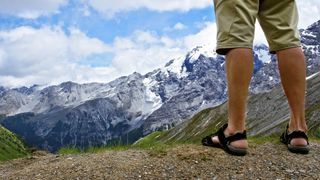 (Image credit: Getty)
The day is warm, the forecast good, and the trail you are planning to walk isn't very technical – it might meander through meadows, bumble along the banks of a river, go across a few cliffs and perhaps even take in a stretch of beach along the way.
So… what to wear on your feet? Heavy hiking boots definitely feel like overkill, and even a pair of walking shoes will likely leave you sweaty. Do you own a pair of walking sandals? They might just be the missing piece from your outdoor shoe collection. No more sweaty hiking socks and hefty boots on sweltering hot days.
Multifunctional
In good hiking sandals, your feet will feel cool and unencumbered, but still supported enough to hike across even relatively challenging terrain. We wouldn't recommend wearing them on high alpine trails or very technical paths, especially while carrying any weight (when good ankle support and stability is important), but in good conditions, quality sandals with toe protection and decent soles, are fine for walking across all sorts of surfaces.
They perform particularly well on trails with frequent water crossings, as you don't need to stop and take off shoes/boots and socks – just crack on through the stream or across the estuary, and your sandals will quickly dry afterwards. For coastal and clifftop walks they're excellent, and even if you're on a serious multiday backpacking adventure, it's good to have a pair of sandals to slip on after the day's walking is done.
Sandals are also perfect for travelling in tropical climates (or just sticking in your backpack for summer holidays) as they're lightweight, easy to pack and ideal for slinging on quickly for a walk, a swim, or for wearing around a campsite.
Style
Designs differ, of course, and the walking sandals that you will get the most use out of are the ones best suited to the kind of activities you do most often. For regular hot-weather hikers who like to explore all kinds of terrain, the best walking sandals on the market are the rugged trail-ready designs with thick straps and substantial rubber soles with lugs that will rival your favourite hiking boots for grip – sometimes called shandals, because they're like a cross between a walking shoe and a sandal. But if you're more likely to stick to beach strolls, or you're planning to travel for an extended period, a lighter pair of sandals will probably suffice.
Fit and features
Any pair of hiking sandals you buy need to have good grippy rubber soles to offer traction when you hike – look for deep lugs on the bottom and a moulded footbed on top.
Pick a model with wide adjustable straps around the heel and across the front of your foot that stay put when you walk and, just like when buying a hiking boot, make sure the sandal doesn't pinch or feel too tight, and that your foot doesn't slide about in it. Some sandals are adjusted with Velcro straps or bungee cords, which makes it easy to get a snug fit.
Fabric and fashion
Walking sandals come in all kinds of finishes, from smart leather to neoprene, but we recommend picking a fabric or nylon material, as these tend to be tough when walking but quick to dry if you do get them wet.
Hiking sandals have traditionally been seen as a bit of a fashion faux-pas (especially if – brace yourself now – worn with socks!) but there are some pretty stylish versions now on offer. Most people in the market for the more serious shandals will care more about staying cool on the trail than looking cool in the pub at the end of the day, but many brands – Teva and Keen for example – are now making sandals that are seriously stylish.
Your new sandals will always be naturally less long-lasting than your hiking boots – we recommend buying a good quality pair of sandals, as very cheap ones can be a false economy and prone to breaking.
Toeing the line
Used in the right conditions (i.e. not when it's freezing cold), there's only one real downside to hiking in a sandal – it's relatively easy to stub a toe on rocky ground. Shandals have this part of you covered, though. As the name suggests, this is a hybrid design that's half shoe, half sandal, and usually has a closed rubber toe and quite a bit of cover around the ankle area, along with strappy sides with plenty of vents to keep feet cool. They're a great compromise for hot weather hiking when you still want protection, and are also ideal for use in water when you're wild swimming, crossing a river, canyoning or coasteering.
Cost (and how to get a bargain)
Good shandals, such as Keen's, can be quite expensive, but they are well worth the extra cash if you plan to hike long distances in them. There are also good bargains to be had if you buy sandals in early spring or on the other side of summer.
Whichever pair you pick, we reckon you'll wonder how you ever did without them – just be warned, you might find yourself walking in your new sandals so often that you end up with some interesting tan lines.
All the latest inspiration, tips and guides to help you plan your next Advnture!
An award-winning travel and outdoors journalist, presenter and blogger, Sian regularly writes for The Independent, Evening Standard, BBC Countryfile, Coast, Outdoor Enthusiast and Sunday Times Travel. Life as a hiking, camping, wild-swimming adventure-writer has taken her around the world, exploring Bolivian jungles, kayaking in Greenland, diving with turtles in Australia, climbing mountains in Africa and, in Thailand, learning the hard way that peeing on a jellyfish sting doesn't help. Her blog, thegirloutdoors.co.uk, champions accessible adventures.