Graffiti an ongoing problem at US national parks
Zion National Park urges park visitors to stop leaving their marks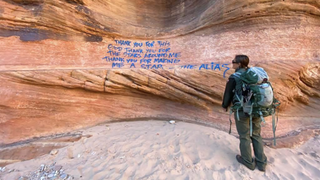 (Image credit: Zion National Park)
Take only photographs. Leave only footprints. Kill only time.
Those are the golden rules of the Leave No Trace philosophy of low-impact travel through wild and protected places.
But as hiking, backpacking and camping popularity have increased across the US – especially during the coronavirus pandemic of 2020 when more people have temporarily sought to get away from highly populated metropolitan areas and head to places like the Grand Canyon – more and more cases of destructive graffiti have been reported.
At Zion National Park near Springdale, Utah, graffiti seems to be an ongoing battle. So much graffiti has been surfacing that park officials are urging the public not to leave their "mark" while visiting the park.
"It's bad," park spokesperson Amanda Rowland told the St George News after the park posted a press release about the graffiti problem.
Now park officials are asking the public for their help in reducing the amount of ink, chalk, paint markings and scratched etchings left behind by visitors on the ancient Navajo sandstone walls and red rock formations throughout the park.
"No one comes to the park expecting to see graffiti but, nearly every day, staff find words and shapes, carved, drawn, painted (with mud, dirt, pigment, paint), or scratched on rocks and more recently even carved within moss," the release said.
COVID-19 visitor surge
Both September and October posted record monthly visitation for the park despite the ongoing COVID-19 pandemic with October seeing nearly 130,000 more visitors this year than in 2019.
According to visitor statistic information on Zion National Park's website, October 2019 posted 429,604 visitors whereas October of this year saw 559,342 people visit the park. September is a similar story with 497,443 people visiting in 2019 and 520,987 in September of this year.
The increase in visitors has also brought a different type of visitor. One that has potentially never visited a national park before.
"They are different visitors than we normally get," Zion's Chief Ranger Daniel Fagergren said in a previous St George News report regarding graffiti, adding that many of them don't have the same affinity for public lands as visitors in the past.
With more than 4 million annual visitors, officials are urging everyone who comes to do their part to preserve the natural and archaeological artifacts so that every visitor has the same opportunity as the next to see Zion National Park in as pristine condition as possible.
"You can help protect Zion National Park by not creating graffiti. No one comes to the park expecting to see graffiti but nearly every day, staff find words and shapes, carved, drawn, painted (with mud, dirt, pigment, paint), or scratched on rocks and more recently even carved within moss," park officials said in the release. "Please allow other park visitors their opportunity for discovery, by leaving rocks, plants, archaeological artifacts, and other objects as you found them."
Criminal offenders
There are places in the US National Park System where carvings, etchings, and even 19th century "graffiti" are preserved. Places like Arches National Park in Utah and El Morro National Monument and Petroglyph National Monument in New Mexico feature dozens of preserved and protected pictographs and petroglyphs with interpretive signage for all to see.
Unfortunately, there is a surprising number of modern individuals who think it's perfectly appropriate for them to ad their own form of artwork by carving their names and etching other signs and symbols into national park landscapes.
In 2014, New York City resident Casey Nocket went through seven national parks across the West in 2014 and, using acrylic paints and markers, painted and drew images on rocks and cliff faces. She promoted her 'work' on Instagram and was eventually was tracked down, charged, and pleaded guilty to defacing government property. She was sentenced to two years' probation and 200 hours of community service and banned from all lands administered by the National Park Service, U.S. Forest Service, Bureau of Land Management, and Army Corps of Engineers during her probation period.
Nocket isn't alone when it comes to defacing the parks. In recent years problems with graffiti have surfaced at Great Smoky Mountains National Park, Joshua Tree National Park, Grand Teton National Park, Glen Canyon National Recreation Area, Chesapeake and Ohio Canal National Historical Park, and Colorado National Monument, among other sites.
The Zion National Park release reminds visitors that graffiti is a crime. If caught, a person can be cited, with a mandatory appearance before the federal magistrate in St. George, which could lead to up to six months in jail and/or a $5,000 fine.
"Not only is graffiti unsightly and damaging to the surface defaced, but removing it takes time, money, and staff to do so," the Zion National Park release said. "Depending on the area damaged and what the surface is, it can take park staff hours to remove using a variety of equipment that has to be carried to the site. Graffiti and other forms of damage to park resources are harmful and illegal. Repair of vandalized sites is costly and time consuming. Often, a damaged site can never be fully restored to its original condition."
All the latest inspiration, tips and guides to help you plan your next Advnture!
Brian is an award-winning journalist, photographer and podcaster who has written for Runner's World, The Times, Outside, Men's Journal, Trail Runner, Triathlete and Red Bulletin. He's also the author of several books, including Kicksology: The Hype, Science, Culture and Cool of Running Shoes. He lives in Boulder, Colorado, and loves to run, bike, hike, camp, ski and climb mountains. He has wear-tested more than 1,500 pairs of running shoes, completed four Ironman triathlons, as well as numerous marathons and ultra-distance running races.