These smart swimming goggles give you real-time coaching in the pool
HeadCoach uses the see-through augmented reality display on Form's goggles to give you live feedback as you swim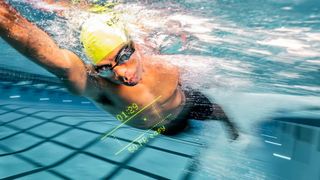 (Image credit: Form)
Form, a company that produces smart goggles, has launched a new training app for its high-tech swim specs that aims to give swimmers a sophisticated digital swimming coach.
In development for almost two years, the app, HeadCoach, works in conjunction with Form's fitness-tracking goggles, which have been on the market since 2019. They use a see-through augmented reality (AR) display to provide swimmers with a wealth of information in real time as they swim. Since their launch, Form has added open water tracking and in-goggle workouts and training plans.
And now the company has added HeadCoach to the miix, to provide real-time, in-goggle coaching.
Whether you're a beginner or an expert, HeadCoach aims to enhance your performance and speed in the water. It provides two types of metrics:
FORM Score, which is a numerical representation of your overall swim efficiency, based on your pace and stroke length. The score ranges from 0-100, with higher numbers indicating better skill. The average score is somewhere from 40 to 50.
HeadCoach Skills concentrates on five key areas: head roll, head pitch, set pacing, interval pacing, and breathing time-to-neutral. Each skill is rated from 0 to 100, and gives you an idea where improvements can be made in your technique.
According to Paul Hossack, Chief Product Officer at Form, "Having the ability to get feedback on your technique is a profound step forward," says Hossack. "Knowing what to do is one thing, executing is another. That's why we think there's value to bringing focus to one element at a time."
"At Form, we've reinvented how athletes train in the water by providing swimmers with real-time data through the Form Smart Swim Goggles' unique AR display," says Dan Eisenhardt, CEO of Form. "Now, with the launch of HeadCoach, we're taking that innovation one step further by giving swimmers access to a digital swim coach in their goggles and on their phone. HeadCoach provides unparalleled insights into swim performance and empowering swimmers of all levels to unlock new potential." [via Triathlon Magazine]
Form Smart Swim Goggles are available on the Form website for $249 (US) / £249 (UK), with a one-year trial of a Premium membership suite of apps that includes HeadCoach. After one year, the Premium plan costs $15 (US) / £13 (UK) a month.
All the latest inspiration, tips and guides to help you plan your next Advnture!