US National Park Service confirms its first Native American director
By Julia Clarke
Charles F Sams III, the first Native American to head up the National Park Service, has been unanimously approved by the US Senate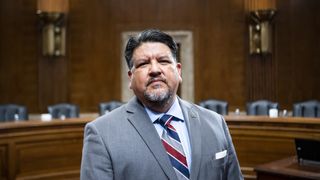 (Image credit: Bill Clark / Contributor for Getty)
The US National Park Service has confirmed a a new director, the first Native American to lead the agency in its 105-year history.
The US Senate unanimously approved the appointment of Charles F Sams III who is Cayuse and Walla Walla and lives on the Confederated Tribes of the Umatilla Indian Reservation in Oregon. Sams has worked in state and tribal governments and the nonprofit natural resource and conservation management fields for over 25 years.
Sams' confirmation makes him the Park Service's 19th director and comes after five years of the agency being led by acting heads after Jonathon Jarvis vacated the post in 2017. The appointment is being hailed as historic by NPS officials and tribal leaders alike. The history of the NPS has long been regarded as controversial, as the creation of many iconic Parks such as Yosemite involved forced removal of Native American tribes from their own land.
"As our country works to address those past tragedies, it is appropriate that the leadership of the National Park Service and the Department of the Interior reflect a new direction and a commitment to equitable partnership with the Indigenous peoples of the United States," says Joel Dunn, president and CEO of the Maryland-based Chesapeake Conservancy.
During the confirmation hearings, Sams said he would work to ensure the Indigenous history of NPS lands and Indigenous views and knowledge will be reflected in decision-making. He also said it is a priority to work with Native Americans on their traditional ecological knowledge.
The announcement comes in the same year that Deb Haaland was confirmed as the first Native American Cabinet secretary of the United States, and just days after she formally declared "squaw" a derogatory term and announced she is taking steps to remove it, along with other derogatory place names, from federal government use.
"The diverse experience that Chuck brings to the National Park Service will be an incredible asset as we work to conserve and protect our national parks to make them more accessible for everyone. I look forward to working with him to welcome Americans from every corner of our country into our national park system. The outdoors are for everyone, and we have an obligation to protect them for generations to come," said Haaland in an official statement.
The National Park Service was established in 1916 to consolidate management of America's federal parklands under one agency and today it manages 84 million acres across all U.S. states and territories including 63 National Parks, and sees some 237 million visitors each year who travel from around the world to trek the trails in their hiking boots. Sams will oversee roughly 20,000 employees and more than 279,000 volunteers.
Julia Clarke is a staff writer for Adventure.com. She is an author, mountain enthusiast and yoga teacher who loves heading uphill on foot, ski, bike and belay. She recently returned to her hometown of Glasgow, Scotland after 20 years living in the USA, 11 of which were spent in the rocky mountains of Vail, Colorado where she owned a boutique yoga studio and explored the west's famous peaks and rivers. She is a champion for enjoying the outdoors sustainably as well as maintaining balance through rest and meditation, which she explores in her book Restorative Yoga for Beginners, a beginner's path to healing with deep relaxation. She enjoys writing about the outdoors, yoga, wellness and travel. In her previous lives, she has also been a radio presenter, music promoter, university teacher and winemaker.
All the latest inspiration, tips and guides to help you plan your next Advnture!
Thank you for signing up to Advnture. You will receive a verification email shortly.
There was a problem. Please refresh the page and try again.