British army captain plans to be the first woman of color to ski solo to the South Pole
By Julia Clarke published
A British army captain has set off to ski 700 miles solo to the South Pole, becoming the first woman of color to do so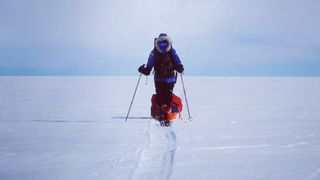 (Image credit: Preet Chandi)
A British army captain is skiing 700 miles to the South Pole solo and unsupported, becoming the first woman of color to do so.
CNN reports that Preet Chandi, 32, of Derby, England has flown to Chile and from there, she will be dropped at Antarctica's Hercules Inlet. Chandi who has adopted the nickname "Polar Preet" plans to spend about 45 days trekking across the ice to the pole on cross country skis, hauling her kit, fuel and food in a sled weighing almost 200 lbs. Along the way, she can expect temperatures as low as -58 °F and her only human contact will be daily check-ins with her support team, recorded messages from friends and audiobooks.
"I had this idea 2.5 years ago and I'm finally on my way. Before planning this, I never imagined I would be going to Antarctica and doing an expedition of this size. One of the biggest lessons I've learnt is not to limit yourself. We are capable of so much, it took me a while to believe in myself but I got there eventually and I'm now feeling ready for the challenge ahead!" wrote Chandi on her blog.
Chandi, an ultra marathon runner who has been training since 2018 in the French Alps, Greenland, Iceland's Langjökull Glacier and by dragging a heavy tire at home in England, told CNN she's making the journey as a personal goal, but also to inspire others to challenge their own boundaries and beliefs about cultural norms in the outdoors.
"I'm told that 'you don't really look like a polar explorer,'" she said, referring to her South Asian background. "There was a time ago that I probably wouldn't have thought or realized how much representation does matter. It's probably the last few years and also going through this journey that I realized how important it really is, how there are other young girls out there called Preet, because Preet's a common Indian name, or with my middle name Kaur. They see somebody that might be from the same background, or just looks a little bit different to what they expect, and how powerful that is."
Though other women have completed this feat, the first being Liv Arensen from Norway in 1993, Chandi will be the first woman of color to do so. Chandi, who played competitive tennis as a teenager, joined Britain's Army Reserve as a medic while studying to get onto a physiotherapy degree course. After graduating and working as a physiotherapist, she joined the regular Army in 2012 and since then has become an endurance athlete.
After completing the trek, Chandi said she plans to use half of the money raised through the Go Fund Me appeal for her polar trip to set up an "adventure grant" for women of any age or background.
Julia Clarke is a staff writer for Adventure.com. She is an author, mountain enthusiast and yoga teacher who loves heading uphill on foot, ski, bike and belay. She recently returned to her hometown of Glasgow, Scotland after 20 years living in the USA, 11 of which were spent in the rocky mountains of Vail, Colorado where she owned a boutique yoga studio and explored the west's famous peaks and rivers. She is a champion for enjoying the outdoors sustainably as well as maintaining balance through rest and meditation, which she explores in her book Restorative Yoga for Beginners, a beginner's path to healing with deep relaxation. She enjoys writing about the outdoors, yoga, wellness and travel. In her previous lives, she has also been a radio presenter, music promoter, university teacher and winemaker.
All the latest inspiration, tips and guides to help you plan your next Advnture!
Thank you for signing up to Advnture. You will receive a verification email shortly.
There was a problem. Please refresh the page and try again.