TV's latest Mortimer & Whitehouse series made "as believable as possible"
TV hit Mortimer & Whitehouse: Gone Fishing has begun its third run on BBC2 and one of its stars plus the angling guide have expressed their joy in making the latest series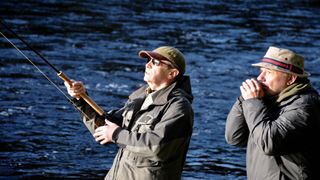 (Image credit: Angler's Mail)
The critically acclaimed weekly show, starring Bob Mortimer and Paul Whitehouse, has started a new run of six episodes. It comes after two critically-acclaimed series which netted regular audiences of 2.2 million.
Lifelong angler Paul said: "As always, it was fun spending time with a stocky northerner saying inept things.
"We travelled to some fantastic locations, and it is always a pleasure to be fishing. The lockdown actually helped us, as filming got delayed and it meant we could get some mayfly fishing in with some crucian sport in May and June."
He added, "we try to make the programmes as believable as possible, so we don't script anything and just get on with it.
"We only get about a day and half filming each bit, so there is pressure, especially with cameramen everwhere.
"We hope there could be a fourth series; the BBC are talking about one," Paul added.
The third series again had Angler's Mail columnist John Bailey as behind-the-scenes fishing guide.
John said: "I'm so pleased to be a part of this BBC 2 series that has really taken the nation by storm. I know there are those of us who would like to see a bit more in the way of fishing, but hardcore fishing will not make it onto primetime terrestrial TV, and we have to realise that.
"The good thing about the content is that it sucks in a much wider audience than you would expect for a fishing-only programme. At last, people who do not fish can at least see why we do it and love it!
"I'd say we do see more fish in this series than the previous two. Perhaps that is down to the fact that Bob is becoming a better angler year upon year. It's truly rewarding to watch him grow as an angler and see the increasing enjoyment he gets out of the sport.
"Of course, there are still mess-ups of biblical proportions, but that I believe is all part of the fun, and who gets it right all the time?
"Paul remains just a cracking angler, of course, a real diamond, an angler who gets it spot on most of the time.
"There is a mix of fishing venues and styles and not all Mail readers will identify will all the locations, but I think you should. This series might just push some of us out of our comfort zone, and Paul is the perfect example of an angler who enjoys everything that swims. That, I like to think, is the key to the series: a real passion for the sport that is reflected in everything they do.
"Wherever we go, we meet up with local experts of note. There is startlingly good input in this series from anglers that really know their stuff. Watch with real concentration and you might just pick up a tip or two that can give you an edge… it would be nice if you have Bob and Paul to thank for a PB!
"We all know that fishing has soared in popularity since lockdown and, in that regard, this new series is timed exactly right. Hopefully the great Sunday-night spot will draw more anglers and more families onto the water.
"Nor could the spot have two better ambassadors, either. These really are two of the nicest, most genuine men you could hope to meet. They are super role models for anglers of any age.
"Do I have a favourite episode? I do have some treasured memories. I am privileged to spend hours watching the boys weave their magic.
"Enjoy the show. It's made with real love for our sport, believe me," added John.
. Mortimer & Whitehouse: Gone Fishing is on BBC2 on Sundays at 8pm, with repeats every Thursday at 11.30pm on the same channel.
All the latest inspiration, tips and guides to help you plan your next Advnture!
Running from 1964 until 2020, Angler's Mail was the UK's leading weekly magazine devoted to coarse fishing, telling readers everything they needed to know about which fish to catch, where to catch them, and what kit they needed to do it. Now, loads of the magazine's expert advice can be found on Advnture.com, as a helpful resource for angling newcomers and experts alike.