US trail runner sets stunning new record in English fells
Jack Kuenzle has smashed the fastest known time on the Lake District's Bob Graham Round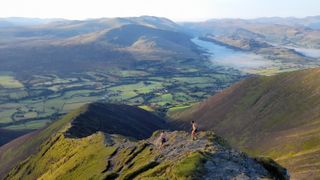 (Image credit: James Rafferty)
A runner from the US has set an impressive new record on an iconic English fells route. Jack Kuenzle completed the Bob Graham Round in 12 hours and 23 minutes.
The 26-year-old, who loves a Fastest Known Time (FKT) challenge, was 29 minutes faster than previous record holder Kilian Jornet.
The circuit starts and finishes in the town of Keswick and takes in 42 peaks in the Lake District in England. Jack recorded a distance of almost 63 miles and a total ascent of 26,584ft.
Prior to Spanish runner Kilian's fastest time, the record of 13 hours and 53 minutes had been held by Billy Bland for an incredible 36 years.
In 2020, Beth Pascall set a female record for the Bob Graham Round.
The appeal of the Bob Graham Round
Jack has been chasing FKTs in America and Canada for several years and arrived in the UK earlier this summer. In Scotland, he set a new record for another round, the Tranter's, which takes in 18 of the country's tallest mountains.
The endurance coach learned of the Bob Graham Round record after news spread about Kilian's fastest time. Jack said: "The Bob Graham Round appealed because I like to race steep, technical routes that aren't rock climbing. Arguably, the Bob Graham Round route is the most competitive in the world in that category."
When planning his strategy for the Bob Graham Round, Jack paid close attention to Kilian's splits on the course, which comprises five legs. He also took into account the second fastest time of 12 hours 59 minutes for the route set in 2021 by Scottish runner Finlay Wild.
Jack said: "Kilian and Finlay both have super fast times on this course. I could see where they lost and gained bits of time. I aimed to stick to a slightly slower leg one pace compared to Kilian and then pick up time later in the round."
Jack was also grateful for the support of a checkpoint crew and many running pacers.
Preparing for the run
Spotting a favorable on the first weekend in September – and with reports of unsettled conditions for the rest of the month – he made a sudden decision to go for the Bob Graham Round.
The only issue was the runner had completed many miles the previous week and he wasn't sure his legs would be rested enough.
He said: "I would have liked to increase my recovery time after doing the Tranter on July 28 and to recce more of the Bob Graham route. But then I saw how dry it was going to be, so I decided on Friday and Saturday September 1 and 2 and despite having run a total of 105 miles and 46,000ft of height gain the previous week.
"I would have been better off with a better taper, but I felt it was key to maximize the conditions and the rest of the month was forecast to be unsettled."
Jack says he was lucky to be able to recruit a great team of supporters and pacers for the round. He said: "I had already recruited some 30 people who were interested in pacing the Bob Graham Round, but only a couple were available for my chosen Friday. Fortunately, some folks took pity on me and put out the word in a bunch of different athletic club group chats and we ended up getting a great crew."
Throughout the challenging round, Jack went through many emotional and physical ups and downs.
There were worries about going too fast or too slow, ground that was boggier than expected, tough scree descents and suffering in the sunshine.
Dehydration on the trail
On leg four, while making a climb on the hill of Red Pike after a long ascent on Yewbarrow, Jack started to suffer due to a lack of hydration.
He said: "It was so hot and the climb was so sustained. My ears began to ring to the point I could hardly hear and my vision faded between grey and black. I stopped to pee and my urine was extremely dark. I quickly consumed a litre of water but then my pacers were left dry.
"Another two supporters had a litre of electrolyte mix but I was hesitant to consume so many electrolytes and possibly put myself in a position for hyponatremia.
"In the end I took on all the electrolyte mix and then 500ml of juice, which was unbelievably good. Thankfully, I immediately felt better and by the time we were heading up Pillar, I was back to feeling good again.
"I drastically underestimated how much water I would use during the round."
Jack took on more water at the base of Kirk Fell. Next up was Great Gable and with various pacers, Jack ran on over to Grey Knotts, and managed to gain seven minutes on the hoped-for schedule. The same happened on Honister, where Jack picked up three minutes.
Highlights along the way
Despite some tough times, things did go well for much of the round. Jack benefited from being paced by many good runners and also he had the advantage of their excellent navigation.
With his support crew and pacers also looking after his food, water and kit, it allowed jack to focus entirely on the run and his own pace.
He said: "One of the best highlights of the round was from Pike o' Stickle to Wasdale, when I put in my ear buds, put on some of the worst music I have turned up loud and I simply ran directly in the footsteps of a pacer ahead and with another pacer close behind.
"It was so smooth running like that and it involved zero brain activity. Mercifully, too, the sun got behind the clouds and remained there until Wasdale."
Leg five saw Jack on another long and "dreaded" climb of Dale Head but he was happy that this went well in the end.
The final section of the round is on tarmac. Jack said: "We hit the asphalt and cruised the first three-quarter of a mile or so in fell shoes and then I met the support crew who helped me into my Nike Air Zoom Alphaflys. The upper doesn't stretch at all and my socks were wet so this transition took far longer than I wanted, but I am so happy I did it.
"The shoes just made the ending so pleasant. It was fun and fast. I ran the road back to Keswick, trying to straight line between the sides of the road to find the shortest path.
"There were about 15 of us running and Billy Bland even joined us on his bicycle.
"I sprinted into a big crowd in the town centre. I was so happy to finish but I was so physically wasted and I couldn't stop crying. There was just so much pain and mental exhaustion.
"I think that having unlimited access to food and not having to carry water, plus little pressure to navigate yourself, you can just push so, so hard."
Jack's tips for running a Bob Graham Round
Jack offers his tips for anyone who is keen to complete a Bob Graham Round. The aim for many runners is to finish in under 24 hours.
He said: "I really liked the Lake District fells and while they are not as wild nor as beautiful as Scotland, in my opinion, the trods are better and the surfaces are a bit faster. I think the Bob Graham route is the best hill running you can have in the UK."
Weather check
Jack said: "Do the round on a day when it's overcast and cooler, even if that means a little boggier. I also recommend doing some heat training beforehand, such as in a sauna."
Team support
Jack says: "Have at least three good pacers per leg. Don't carry anything yourself and give everything to your pacers. It is also a good idea to get people to meet you with water so your pacers don't need to carry as much."
All the latest inspiration, tips and guides to help you plan your next Advnture!
Fiona Russell is a widely published adventure journalist and blogger, who is better known as Fiona Outdoors. She is based in Scotland and is an all-round outdoors enthusiast with favourite activities including trail running, mountain walking, mountain biking, road cycling, triathlon and skiing, both downhill and back country. Her target for 2021 is to finish the final nine summits in her first round of all 282 Munros, the Scottish mountains of more than 3,000ft high. Aside from being outdoors, Fiona's biggest aim is to inspire others to enjoy the great outdoors, especially through her writing. She is also rarely seen without a running skort! Find out more at Fiona Outdoors.