Hydration tips for runners: expert advice for staying fueled
We consult two experts on their best hydration tips for runners to help you find your best performance on the road or the trail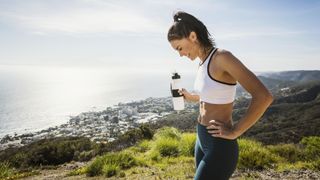 (Image credit: Erik Isakson)
Ultramarathon runner Katie Knight learned about the importance of hydration the hard way when she was trying to set a new fastest known time on the Backbone, a 70-mile stretch of trail that extends across the length of the Santa Monica mountains.
"My crew chief had not planned proper drop spots for water, and so I went 12-mile sections in the middle of the day in the heat without any water. By mile 65, I felt all the signs of dehydration and fatigue, you know, brown urine, things like that. It was not great," recalls Knight.
"I had to sit down for a little bit and then walk out the last five miles. So I missed the fastest known time on that segment by about 40 minutes because of dehydration. I learned my lesson for sure."
Proper hydration doesn't just affect your performance times, of course; it can be a matter of life and death. So we sat down with Boulder-based Knight, who was also the 2021 World's Toughest Mudder Champion, and North Carolina's Susan Kitchen, a registered dietitian and USA Triathlon Level II and IRONMAN certified endurance coach, to discuss their best hydration tips for runners so you can be amply prepared every time you pull on your trail running shoes.
1. If you don't have water, you're running naked
According to Kitchen, if you don't have some fluid either set up right around you or on your body, you might as well be running naked, even if you're going for under an hour.
"I always recommend bringing hydration with you. It's just a good idea. Even if the run wouldn't be longer than 60 minutes, you're still becoming dehydrated, which would affect your recovery, and the rest of your day. And if you had a key workout, let's say the next day, it would affect that as well."
That said, for a run that's an hour or less, you can usually rely on just water, without any added electrolytes or using running gels to keep you fueled and fast.
"If you're going past an hour, or if you have another workout that same day, it's much better to have a little bit of fuel and sodium on board as well," explains Kitchen.
How much water you need to drink of course depends on your metabolism, how far you're going – there's no point taking a hydration bladder on a half-hour pootle – and the temperature and conditions, but when you find the right balance, Knight says hydration is crucial for her performance, even on 50-mile races.
"I can run all day if I just stay dehydrated."
2. Prehydrate
Before you protest that you always take a drink with you, hydrating for a long run doesn't just begin by filling up your water bottle before you head out the door.
"I usually consume a decent amount of water per body weight in the hours before and in the days leading up to a race," explains Knight. Your behavior in the days before a long run can really affect your hydration levels on the big day, so avoid dehydrating foods and factors like alcohol and excessive heat.
"If you're training for a big race, you definitely want to avoid being in the heat unnecessarily in the days leading up to it, unless you're just doing a training run, but sitting outside on the beach sweating, or in a sauna, is not a good idea. Get enough sleep and eat well around the race too, to make sure you're recovered from the other workouts," advises Kitchen.
3. Drink early and often
Kitchen's number one tip for her clients is to drink early and often – in other words, don't wait until you get thirsty.
"Don't wait. If you're running for four hours, don't wait 30 minutes or 45 minutes into the run because you're just not thirsty. That's not a good excuse because you know you're going to get there and when you do feel thirsty, it's too late."
Knight agrees, reinforcing the need to guarantee that you're going to have proper hydration stations along your route every five or six miles, kind of like running pit stops in NASCAR.
"Once you hit that dehydration state, you're kind of out of luck, at least in my experience. There's not a lot of coming back from that."
If you misjudge things and don't carry enough water or aren't able to find safe sources of drinking water along your route, you'll soon be able to spot the physiological signs of dehydration, which is the number one cause of fatigue in endurance sports, according to Kitchen.
"The first thing you'll notice is that your heart rate goes up. Even if you're not monitoring your heart rate on a Garmin, or a heart rate monitor or a watch, you will feel like you're working harder than you should be. Your perceived exertion goes up, your heart rate goes up, and you start to feel not well."
According to the Cleveland Clinic, hydration is responsible for really important functions like digestion, balancing your body chemicals, delivering oxygen to your cells and regulating your body temperature. When you're dehydrated, you may experience symptoms such as headache, confusion, dizziness, high heart rate and low blood pressure, which are dangerous enough at the best of times, and more so when you're out on the trail.
"It's different than at a bonk. It's different when you deplete your glycogen stores than when you've hit dehydration," adds Kitchen. "And thirst usually comes after that. So if you're starting to feel really parched, you've already started to notice a decline in performance."
4. Replace sodium, not just liquids
Next up, both experts warn that just drinking loads of plain water isn't going to cut it, especially on a long run of more than an hour. When you sweat, you also lose precious electrolytes, which are responsible for many of your body's key functions.
"Sodium is instrumental for many other things besides just performance. It's what makes all the muscles contract. And it's what helps deliver nutritive neurotransmitter messages and if you don't have enough sodium the whole body's going to start shutting down," warns Kitchen.
"I do a lot of sweat testing on athletes to test their sodium loss. It's astonishing how much they lose an hour, let's say on the bike or a run. Like we're talking 3000 milligrams an hour."
So in addition to carrying and sipping water regularly, for long runs you should be looking for running drinks and electrolyte mixes to replace sodium. Knight says she uses a product called BOA which comes in a lightweight aerosol can that she can spray into her mouth during a run.
"You get a ton of sodium per spray and it's super easy to carry. I found that some hydration mixes really bother my gut, but this absorbs in the mouth and so it doesn't really affect my GI system as much."
You can also check out our guide to the pros and cons of salt tablets for runners.
5. Don't over hydrate
Though it can be tempting to chug water leading up to and during a run after reading about (or experiencing) the dire warnings of dehydration, Kitchen warns against overdoing it and inducing overhydration, or hyponatremia, which shares some of the same symptoms of dehydration and, in the worst cases, can result in coma and even be fatal.
"Over-drinking water in the days prior to a run, or leaning on just water for hydration, is not a good idea. It dilutes the sodium in the blood and will affect not only performance, but health."
Though it sounds unlikely, Kitchen warns that even among elite runners, it can be more common than you might think. The best defense, according to Knight, is to avoid chugging water, and think little and often.
"I think it's usually best to take little sips of water. So set a timer on your watch or every 0.5 miles take a drink because a lot of runners get GI issues when too much water comes in at once."
6. Practice is key
Finally, putting all of this into practice for yourself is key, and that can take a little trial and error. Starting with how to carry water while running, Knight says her preference is two bottles in the front pockets of her running vest.
"I find that most comfortable and I can carry quite a bit."
Other runners prefer a hydration pack or stashing water bottles in a running belt, and both experts agree that what you choose really just comes down to personal preference. However Kitchen warns that the only method she doesn't recommend is carrying a bottle in your hand.
"Carrying something in your hand really throws off [running] form and form is critical for running efficiency."
If you don't like carrying water on a run, there are other options too. Run along a route where you know there are plenty of safe natural water sources and carry a LifeStraw, for example, or if you're road running you can always use Kitchen's creative mailbox approach.
"You have some athletes who don't like any of those options, so they run a mile out, then a mile back and grab a water bottle out of their mailbox. And if they want to do that all day, then go for it, you know?" says Kitchen, adding "It's just important to be disciplined. Some people have beeps on their watch, other people just intuitively do it. You have to kind of come up with what works for you to keep yourself accountable."
In addition to figuring out how to carry – or access – enough liquids, also take the time to figure out which gels, powders and potions work for your gut.
"Really find something that works for you because it's definitely different depending on what your body likes. Practice is key, because you don't want to get to race day and you have issues with hydration and hydration mixes," advises Knight.
When it comes to training for trail running races and other running events, make sure you essentially try to recreate the conditions with every run you do, from the shoes on your feet to the fluids that you carry and consume.
"It's critical to train with the plan that you intend to use on race day in race-like conditions and efforts with your fuel hydration plan, over and over, so there's nothing new on race day," concludes Kitchen.
All the latest inspiration, tips and guides to help you plan your next Advnture!
Julia Clarke is a staff writer for Advnture.com and the author of the book Restorative Yoga for Beginners. She loves to explore mountains on foot, bike, skis and belay and then recover on the the yoga mat. Julia graduated with a degree in journalism in 2004 and spent eight years working as a radio presenter in Kansas City, Vermont, Boston and New York City before discovering the joys of the Rocky Mountains. She then detoured west to Colorado and enjoyed 11 years teaching yoga in Vail before returning to her hometown of Glasgow, Scotland in 2020 to focus on family and writing.